Rimert was transferred back and forth from Pennsylvania Rehabilitation to Texas Health Harris Methodist Hospital three times leading up to her death in 2012. Each time, Glen Frausto requested that his mother not be sent back to the Pennsylvania facility. He wanted her to be admitted to a different nursing home.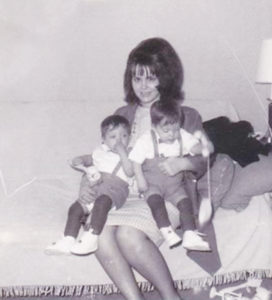 Rimert's organs began shutting down on February 16, 2012, due to the extensive medical issues that landed her in the hospital in the first place, including pneumonia and respiratory failure, Glen Frausto said. Following Rimert's "do not resuscitate" order, Lewis' staff called a MedStar ambulance to transport her from Pennsylvania Rehabilitation to Texas Health Harris Methodist Hospital rather than intubate her. She died soon after.
Glen was concerned why his mother's advance directive was followed, arguing that she had been "found to be mentally disabled by Social Security in 1995 and was almost put in a state mental hospital."
Rimert, he continued, also was "found incompetent by a Fort Worth judge" in 2008 and in 2008 and 2009 "received certificates of mental illness by two psychiatrists."
Yet she died based on a legal order whose validity was still being challenged, Glen said.
Lewis denies any wrongdoing.
"We had to go based on [Rimert's] wishes and the forms she signed," he said.
Desperate for answers, Glen sought help from many officials, including ones at the State Commission on Judicial Conduct and the State Office of Administrative Hearings, demanding that Lewis be held accountable for Rimert's death. Glen said he also filed a complaint with the state medical board in 2013.
"Targeting nursing homes is one of the ways for people to capitalize on their family's death," Lewis said. "I think that is motivation for the Frausto brothers to sue."
Even with the pending lawsuit, Lewis is still plugging away in East Fort Worth. With Lewis' good reputation among local healthcare workers, he said, he could get a job in a nicer area with more money and resources. He chooses to stay in East Fort Worth because it's home, he said.
"All of those people and all of those circumstances — I understand them," he said. "And I love them. I understand their misfortunes and their circumstances, and I want to help them and their children to overcome and build a better community. That's the only way that our society will survive. We have to make it possible for people to feel like they are worth being cared for."
By staying local, Lewis has been able to take care of classmates and even his first-grade teacher when it came time for them to enter a nursing home.
"A lot of these families I know, and I've grown to know them more," Lewis said. "I've got patients I've been taking care of 10 or 11 years, and it's just like family. The only constant in their life is that I'm always there. I've been there."
 ******
However, the Fraustos aren't the only ones critical of Lewis. The Texas Medical Board has a lengthy dossier on the doctor.
The board has accused Lewis of overprescribing prescription pills to his residents on multiple occasions. Lewis said that he sometimes feels pressure from the residents or their families to write pain prescriptions.
Some of the residents who are admitted into Lewis' nursing homes are already taking powerful prescription drugs or abuse drugs or alcohol, he said. It's up to Lewis and his staff to help them through the withdrawal process, he said. He tries to make the transition as smooth as possible, he said.
The former nursing home director spoke about the difficulty of assisting nursing home residents during the withdrawal process.
"You can't make every person go cold turkey on booze and cigarettes and drugs unless you want to kill them or make them crazy," she said.
Brenda (not her real name) landed in the Medicaid Pharmacy Lock-In in June of 1989, according to a complaint filed with the state medical board. Texas Health and Human Services Commission relies on the program to prevent Medicaid recipients from getting their hands on excessive amounts of prescribed drugs through multiple visits to different physicians and pharmacies. Brenda was supposed to be monitored closely by her doctor to ensure she wasn't abusing pain pills, but on August 24, 1994, Brenda died of respiratory arrest, a common side effect of drug overdose, according to the complaint.
Lewis wrote Brenda prescriptions for two highly addictive, powerful pain relievers, two of the three drugs implicated in her death, according to the complaint. Lewis defended his prescribing methods by commenting on the difficulty of treating Lock-In patients.
His practice "was in an economically depressed neighborhood and those were Medicaid Lock-In patients who were really difficult to manage," Lewis said. "I tried hard on my part to not prescribe controlled substances."
And yet on three occasions in one year, Lewis wrote Brenda back-to-back prescriptions for narcotic pain relievers, sometimes as few as five days apart, state medical board documents allege.
Among the top Medicaid antipsychotic prescribers in Texas from 2005 to 2009, according to a report by the Texas Health and Human Services Commission, Lewis ranked fourth, filling 10,270 antipsychotic prescriptions. From 2010 to 2014, the number of his filled prescriptions rose to 15,563.
"As you can imagine, a nursing home is not the first stop for a patient," Lewis said. "It's generally the last stop because of advanced disease and poor health. Most come to me on those medications already. I reduce medication loads more than add medication loads."
In 1998, the state medical board took disciplinary action against Lewis after reviewing nine of his patient charts and discovering that he failed to properly document physical examinations to indicate the rationale for prescribing narcotics. The board also noted that he prescribed large quantities of controlled substances, namely Vicodin and Valium.
Lewis said that over the years he has tried to cut down on his prescribing, even refusing to write prescriptions for controlled substances for his patients in his private practice in 1995, an action that he believes led to a patient setting fire to his office in retaliation.
"I can't prove that one of them did cause a fire at my office, but the firefighter thought it was suspicious," Lewis said.
After that, Lewis decided to become involved in the nursing home industry to "better understand the aging population and their problems," he said.
The medical board has also accused Lewis of 10 counts of Medicare fraud. According to a complaint from 2015, Lewis "failed to properly document his medical records and/or over-billed for 10 patients in nursing homes."
Lewis provided no documentation for 16 charges billed to Medicaid for one of his residents from 2009 to 2011, according to the 2015 complaint. For another resident, "there is no documentation for medical decision-making for the use of pain medication," board documents show.
Lewis said that the Medicare fraud accusations were "unsubstantiated" and that the investigation emerged from Glen Frausto's relentless badgering of the board.
"Health Integrity is a recovery group that the government contracts with to recover funds from doctors that are committing fraudulent billing and fraudulent acts," Lewis said. "This was who Mr. Frausto reported his complaint to. They found nothing. Even Health Integrity went to every nursing home that I visit, all 10 of them. After two years of investigation, their finding was maybe $300 of charges that were paid to me or that I billed in error, and we're talking 700 to 800 patients dating back seven years, and they found nothing."
You couldn't tell that Lewis was currently being sued just by looking at him. He cracks jokes, and when he smiles, he reveals a mouthful of pearly white teeth. Lewis doesn't carry his past mistakes around with him, he said. When you've been doing the job he's been doing for more than 30 years, overseeing thousands of patients who are at their end of lives, death is just the means to an end –– painful but inevitable, he said.When Lewis walked through the halls of Park View, there were a lot of smiles. He joked with the residents, grabbing their hands and patting them on the back. Those people are his family, his community, he said. East Fort Worth is his backyard.
It pains Lewis when he thinks back to the residents he has lost, but he believes their suffering has ended. In light of his past, the only thing he can do now is continue down his path of bringing the best care he can to the East Fort Worth community, he said.
"What is there and has happened to me on this journey is there," Lewis said, "and there is nothing I can do to change that now but move forward."