The rain began lightly. Julie Amendola knew to keep a watchful eye on the nearby Trinity River. Heavy rains had been causing it to swell so much that it would gush over the banks and onto her ranch. Located a few miles east of downtown, Amendola's Trinity River Farm offers horse-riding lessons and a petting zoo on 16 acres that lie in the river's floodplain, a naturally grassy, marshy area that can soak up overflow and that runs along all 90 miles of the Trinity within Fort Worth's borders. She keeps a close watch on her three-dozen horses, chickens, goats, and farm dogs during storms. But with nine years of experience working the ranch, the 63-year-old was confident that rainfall levels on the night of November 28, 2015, weren't anything to lose sleep over. Worse storms have hit her ranch. Far worse. After taking one last glance at Weather.gov that night, she drifted off to sleep at her house four miles away.
An uneasy feeling lulled her from her slumber three hours later. Checking her phone at 6 a.m., she saw nine recent voice messages. Her friends and ranch volunteers were frantically trying to tell her that her farm was under water and that the lives of her animals were at risk.
Amendola arrived minutes later, but there was little that she or her friends could do but watch the devastation. Her business, purchased with her life's savings, lay beneath fast-moving waters that had spilled from the Trinity River only several hundred yards to the north. Toward the back of her farm, the force of the current had blown the doors off a barn that held dozens of prized Nigerian dwarf goats, many of them newborns. Amendola had hand-raised the miniature animals, treating them more like pets than livestock.
They never had a chance.
Firefighters arrived shortly after and used a raft to rescue a handful of the goats. But treacherous conditions meant the bodies of 10 adults and 10 babies had to be left behind. The flooding was so bad that Amendola had to wait four days for the waters to recede enough for her to recover the then badly decomposed bodies.
The event shocked her, not only because of the loss of her animals but also the erratic behavior of the river.
"In the past [when there was flooding], the waters came up slowly enough that we could do something," she said.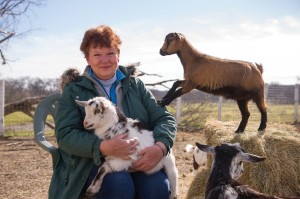 That was several months ago, but she's still dealing with leftover floodwaters –– she can't afford to hire a company to drain two large ponds created by the November rain. Living on a floodplain carries risks. Amendola doesn't have a death wish. For more than 40 years, she said, people have been living on the land that she now occupies. While the reasons for the flooding are complicated, Amendola and neighbors blame development nearby as well as other causes, some also manmade, others natural.
As Fort Worth's population continues to surge –– from 534,694 people in 2000, based on U.S. Census data, 806,380 call Fort Worth home today –– more housing than ever is being constructed along the floodplain. Building on floodplains by first elevating them is not uncommon, but it reduces the amount of water that's absorbed by the soil and stored. That water has to go somewhere, and residents like Amendola say it's washing them away.
Development is one likely culprit, but it's not the only one. After all, rain falls. Floods happen. Rivers change courses. Natural erosion occurs. Climate change also plays a role, increasing the intensity of storms. Water releases, enforced regularly by local and federal government groups to maintain lake levels and protect homes, often end up flowing into the Trinity. Any number of causes could be at fault.
 ******