One of Fort Worth's greatest sports moments happened twenty years ago on this day. It came improbably and with gripping athletic drama.
On April 30, 1997, the Fort Worth Fire won the Central Hockey League title.
I call it improbable because nobody would have chosen the Fire as the favorite to win heading into that season. The new CHL (a predecessor of the same name had gone out of business in the 1980s) had started in 1992 and only Fort Worth had finished out of the playoffs every season. In addition, the previous year's leading scorer, Kyle Reeves, had taken his 68 goals to the East Coast Hockey League.
Luckily, Fort Worth's second-year head coach, Bill McDonald, knew how to build championship teams. He finagled the addition of some players who had helped him win Colonial Hockey League titles in Thunder Bay, Ontario. He supplemented them with some speedy youngsters, quality grinders, and an emerging young goaltender.
The season included a league-record streak without a regulation loss. Outstanding individual performances included Mark O'Donnell recording hat tricks in consecutive games, Mark Strohack scoring a shootout goal to clinch the franchise's first playoff spot, and goalie Steve Plouffe earning playoff MVP honors.
The team beat the Tulsa in the first round of the postseason, eliminating the Oilers and nemesis Doug Lawrence. They defeated the Wichita Thunder in the second round, a team with whom they had brawled earlier in the year.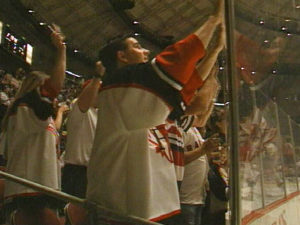 The drama came when they faced the Memphis RiverKings in the finals. A back-and-forth series went the full seven games. Fan favorite Stephane LaRocque scored a tie-breaking third-period goal and the Fire held on for a 3-2 win in the Fort Worth Convention Center.
I was lucky enough to get to call the play-by-play that season on the club's cable television broadcasts, and my cherished championship ring sits well-preserved in a safe deposit box. It was indeed a special season and special team. Incredible memories included Vern Ray convincing much of the team to shave their heads for the playoffs and later shearing PR director Brad Horn's hair to match in the aftermath of the title; playing a few games in the superb hockey venue that is Will Rogers Coliseum; The Toadies jamming the national anthem before Game 1 of the Finals at the FWCC; and getting beer poured on my head while attempting to conduct postgame interviews from a delirious locker room.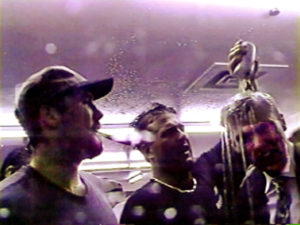 I got to see a lot of great hockey, too, with championship-caliber players like Terry Menard, Todd Howarth, Ryan Black, Mike Sanderson, Dwight Mullins, Brian Caruso, Murray Hogg, and the rest of a tight-knit roster showing strong skills and stronger work ethics. I also got to broadcast alongside a great crew, including boothmates Paula Caballero, Darrin Scheid, Charlie Hodges, and others. Bill Orcutt, Mitchell Brooke, Suzanne Wilemon, and many more contributed camera shots and replays to help those at home follow the action. Afterward, we created a documentary program about the season, which one can view here.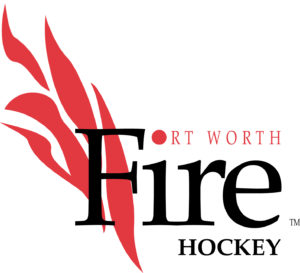 We couldn't know that within two years the Fire would have folded, and that today we would have no professional hockey teams in Cowtown. While it would have been nice to have retained a team and have built a storied tradition that endures today, such is rarely the case in sports, and especially at the minor league level. Those of us who enjoyed and became emotionally invested in that '97 Fire team will always have an incredible and, as it turns out, unique, memory of one of our hometown's most outstanding sports moments.