Overall Drinking Establishment
Critic's choice: Lola's Saloon, 2736 W 6th St, 817-877-0666; Lola's Trailer Park, 2735 5th St, 817-759-9100. Brian Forella has been slowly building the best amusement park for drinkers in the state of Texas. Or at least that's what The Lola-Plex of Saloon and Trailer Park feels like. Everything you want for a day or night out in Fort Worth can be found in this block of two bars. The patio is massive, but there's ample shade, and it's fido-friendly. The saloon inside is dark and cool and makes for the ideal escape from the summer heat. When it's rainy, post up at the indoor/outdoor bar. Into live music? Lola's offers three stages. Need a place that can seat your book club of 25 nerds and has smoking and non-smoking sections, allows outside food, employs friendly bartenders, and boasts reasonable prices? Even requirements that specific are no sweat for either the Saloon or Trailer Park.
Bar-Bar
Readers' choice: The Boiled Owl Tavern, 909 W Magnolia Av, 817-920-9616
Critic's choice: The Boiled Owl. Fort Worth is lousy with places built for one thing and one thing only: getting you drunk fast. But even when you consider all of the criteria that determine a quality establishment of this variety –– beverages, chairs, tables, running water, electricity, maybe a TV, at least a passing interest in cleanliness –– there's only one criterion that really matters: vibe. And vibe, we will argue, comes from a holy triumvirate of equally significant elements: music, clientele, and service. And this is why we say, "God bless ye olde Owl!" Sure, the old-fashioned jukebox could use some deep cuts, and the smoking? That's just got to go, bro. But the service is mostly (mostly) friendly, the clientele mostly cool, interesting, and non-threatening, and the music as good as it gets from a non-internet machine.
Happy Hour
Readers' choice: Rio Mambo, 6125 SW Loop 820, 817-423-3124
Critic's choice: Taverna, 450 Throckmorton St, 817-885-7502. OK, so we're kinda jerks for keeping this a secret for so long, but since the point is to keep Taverna thriving, we're going to go ahead and tell you all now: This is the best happy hour in town, especially for you and that special someone. With an interior of deep, rich woods and brass all around, tasty chillwave in the air, and with excellent service behind the bar and on the floor, Taverna is like a slice of New York City in downtown Fort Worth –– except that Taverna's prices are 10 times better: $3 wells, wines, beers, and bellinis, plus half-price pizzas (talk about New York-style!) and appetizers (the carciofini gratinati or baked artichoke hearts make for a savory, mouthwatering, tummy-filling treat). From 1 to 8pm in the bar and lounge Mon-Thu and 1-8pm in the bar only on Fridays, happy hour at Taverna is that little escape you've been wanting forever but could never find. You're welcome.
Bartender
Readers' choice: Corey Mobley, Whiskey Garden, 2800 Bledsoe St, 682-312-7708
Critic's choice: Chuck Brown, The Chat Room Pub, 1263 W Magnolia Av, 817-922-8319. It's not unusual to see Fort Worth rock royalty tending bar as their side job, but it's rather rare for him or her to be talented at both gigs. When Chuck Brown isn't playing bass in Telegraph Canyon or brass for a couple other outfits, he's slinging brews and cocktails at this hip Magnolia haunt. Chuck isn't the kind of bartender you have to remind constantly that your beer is low and warm, and refills come fast and done right the first time. It helps that Chuck is super-sharp and uncommonly nice to the point where he might be hiding a body somewhere, and he makes a mean Bloody Mary. There's a reason Chat Rats love this guy. He's the best.
Mixologist
Readers' choice: Dan Shooks, Reservoir Bar, Patio & Kitchen, 1001 Foch St, 817-334-0560
Critic's choice: Bill Ritzi, Silver Leaf Cigar Lounge, 426 Commerce St, 817-887-9535. Two-time winner Ritzi would never refer to himself as a "mixologist." It's far too precious of a word for this gracious gentleman who has spent years crafting stunning cocktails for a loyal local following. But a bartender is to Ritzi as a server is to a chef. In the same time that other mixologists are halfway through a maddeningly slow ceremony of making a single drink, Bill Ritzi has already prepared a perfect concoction, explained the special ingredients, and found time to ask after the guest's loved ones and business. When it comes to service, he's old-school, which has made him a favorite of the discerning crowd at Silver Leaf.
Sports Bar
Readers' choice: Reservoir Bar, Patio & Kitchen, 1001 Foch St, 817-334-0560
Critic's choice: Upper 90 on College, 961 W Magnolia Av, 817-882-6614. With its wall-sized projection screen and more than a dozen other TVs, U90 is a fun, intimate space to watch your favorite team all year. The place has every sports package you'll ever need and also shows all of the major pay-per-view UFC and boxing events. U90 regulars already know about the insane specials (half-priced drinks on Wednesdays!). For you Marlboro men and women, the bar recently added a smoking section, so you can wheeze your team to victory.
Wine Bar
Critic's choice: 44 Bootlegger, 1411 W Magnolia Av, 817-887-9089. There's not much left to say about this shining addition to the Near Southside, what with its friendly staff, inviting atmosphere, and small but impeccably chosen rotating selection of wines. Even when this place messes around with exotic ingredients, they do something distinctive, like their Doppelganger, made from African marula fruit liqueur. If wine bars populated by wine snobs intimidate you, here's a place that welcomes you.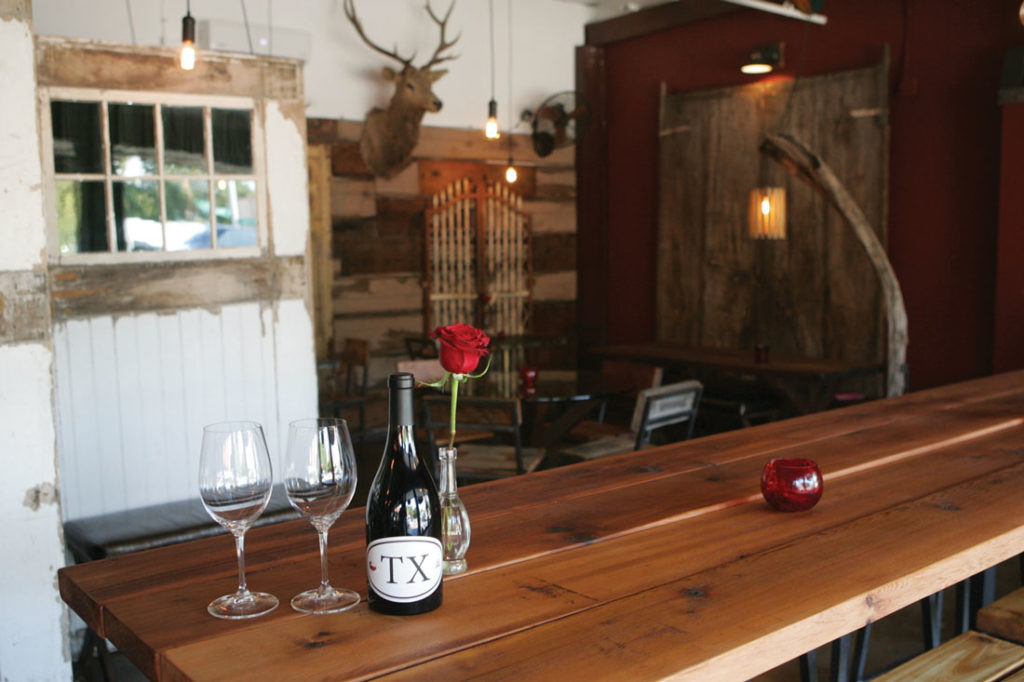 Martini
Readers' choice: Bar Louie, 2973 W 7th St, 817-566-9933
Critic's choice: Del Frisco's Grille, 154 E 3rd St, 817-887-9900. If this place on Sundance Square is a sister restaurant to the downtown institution a few blocks away, then this sister is less buttoned-up and more fun. More focused on drinks than Del Frisco's Double Eagle Steak House, the Grille serves up a VIP signature martini with Svedka pineapple clementine vodka that packs a wallop. Did we mention that happy hour specials are only $6 a pop?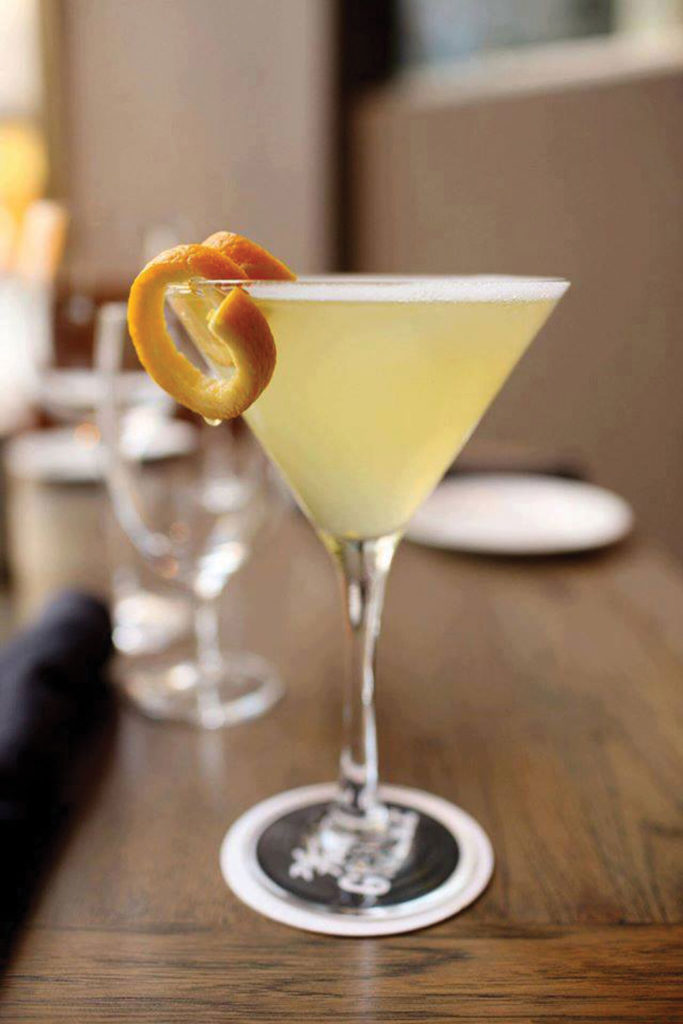 Cocktail Lounge
Readers' choice: The Usual, 1408 W Magnolia Av, 817-810-0114
Critic's choice: The Basement Lounge, 6323 Camp Bowie Blvd, Ste 125, 817-732-9877. Tucked away in The Village at Camp Bowie, The Basement Lounge serves up lusty libations in a stylish subterranean space. Co-owner Jesse Meráz has been part of the local art scene since far before he ventured into the bar biz, and his eye for aesthetics has infused this once sports-themed den into a date-night dream. The mixologists are inspired without taking themselves too seriously and are not afraid to take risks with flavor profiles and visual appeal. Where some cocktail lounges feel a bit cold, there is a friendly neighborly vibe that runs through The Basement Lounge that makes you want to order another round.
Pub
Readers' choice: Conlon's Pub, 2528 White Settlement Rd, 817-698-9777
Critic's choice: University Pub, 3019 S University Dr, 817-921-3332. TCU alums and locals have been haunting this shotgun-style bar since 1981, but the University Pub was looking a little careworn around the edges compared to younger, hipper joints springing up around the city. This past summer, owner Dave Mitchell's daughter Kelsey embarked on a project to bring back a true pub-style spirit to this staple of Fort Worth life. The goofy swag still hangs around the ceiling and decades of Polaroids line the walls, but the new street-facing windows, updated interior, and expanded local brews selection make the Pub worth another visit.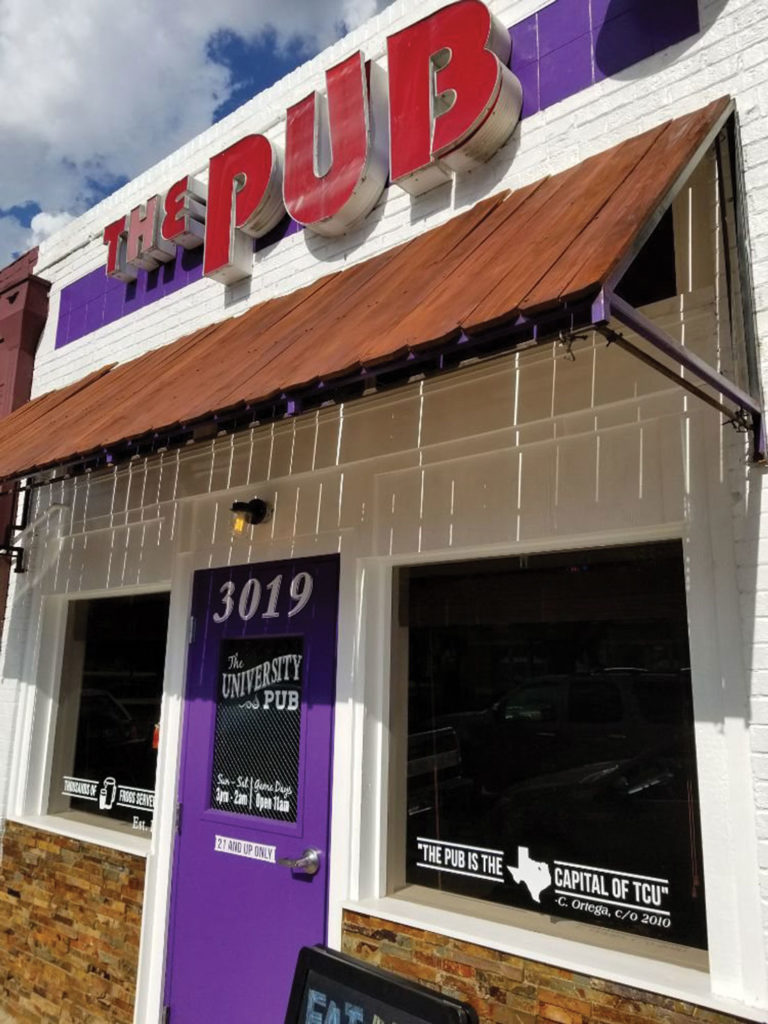 Biker Bar
Critic's choice: Fuel 2.0, 2616 Belknap St, 817-831-3835. Sadly, the Haltom City biker bar's history went up in smoke after a robbery turned into a case of arson last summer, but the bar and grill bounced back in short order, reopening before the end of football season. While we'll miss the collection of years and years of wet t-shirt photos lost in the flames, the bar's staples of beer, booze, good burgers, and a no-drama, biker-friendly vibe are what made it a great place to stop when you're out riding your hog. Pour one out for the old Fuel and raise another to the new one.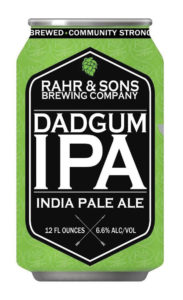 Rahr & Sons' Dadgum IPA. The craft beer world detected seismic activity when Rahr & Sons launched Dadgum earlier this year. The West Coast-style IPA marks a departure for the venerable, traditionally German beer-focused Fort Worth brewery. Nate Swan, Rahr's head brewer, created one beauty of a pale ale here. The bold-yet-rounded ale has a citrusy, piney aroma, thanks to the generous use of Lemondrop and Citra hops. Dadgum's piquant bitterness is feisty enough to satiate hopheads yet balanced enough to give the new brew broad appeal.
Brewery
Readers' choice: Rahr & Sons Brewing Co, 701 Galveston Av, 817-222-0177
Critic's choice: HopFusion Aleworks, 200 E Broadway Av, 682-841-1721. You probably can't find a craft beer lover who hasn't hoisted a Feisty Blonde or Fur Slipper recently. Since opening on the Near Southside early last year, HopFusion Aleworks quickly gained a large and loyal following (and several medals) for bold ales that defy convention. Brewers/co-owners Macy Moore and Matt Hill keep the lineup evolving, most recently with the Ex-Girlfriend Flight. Add HopFusion's spacious patio, karaoke nights, and various board games, and you have a craft beer destination par excellence.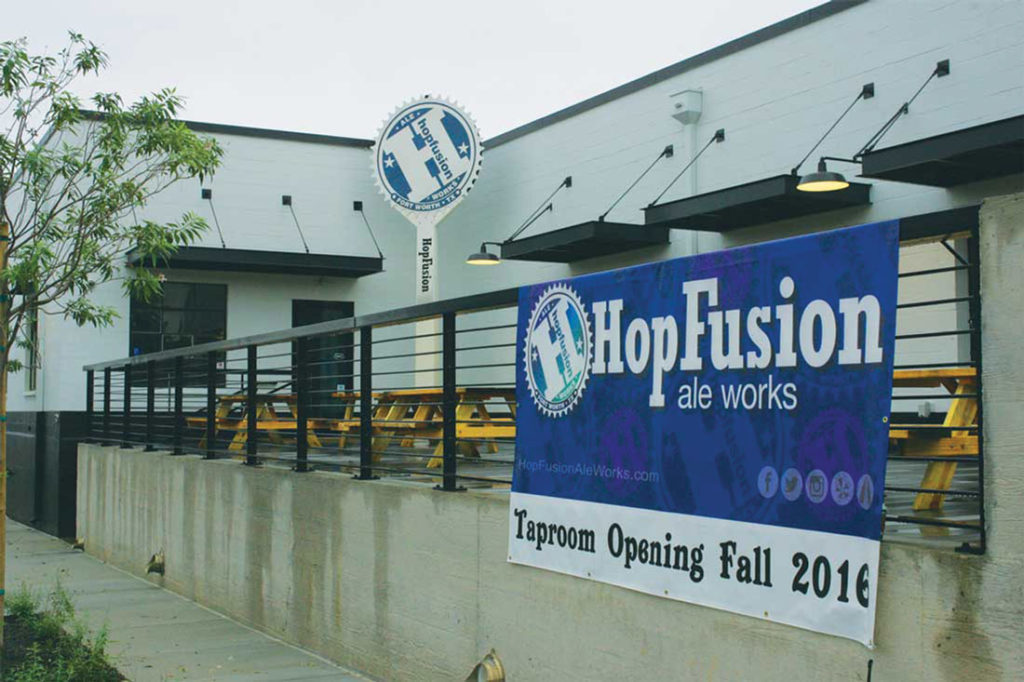 Distillery
Readers' choice: Firestone & Robertson Distilling Co., 901 W Vickery Blvd, 817-840-9140
Critic's choice: BLK EYE Vodka, 503 Bryan Av, 817-349-9977. Scott Billings and Todd Gregory opened BLK EYE Vodka on the Near Southside last year with the vision of offering a grain-to-glass product that's completely sourced from Texas corn, peas, water, and yeast. The magic ingredient, according the BLK EYE Vodka's many fans, is, not surprisingly, the black-eyed pea. One thing's for sure — the results make for smooth sipping and one killer Moscow Mule.
Taproom Tour
Critic's choice: Panther Island Brewing Company, 501 N Main St, 817-882-8121
Panther Island beermeister Ryan McWhorter is tasked with consistently brewing the choicest suds for throngs of craft beer fans. Among his many talents (including a great parody of Bob Dylan) are leading weekly taproom tours. What's the best way to dry hop an IPA? He can tell you. What's the best way to infuse Parker County Peaches into beer? That's easy. Fridays, Saturdays, and Sundays, you can visit the Northside brewery to chat with McWhorter and his crew. Bring your pup and take in some live music while you're at it.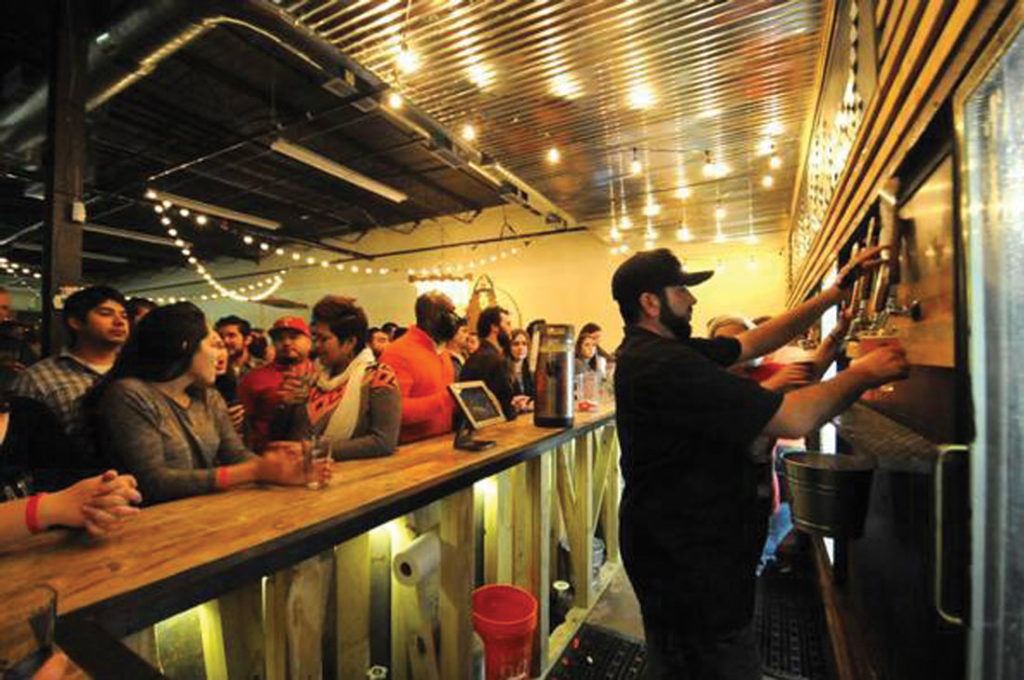 Margarita
Readers' choice: Rio Mambo, 6125 SW Loop 820, 817-423-3124
Critic's choice: Wild Salsa, 300 Throckmorton St, 682-316-3230. Come for the food, stay for the 'ritas. Or just do what more and more people are doing: come for the mixed-drink margs. In this cocktail paradise, jalapeños and fire-roasted pineapple chunks bathe in vats of tequila, destined for your glass. With superlative handcrafted bebidas like the Wild-Rita, Prickliest Pear, and Avocado Margarita (and with generous happy-hour specials), Wild Salsa may serve up some of the best margaritas north of the border.
Dance Club
Readers' choice: Studio Eighty, 500 Taylor St, 817-332-4833
Beer Selection
Critic's choice: The Brass Tap, 901 Houston St, 817-870-3838. Nestled in Fort Worth's bustling downtown is a cozy neighborhood pub where the tap wall is always stocked with fresh beers and the staff keeps up with craft beer trends. Owner Ron Jankowski ensures that his gastropub's 60 draft taps and 190 bottles meet Fort Worth's evermore discerning palates. As a big fan of Brew Crew HC, Jankowski offers membership to the non-professional hockey team's fan club from which customers can earn points for rewards. Jankowski has scored a goal with this place.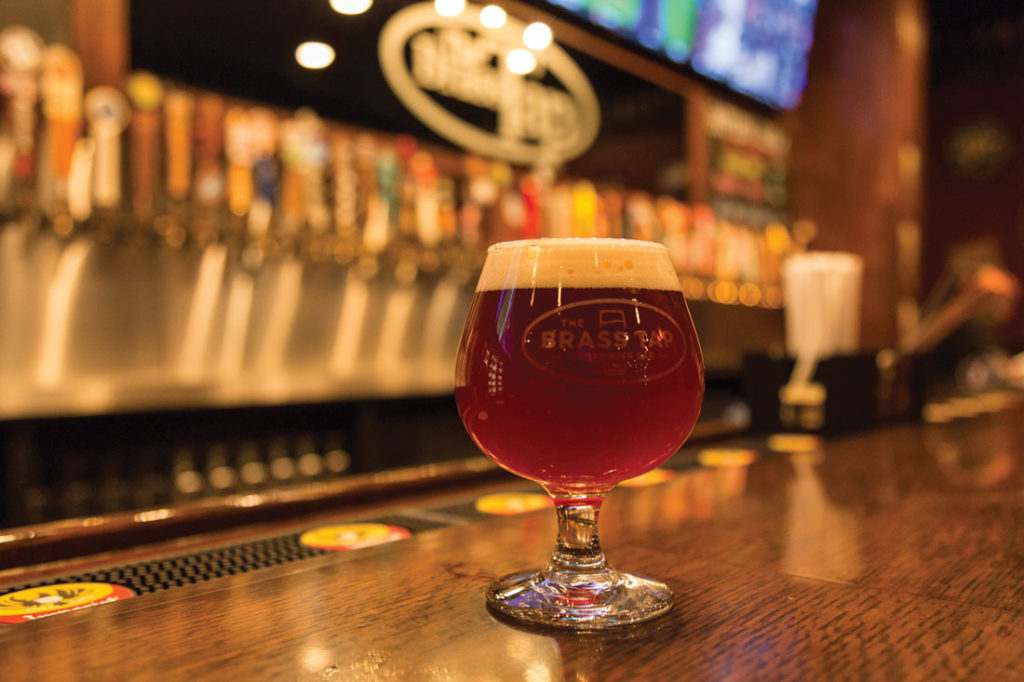 Craft Cocktail
Readers' choice: Del Frisco's Grille, 154 E 3rd St, 817-887-9900
Critic's choice: PRoPER, 409 W Magnolia Av, 817-984-1133. When was the last time you had an impeccably made cocktail? A drink in which the bartender precisely measured the ingredients like some kind of Martha Stewart boozehound, so that what you ordered tasted the same every time? PRoPER has glamorous cocktails (French 75, an Old Fashioned, and several variations of a Moscow Mule), kitsch cocktails (a tiki bar event is coming in October), imaginative cocktails (Summer on the Riviera, Smokey Marge) and aperitifs, digestives, and other booze served in between the booze. PRoPER also offers trivia nights, happy hours, and occasionally interesting food-and-booze pairing events.
Gentlemen's Club
Readers' choice: Rick's Cabaret, 7101 Calmont Av, 817-732-0000
Critic's choice: Bucks Cabaret, 2345 Meacham Blvd, 817-369-3544. Can we really believe the claim that every strip club has "the hottest girls in town"? Interestingly, the ladies at Buck's seem to represent a veritable rainbow of race, ethnicity, and body types (both surgically enhanced and natural). Strip clubs entice customers in with the promise of babes and cheap booze, but once you're in, many clubs are like discount airlines –– if you want this or that, you pay more. Bucks' menu of VIP services is no secret: At about $50 for a party of eight, you get reserved seating and bottle service. If you want your own private stage and a better variety of premium booze, that will double the cost. Bucks' blog even has tips for those who don't frequent gentlemen's clubs –– come during off hours, time the drink specials, and leave your credit cards at home.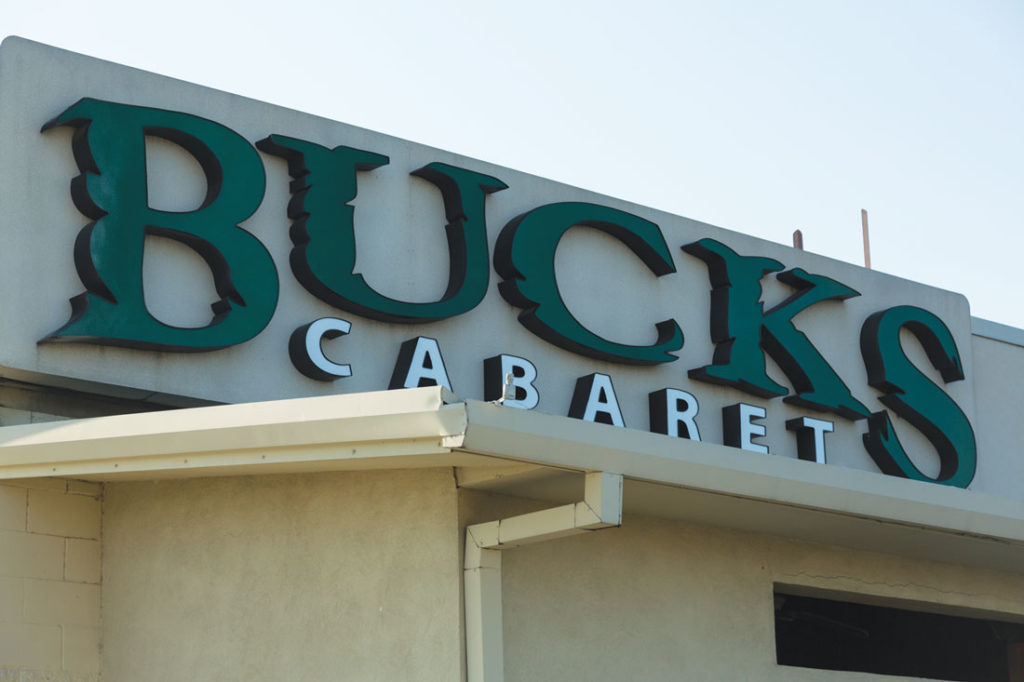 Bar Games
Readers' choice: Varsity Tavern, 1005 Norwood St, 817-882-6699
Critic's choice: Free Play, 400 E South St, Arl. A retro-gamer's wildest dreams realized, Free Play offers rows and rows of vintage arcade cabinets, table tops, and pinball machines from the late '70s to the latest iteration of the Street Fighter franchise. Besides showcasing the titles that made the Golden Age of Arcade Games truly special –– yes, that means Pac-Man, Galaga, Joust, Dig Dug, and the other big ones –– Free Play also features lesser-known titles you may have skipped because your allowance was only so big. All games are free to play (after you pay a cover), and you'll also find a hefty craft beer menu, great specials, and a quality menu of sandwiches and snacks that won't ding your wallet too badly.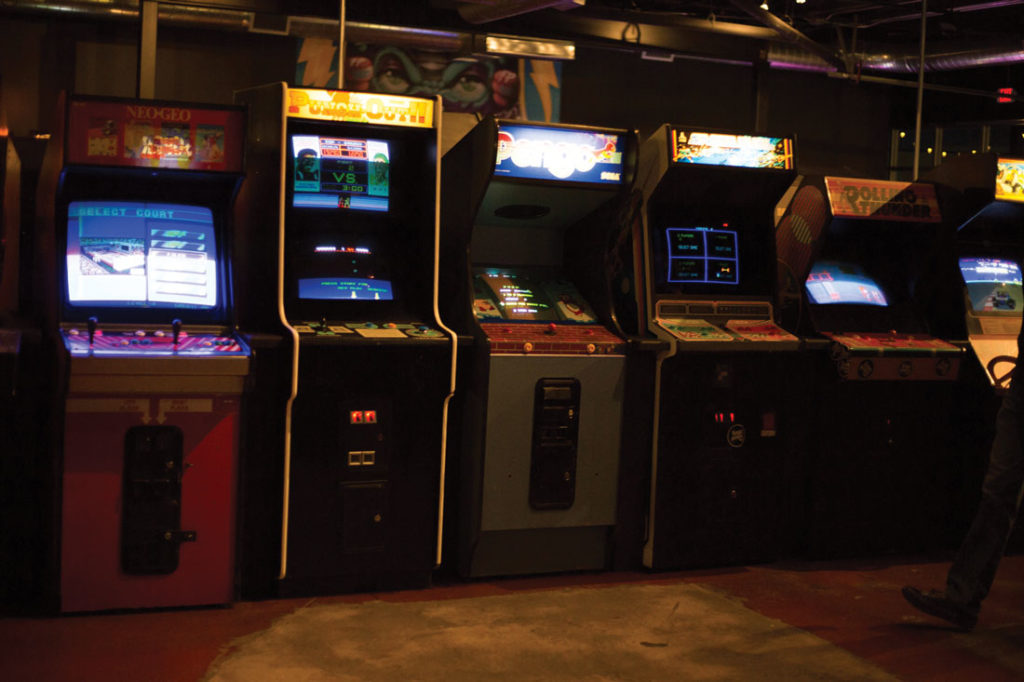 Patio
Readers' choice: Joe T Garcia's, 2201 N Commerce St, 817-626-4356
Critic's choice: Lola's Trailer Park, 2735 5th St, 817-759-9100. Between the Sunday afternoon rummage sale and the concerts that happen on the outdoor stage, Lola's outdoor half has something for everyone, including a barbecue truck and daytime kid-friendly environs. There's plenty of room to kick back, enjoy some beers, watch a band, or hang out with friends. The Trailer Park is a nice complement to its rowdy older sister, Lola's Saloon, and whether Lola's has a festival going or a regular ol' Saturday afternoon day-drinking sesh on the calendar, the Trailer Park is the place to be.
Bar Bathroom
Critic's choice: The Abbey Pub, 2710 W 7th St, 817-810-9930. The bar (a'hem) is admittedly low for this category, but the Abbey checks off all of the important boxes for a place to release a sewer snake without fear of contracting hepatitis. For one, the johns are far removed from the tables where people are drinking, so you're not dropping off the kids 20 feet from your date. Secondly, the bathrooms are spacious and can hold multiple people, ensuring that no one will be knocking on the door while you're building a log cabin. Thirdly, and by far most importantly, the rooms are clean and well stocked with toilet paper and soap. Of course, piping a hot loaf at a bar isn't ideal for anyone, but at least at the Abbey, it's not a total nightmare.
Open-Mic Night (Music)
Critic's choice: White Elephant Saloon, 106 E Exchange Av, FW, 817-624-8273. Open-mic nights ebb and flow, come and go, move around, and shift shapes but rarely become an institution, something you can count on like the sun rising in the east and Dairy Queen serving a mean Blizzard. And that's why we love Tuesday nights at the White Elephant. You can bank on the fact that the open-mic will happen, a crowd will gather to listen to the music, decent artists will perform, and that an attentive MC will organize things (and, thank God, pull the plug fairly quickly on hacks who somehow find their way onstage). You know, the basics.
Karaoke Night
Readers' choice: The Boiled Owl Tavern, 909 W Magnolia Av, 817-920-9616
Loud Band
Critic's choice: BULLS. The post-punk trio just put out the stellar new EP 14 Minutes, but the best way to experience BULLS' ear for sculpted noise is live, and the smaller the club the better. Yes, you should probably wear earplugs, but making the audience uncomfortable and anxious is part of the band's aesthetic, and it's also what makes them thrilling to experience.
Concert of Last 12 Months
Readers' choice: Fortress Festival, Cultural District, Apr 29
Critic's choice: Fortress Festival. You can point out the logistical hangups that happened at this inaugural event, or you can be stoked that a festival boasting a lineup of heavy-hitting national acts happened in Cowtown. Run the Jewels, Flying Lotus, Slowdive, Houndmouth, Peter Hook & the Light, Purity Ring –– the list of awesome touring bands was great, and so were the local openers: Ronnie Heart (whose set was canceled due to the rain), Burning Hotels, Quaker City Night Hawks, and Sam Lao, plus five other North Texas acts, showing the big guns we make a lot of noise here, too.
Dressed Band
Critic's choice: Starbass Laboratories. Starbass Laboratories' spacey electro sounds like a German idea of 21st-century grooving as imagined in 1987, and the duo's shiny, silver, synthetic, LED-popping getups drive home that point like a party on a monorail connecting a futuristic New Berlin to its sister cities on the moon. Those Starbass dudes look like they sound, in other words, like a couple of party-friendly cyborgs.
Bar Decor
Critic's choice: Thompson's Bookstore, 900 Houston St, 817-882-8003. Throw out all of the competitors trying to be the next "it bar," –– yupped up and full of shiny new fixtures –– and judge a bar's decor by this historical standard of quality: character. Nestled in an old bookstore, Thompson's has character that's neither plain nor simple. With its blending of 20th-century decades, the first floor offers intimate interiors, dark-stain bookcases warmed by glowing sconces, shade lamps, and soft armchairs from another century. Look up, and you'll marvel at the detail in a patterned mosaic that bends across an old arched ceiling. Look left to find an illuminated booze selection bigger than anything your Grampy would've had at his neighborhood tavern 50 years ago. Climb up a floor to view the early- and mid-century modern furnishings enmeshed between imposing windows in the upstairs apartments. Head downstairs for a speakeasy experience that honors the bookstore's creepier origins as a medical pharmacy. Password required on weekends. Street entrance also available.
Hotel Bar
Critic's choice: Whiskey and Rye, the Omni Hotel-Fort Worth, 1300 Houston St, 817-350-4105. Named for its robust selection of brown liquor, Whiskey and Rye maintains an elegant atmosphere infused with a laid-back cowboy vibe. The more than 170 whiskeys, as well as an ever-changing, carefully curated selection of local craft drafts, are perfect for washing down upscale grub like buffalo tamales and wild mushroom-and-black-bean quesadillas. Whether you're out on the town for a classy drink or stopping in for a nightcap on your way back to your suite, Whiskey and Rye is a perfect representation of what a Fort Worth hotel bar should be.
Rooftop Patio
Critic's choice: Reata Restaurant, 310 Houston St, 817-336-1009. Although a couple of places on or near West 7th (Varsity Tavern, Kona Grill) offer excellent views from their rooftop patios, they can't beat the view from four stories above downtown Fort Worth proper. Depending on which Reata patio you select, you might be looking at Sundance Square or the setting sun. Additionally, Reata offers valet parking, which trumps worrying about your car getting towed any day. The patio doesn't officially open until 4pm, but with Reata's new happy hours (Mon-Fri until 7pm), the price of admission to a rooftop with a nearly celestial view is now a little cheaper.
Seat for People-Watching
Critic's choice: America Gardens, 2829 Morton St, 817-439-9660. Scoping out interesting and attractive people is a breeze at this restaurant and booze stop amid the West 7th party scene. Find a seat on the elevated patio, and you'll have a birds-eye view of the fascinating, beautiful masses noshing and milling around 10,000-square feet of shaded, park-like, fan-cooled outdoor space plopped right in the middle of an urban concrete-ville.
Gay or Lesbian Bar
Readers' choice: Rainbow Lounge, 651 S Jennings Av, 817-744-773 (now closed)
Critic's choice: The Urban Cowboy Saloon, 2620 E Lancaster Av, 682-707-5663. After the untimely demise of Fort Worth's Rainbow Lounge earlier this summer, it might seem like the competition for the area's best gay bar is a game of last-man-standing. But we think Urban Cowboy would have deserved recognition in its own right — after all, as a truly LGBTQ-inclusive club, with an emphasis on drag-show fundraising and community events, the place has become the kind of home away from home where you really can come as you are.
Club DJ
Critic's choice: DJ Marky Mark. If you frequent the most popular bar spots in West 7th, you probably already know Mark McEuen. He's the good-looking guy with the demeanor so laidback that most partiers feel comfortable walking right up to him and requesting pretty much any song from any genre of music. He calls his style "open format," which in DJ-speak means he plays what is popular and what people request. This lifelong Funkytowner melds house, rock, hip-hop, and Top 40 together to keep the well-lubricated patrons of Fort Worth partying on repeat. If you want to find Mark, then you'll have to fight through the crowds at The Whiskey Garden on Friday nights, but occasionally he'll wake up early to spin by the pool on Saturday or Sunday afternoons. If you're a music lover but not the day-drinking type, you can catch him on Saturday and Sunday nights at Reservoir.
Country Music Bar
Critic's choice: Western Place Club, 837 N Burleson Blvd, Burleson, 817-295-9787. Hot dang, if you want to hear good country with a great rotation of bands on Friday and Saturday nights, and learn the Texas Two-Step, just get yer keester down I-35 to the south end of Tarrant. The Western Place has a pool room, a great dance floor, electronic bar games, cheap booze, real cowboys, rhinestone cowboys, and the corniest country pick-up lines this side of the Pecos. As authentic as it gets.
Place to:
Nurse a Hangover
Critic's choice: The Bearded Lady, 1229 7th Av, 817-349-9832. Different cultures have different ways of combating the dreaded morning bill. In Italy, they fight it with double espressos. In Peru, ceviche is summoned. In Germany, it's rollmops. (What?) In Fort Worth, we chow down. And get our booze on. We also booze because we're "nursing" a hangover here, not biking, running, or yoga-ing it out of our systems like normal, non-functioning drunks. Assuming you made it through the night before without seeing those two ignorant, no-account, downright indignant words –– "card declined" –– The Bearded Lady isn't going to push you too far into the negative (account balance) zone. Not only is the food terrific (and not too expensive), but the cozy interior is dim and not too loud, which makes the Lady the perfect spot for gourmandizing yourself back to wellness while contemplating how much plasma you're going to have to "donate" to get your ledger back into the black.
Drink with Real Locals
Readers' choice: The Boiled Owl Tavern, 909 W Magnolia Av, 817-920-9616
Critic's choice: Magnolia Motor Lounge, 3005 Morton St, 817-332-3344. Don't let its West 7th surroundings fool you. Magnolia Motor Lounge is no trust fund-baby/TCU-child haven. Boasting some of the best live music of the Americana variety in town, stellar pub-grub (the mouthwatering Magnolia Custom is a fresh burger topped with ham, breaded/fried bacon, pepper jack cheese, grilled mushrooms, and a fried egg), and crack service from a team of stone-cold darlins, MML is a little oasis of maturity and bona fide Fort Worth flavor in a sea of party-'til-you-puke! assholery.
Have an Eye-Opener
Critic's choice: Upper 90 on College, 961 W Magnolia Av, 817-882-6614. The yokel thinks, "Sunday-funday mimosas," right? But we're hard, serious drinkers here, not sock puppets who drink just to fit in. We need to be buzzing throughout the waking week, 12/3.5. And since it's always happy hour somewhere, and since we tend to roll out of bed around the 10 o'clock hour, giving us just enough time to down two cups of java before stumbling out of our pajamas, our first stop is U90. Conveniently, the soccer-loving sports bar opens at 12:30pm Mon-Fri, and ZiegenBock drafts are only $3 a pint. Since your real work is boozing, bring your laptop to do that other kind of work on the free Wi-Fi. Password: UPPER9009. You'll be buzzing all the way through rush-hour traffic. (Text an Uber, you idiot.)
Meet Someone of the Opposite Sex
Critic's choice: America Gardens, 2829 Morton St, 817-439-9660. One of Fort Worth's latest gastropubs is also a destination for the unattached. There's always a plentiful mix of single men and women (and their dogs) at this West 7th scratch kitchen/bar on any given night. Proximity being the magic ingredient in the dating game, America Gardens' spacious 10,000-square-foot patio offers ample opportunities to get close to that special someone who caught your eye way over there. "Buy you a drink?"
Meet Someone of the Same Sex
Critic's choice: The Chat Room Pub, 1263 W Magnolia Av, 817-922-8319. The Chat isn't a gay bar, by a damn sight. But maybe that's why it has a reputation for being a good place to actually meet someone and get to know him or her. After all, there's no one to impress by standing around trying to strike the right pose. The self-styled "ultimate dive bar" is pet-friendly with a great patio, and they don't care who you sleep with — just don't do it on the pool table.
Take a First Date (to Go Crazy)
Readers' choice: Turtle Races at Whiskey Garden, 2800 Bledsoe St, 682-312-7708
Critic's choice: Varsity Tavern, 1005 Norwood St, 817-882-6699. Drinking is fun, so it naturally follows that more drinking equals mas fun. By that measure, Varsity Tavern reigns supreme. (We checked with the TABC. Varsity is one of the highest-billing bars not only in Fort Worth but in the entire great republic of Texas.) There are seemingly endless ways to live la vida loca at this West 7th restaurant and bar. For the high rollers, bottle service comes with premium liquor and champagne. For those on a tighter budget, this spacious gastropub offers regular drink specials, sports games on big screens, themed events, and a giant "outdoor playground" with giant jenga, beer pong, and more. If you can't go wild here, you're not trying hard enough.
Take a First Date (to Impress)
Readers' choice: Del Frisco's Double Eagle Steak House 812 Main St, 817-877-3999
Critic's choice: The Buffet Restaurant at the Kimbell Art Museum, 3333 Camp Bowie Blvd, 817-332-8451. For you culture vultures looking to impress, take your date to the Kimbell and wow him/her with your thirst for knowledge and depth. For a first-rate nosh, hit up Chef Peter Kreidler's outstanding buffet of quiches, salads, soups, and gourmet sandwiches made with house-baked breads. A few of the museum's permanent treasures are in full view of the cafe, so read up on your ancient Oceanic pottery before you go and watch bae's opinion of you grow with every bite.
Day Drink
Critic's choice: Lone Star Taps & Caps, 6115 Camp Bowie Blvd, 682-499-5516. Some of the best party expeditions start early and require extra lubrication. Nestled in a Camp Bowie shopping center next to a Starbucks is a beer drinker's cupboard. T&C boasts 50 beers on tap at any given moment, showing patrons in real time how much is left on each tap. You won't find any macro-brews here or food, but the staff welcomes imbibers to bring their own grub. Just grab yourself a flight of feisty blondes or a murderer's row of heavily alcoholic stouts to start your journey toward daylight awesomeness. You can also take the fun along with you by filling a growler (or five), or buy a bomber or six-pack from the bar's impressive selection of beer to-go. Don't count on finding 12-dollar martinis here, only competitively priced brews that are even more wallet-friendly when you fill your own receptacle. Taps & Caps isn't a "sexy" day-drinking choice, but it is simply the best start to a fun-filled day because of its versatility and convenience.
Drink Alone
Critic's choice: 44 Bootlegger, 1411 W Magnolia Av, 817-887-9089. If your goal is to go drink alone because you want to brood silently, 44 Bootlegger is the wrong choice. But if you want a spot where you will be cheerfully greeted by an enthusiastic staff, then grab a stool here. Married co-owners Tommy and Tammy Brown have a way of making everyone who comes in the door feel like an old friend stopping by a house party. It's probably why this Magnolia bistro has become a de facto hotspot for singletons to pop in for a drink. Are you a reader, musician, artist, or a writer? Tammy will introduce you to someone who shares your interests. By the time you leave 44 Bootlegger, you probably won't have had a moment of true alone time, but you may be flush with some new friends.
Have a Nightcap
Critic's choice: Silver Leaf Cigar Lounge, 426 Commerce St, 817-887-9535. Fort Worth has more than a few dimly lit cocktail bars that are great for last call, but if you're winding down the night with one last drink, why not go for an upmarket cocktail in a sophisticated setting? The furniture is luxurious and comfy, the cocktails crafted from top-quality ingredients, and the cigar selection is exhaustive, though the staff is highly knowledgeable and will be happy to help you find the perfect stogie for your budget, palate, and vibe.
Break Up
Critic's choice: Morton St between University Dr and Foch St. Breakup rules dictate that the dumper take the dumpee someplace quiet to do the deed, so that said dumpee won't risk appearing impolite by raising his or her voice. But why go quiet when you can do what's been needed to be done for a long time in an area where nobody will notice a little yelling? The roughly three city blocks just south of Crockett (and the newly revamped Crockett Row) boast no fewer than seven bars or restaurants that do the kind of biz where rowdy music or events are happening pretty much nightly. If you broaden the area past Foch, you've got 10 places where you're guaranteed not to create a scene, because the outside environs are as loud as the inside.
Shoot Pool
Critic's choice: JJ Dakota's, 9112 Camp Bowie West, 817-244-9000. You're going to have to head way west on Camp Bowie to get to JJ Dakota's, but whether you're a pool shark or just looking to grab a cheap beer and shoot a friendly game, the drive is worth it. More than a dozen tables await ($5.50 an hour). Throw in a full-service bar, a couple of foosball tables, dart boards, and accommodating hours — noon to 2am — plus weekly pool tournaments, and you've got yourself a winner.
Have a Conversation
Critic's choice: Lola's Trailer Park, 2735 W 5th St, 817-759-9100. When the weather is nice –– which is eight months a year around here –– few places in Tarrant County offer a more pleasurable place to sit around and do the yackity-yack than the Trailer Park. It's not really a trailer park. We've done a lot of sitting around and yacking in genuine trailer parks, and it ain't all that interesting. But throw in sand, shade, a bar with reasonable drink prices, clean bathrooms, pretty people, and great local music on an outdoor stage, and you've got an ideal backdrop for conversing.