At charity events this year, I saw folks throw footballs or hit tennis balls to people. I heard wild stories about ballgames and boxing matches. And I witnessed some moments of generosity and respect worthy of the holiday season.
Regular readers of this blog may know that when I'm not lounging in the palatial Fort Worth Weekly office suite, I do other creative work. A good chunk of it involves adding to the presentation of events, and especially sports-related charitable ones. Read on for some detail on some event-related moments that left an impression.
Nancy Lieberman Charities Dream Ball
February, 2017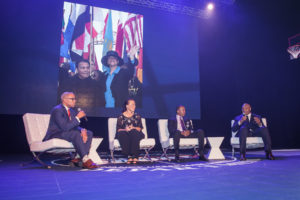 From a sports content standpoint, it might not get better than this, especially if you're a boxing fan. At the end of the evening, a roundtable discussion moderated by ESPN SportsCenter anchor Jay Harris featured Sugar Ray Leonard, George Foreman, and Lonnie Ali (Muhammad's widow) talking about Muhammad Ali's legacy. We streamed it via Facebook Live and you can watch the panel, plus Lonnie Ali receiving an award, here.
Taste of the Cowboys
May, 2017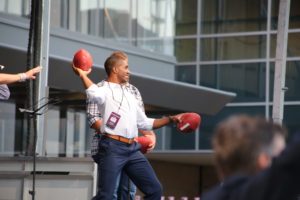 This event raises funds for the North Texas Food Bank, and the Dallas Cowboys serve as the face of the event (especially the bearded face of Travis Frederick and his fellow offensive linemen). They held this year's event at the team's new practice facility, The Star. It features prominent local chefs serving samples of signature dishes, so the food is a highlight, but the most fun part might involve football.  After the live auction concludes, a bunch of current and former Cowboys players take the stage. The auctioneer requests additional donations to the food bank, and when an audience member raises his or her hand to contribute, a player throws him or her a football. The completion percentage isn't terribly high, but you do see a few good catches interspersed. It's a cool spectacle and no doubt drives donations.
Behind the Masque Gala
May, 2017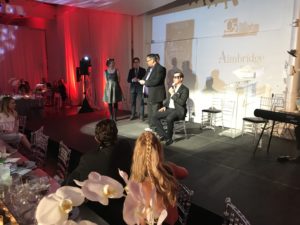 Former Stars goaltender Marty Turco runs a charity called C5 Youth Foundation of Texas, and they do amazing work helping kids from challenging backgrounds navigate their teenage years and get into college. They annually hold a masquerade ball as a fundraiser, and this year the featured entertainment involved an improvisational comedy troupe from the Hideout Theatre.
The comedians managed to lure the easygoing Turco on stage, where they quizzed him about his day, which included hot yoga, picking up spirits for the event, and playing nine holes of golf. They then made up a song about his activities. In the middle of the routine, Turco laughed so hard his chair broke. It couldn't have been scripted any better.
 Talk of the Town
July, 2017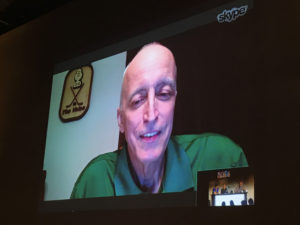 Maybe the most poignant moment of my year came at the Talk of the Town event. I've written in detail about why, but the quick holiday summary involves a Skype appearance by Dallas Stars announcer Dave Strader. Strader's fight against cancer had prevented him from being physically present at the event, but he wanted to participate. So he joined his counterparts from the Mavericks, Rangers, and Cowboys electronically and it lit up the room, especially the table full of his Stars co-workers.
The lead-up to the event was fun, too, with a series of promotional videos starring the likes of Eric Nadel, Brad Sham, John Rhadigan, Chuck Cooperstein, and Cooperstein's co-star from Texas Scottish Rite Hospital, Micah Pinson.
Nancy Lieberman Charities Celebrity Golf Classic
September, 2017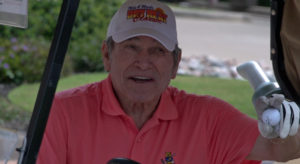 One reason golfers play this tournament is the opportunity to rub elbows and trade foot wedges with notables from the worlds of sports and entertainment. It was nice seeing the likes of Seth Curry, Tony Casillas, Jose Guzman, and others show up to the support the charity, but one of the highlights was talking to comic actor Burton Gilliam near the 10th tee. My work that day involved shooting video, and we got to talking about camera technology. When he first got into the business, there was no digital technology allowing you to see what you had just shot as soon as you've done it. One shot movies on actual film, and you didn't know what you had until it had been developed. Burton told me they once had to completely reshoot a scene when he was making Paper Moon because of something they hadn't seen the previous day. It gives one an appreciation for all the scenes moviemakers did get right back in the day.
The main reason this one made the list though, is the scene at the end of this video. You'll note Mr. Gilliam still has his acting chops.
Dirk Nowitzki Foundation Pro Celebrity Tennis Classic
September, 2017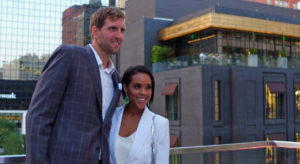 Dirk and Jessica Nowitzki have put on a celebrity tennis event the last two falls at the SMU tennis center. The tennis was a lot of fun, with a mix of world-class players like Donald Young and celebs from other professions like Owen Wilson and J.J. Barea. The evening before, they hold an exclusive VIP dinner and a silent auction. My personal favorite moment came when a video we had edited elicited tears from some audience members, but the best overall moment came during the silent auction that followed. As bids rose for various package, celebrities started stepping up. Former Dallas Star Mike Modano offered to fly in for a dinner package that already included Dirk, and other celebs joined. There were a number of cool gestures made and a lot of generous bids made it a six-figure night for the children's causes helped by the Dirk Nowitzki Foundation.
Those are just a few highlights of the year in sports charity events, and I could name many more great moments and events (and I do feel guilty for not mentioning every single event I worked or attended in 2017 – they were all fantastic). Sport can be a force in doing good things, and a lot of people contributed a lot of time, energy, and money to improving people's lives this year. Here's to more of that in 2018.