I only met the man in person once.
The meetup came at the Dallas Stars' media day in September, 2015. The team had just hired Dave Strader as its play-by-play announcer and he had come over to Frisco's Dr Pepper Arena to observe the goings-on. I chatted with him and his new broadcast partner, Daryl Reaugh. The whole conversation might have lasted a minute. I remember Dave being nice and then I went on to whatever other production duties had presented themselves.
I re-connected with Dave earlier this year. The Stars announcer was scheduled to join his radio counterparts from the Mavericks, Rangers, and Cowboys to swap stories and raise money for charities. I had taken on some producing duties for this event, called Talk of the Town, and needed to work with him on the show. What made it tricky was that we didn't know if he would be there.
Since I had last seen Dave Strader, the Hockey Hall of Fame had honored his broadcasting excellence by naming him the 2017 recipient of the Foster Hewitt Memorial Award. Dave had also contracted cholangiocarcinoma, a punishing cancer of the bile duct.
We had shot funny (I hope) promotional videos with Eric Nadel, Brad Sham, and Chuck Cooperstein to promote the event. Dave didn't get to participate in those because he was undergoing treatment. But he retweeted and promoted and did everything he could to support his fellow broadcasters, the event, and the charity he had chosen to benefit from it, the Dallas Stars Foundation.
We had discussed trying to have him participate live via an electronic connection if we could work out the technical details, but I honestly wasn't sure what to expect and what kind of strength he would have. Then, shortly before the event, we found out good news: Dave would be well enough to fly in and attend the event.
We needed to add his elements to the program. I had collected play-by-play excerpts for all the other announcers and now I got to ask Dave what he wanted. He asked for a Red Wings call, his last as a team broadcaster for that Original Six team. A connection helped me get that from Detroit. He also sent us a voicemail recording sportscasting icon Marv Albert had left him after the Foster Hewitt announcement.
Then, abruptly, Dave's treatment schedule changed. He wouldn't be able to make it to Dallas for Talk of the Town. But he felt he would be strong enough to join via Skype if we could make the technical details work (which, luckily, we could). And that evening, we dialed him up and found out he indeed was very much robust enough to connect and contribute.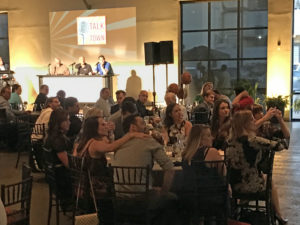 I had Dave make his entrance in the middle of the program because I wasn't sure of his stamina. I wish I had dropped him from the beginning, because he gave a fantastic performance. He told great stories, interacted with his fellows, and gave the audience one of the best memories of any charity event I've ever worked. I'll never forget how moved the table of Dallas Stars employees seemed when he appeared on the video screen. When he signed off, they and the rest of the crowd gave him a well-deserved standing ovation.
Talk of the Town might have been the last time he got to use his voice in a live broadcast-style setup to entertain sports fans. It seemed to truly energize him and I think that makes all of us who took part in it feel pretty good.
I had one other regret from the evening. When we were talking about calls to find, Dave had written this: "I would love to have the call of Jamie Benn's OT goal from Feb 18…my first game game back after my cancer diagnosis. I would also like the clip of Razor's comment as the players skated over to salute me at the end of the game."
In hindsight, I desperately wish I had made the extra effort to include that call, which due to exigent circumstances that week, was more of a challenge that it normally would have been. I remember thinking that I would for sure use it for next year's event, when he would hopefully make a triumphant in-person appearance.
That won't happen now. Dave Strader died Sunday.
I only met Dave the one time, and communicated with him via email, phone, and Skype a bit. Yet somehow his passing resonated deeply. It didn't require much exposure to the man to see his passion for people and a deep-seated fervor for life.
Many Stars fans (and those of the other teams for whom he called games) never had the pleasure of meeting Dave even once, but I bet they could tell the same things I could, thanks to the zeal with which Dave broadcast hockey games (and the other sports he did as well).
Many in the hockey business called Dave Strader "The Voice." Luckily, his voice will live on in the work he did and the calls you'll be able to listen to online and in hockey shows for years to come. And in the memories of those who knew him, even just a little bit.