No, On Tap in Fort Worth (the Fort Worth Weekly's craft beer column) and On Tap DFW (the newish growler fill station in Arlington) aren't related in any way, other than the fact that we both have a knack for great branding.
For the past year, the pub has enticed me with its online promotions of rare releases and live music events. My first visit didn't disappoint. Large flat-panel televisions boasted 50 craft beer choices. Around half of the backlit offerings were local: Panther Island Brewing Company, The Collective Brewing Project, Martin House Brewing Company, and Rahr & Sons, among others. On Tap DFW opened about a year ago. The comfy space cohabits a trendy strip of retail and restaurant spaces near UTA in central Arlington.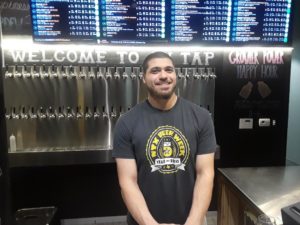 A friendly Zachary Ames greeted me. The taproom manager hails from Abilene, where he learned the tricks of the service industry trade from his family's restaurant business. Throwing out a time-tested question, I asked Ames what his first craft beer was. His auspicious answer: The Alchemist Brewing's Heady Topper.
"It was at my cousin's wedding," he recalled. "He had a couple four-packs. I didn't realize how rare they were at the time. I was drinking it and my cousin was like, 'Hey, what the heck?' 'It's open bar,' I replied."
That was eight years ago. Many North Texans, myself included, are only a few years into the craft beer movement. In between chats, Ames fielded questions from curious patrons. He didn't overthink the process. If someone asked for an IPA, Ames recommended his favorites. Most of the customers, he later told me, are open-minded about beer.
Popular 817 brews include Panther Island Brewing's Sweet Fang (peanut butter milk stout), HopFusion's Feisty Blonde, and Rahr's Winter Warmer. That evening, I tried a nicely spiced Santa Czar (Russian Imperial Stout) from Panther Island Brewing. The understated flavors of Martin House's Cookies and Cream left me nonplussed, though. Locust Cider had a mojito-inspired cider that got me excited about the cidery opening in Fort Worth next year.
Take it from this intrepid beer reporter, On Tap DFW keeps up with new releases. The family friendly space has ample seating and is a short walk from some of the best noshes in Arlington.
Don't forget to follow On Tap in Fort Worth's Facebook page.
On tap this Week:
Christmas Jazz Night December 22
From On Tap: Join On Tap and the Andrew Garfias Quintet for a night of jazzy Christmas music!
On Tap Anniversary Party
January 26 and 27. Follow On Tap DFW's Facebook page for updates.