I'm not completely done with the movies of 2017 — the ogres over at Sony Pictures Classics didn't let me see Loveless and A Fantastic Woman, both of which have been nominated for the Best Foreign Film Oscar. If the occasion arises to discuss them, I'll report back to you, dear readers. In the meantime, I'm weighing in as I do every year at this time about some movies that I didn't have the chance to comment on in my film reviews or our Film Shorts page or my end-of-year movie coverage. I didn't want to let the films below pass unremarked. Some of these are available on streaming or disc. Others, you'll have to wait for.
BPM (Beats Per Minute)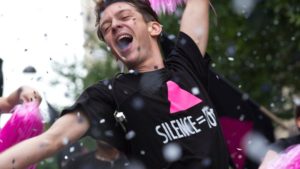 This terrific French gay-rights drama reminded me of Milk in that while the central story is a tragic one, the movie's overall impact isn't tragic. Instead, it will make you want to go marching in the street holding a rainbow banner. Robin Campillo's film follows a gay teen (Nahuel Pérez Biscayart) in the 1980s who finds love and his activist's heart when he joins ACT UP in Paris and participates in that group's disruptive protests against the French government and pharmaceutical companies who are dragging their feet about finding a cure for AIDS. This film rated an honorable mention on my Top 10 list; how it didn't make the cut for the Best Foreign Film Oscar, I'm sure I don't know.
Donald Cried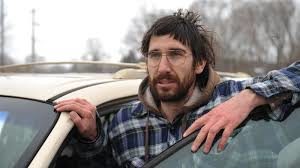 I probably should have included Kris Avedisian in the honorable mention section of my best directing debuts post. He writes, directs, and stars in this comedy that's cringe-inducing in a good way, playing an arrested-development case whose unhealthy fixation on his childhood best friend (Jesse Wakeman) comes to the fore when the guy returns to their hometown. The movie has some storytelling issues, but you won't soon forget Avedisian's comic creation as a clingy guy who tries to impress you with his autographed poster of a masturbating porn star. You feel like he's sitting next to you, grinning dopily and making plans for you and him despite whatever you have on your schedule.
The Girl With All the Gifts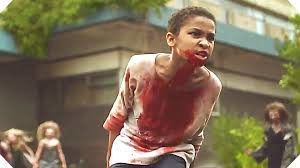 I'm not sure why this British YA dystopian film didn't get more traction in the marketplace. First of all, the main character is a black girl, and second, the B-grade zombie movie around her is really good. It's set in a world where a fungus has turned most of the population into zombies, and Sennia Nanua stars as a girl held captive along with others in an underground lab, not knowing that they're human-zombie hybrids being experimented on to possibly cure the remnants of humanity. Based on M.R. Carey's novel, this thing holds together quite well thanks to director Colm McCarthy, and it boasts some nice performances by Gemma Arterton, Paddy Considine, and Glenn Close as the humans.
I Don't Feel at Home in This World Anymore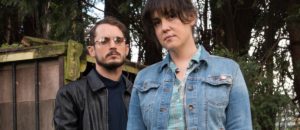 Melanie Lynskey is the best reason to see this black comedy as a put-upon nursing assistant who snaps at the world after her house is burglarized and takes the law into her own hands. First-time director Macon Blair (who also shows up as a douchebag in a bar who spoils the fantasy-adventure novel that the main character is reading) takes useful lessons from his frequent collaborator Jeremy Saulnier, and the way the protagonist manages to kill all the bad guys without having the stomach for violence is niftily managed. There's also an unrecognizable Jane Levy as a drug addict and Elijah Wood as a bodybuilding porn-freak sidekick. With a tad more substance in his writing, Blair may well wind up being a filmmaker to reckon with.
The Lure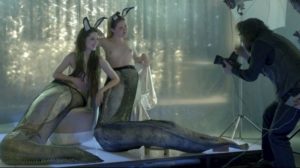 It's a Polish musical about two man-eating mermaids who become cabaret singers! What else do you need to know? I'll tell you anyway: Both director Agnieszka Smoczyńska and songwriting sisters Barbara and Zuzanna Wrońska had experience growing up around the seedily glamorous Polish nightclubs of the late Communist era and wanted to replicate that, so they came up with this gloriously cracked film about sisters named Silver and Golden (Marta Mazurek and Michalina Olszańska) who decide to be part of our world. The songs range from Broadway-style to electronic to straight-up punk rock, and they're awfully catchy. I haven't been able to stop humming "Byłaś serca biciem." The weirdness on display is engrossing, and the film already has a Criterion Collection DVD release.
Okja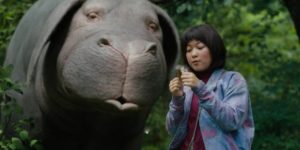 The title character is being transported to a slaughterhouse when a group of people drive up beside the vehicle. They're driving a heavy armored truck, toting assault rifles, and wearing balaclavas and goofy grins as they wave to the driver and say, "Hi! We're not terrorists!" Yes, we're in a film by Bong Joon-ho (Snowpiercer), a wacky science-fiction dystopia in which Okja is a CGI pig the size of a rhino who's been bred in South Korea to produce high-quality meat. This would probably generate more awards buzz if it hadn't been released on Netflix the same day as it hit theaters, but Bong's probe into the ethics of eating meat will unsettle everyone except vegans and unashamed cannibals. It also has the most cartoonish performance of Jake Gyllenhaal's career as a Steve Irwin-like nature expert who gets co-opted by the meat lobby.
Raw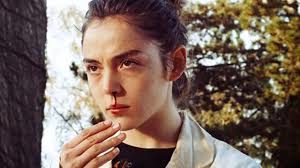 Speaking of cannibals, here's a terribly funny French slasher flick about a medical student (played with feral style by the delicately beautiful Garance Marillier) who enters school as a vegan, but when she's forced to eat meat as part of a college hazing ritual, she develops an insatiable appetite for human flesh. Debut filmmaker and former medical student Julia Ducournau knows how to push our buttons when it comes to body horror, including the most uncomfortable hair-removal scene since The 40-Year-Old Virgin. If the Insidiouses and Sinisters and Conjurings of horror cinema have you bored, check out this bloody French treat.

The Villainess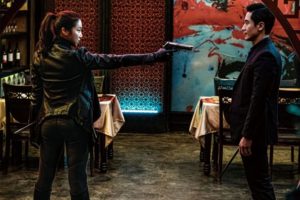 This Korean action-thriller is more everything than the John Wick films and Atomic Blonde put together. Kim Ok-vin (who starred in Park Chan-wook's vampire film Thirst) plays the titular antiheroine, an assassin who comes to realize that her bosses are not the good guys. Or something; the plot is even more impenetrable than Atomic Blonde's. What I do know is that there's a spy academy with an acting school attached to it. The opening sequence is shot like an unbroken take and almost completely from the main character's point of view as she liquidates 50 guys (I counted), including an entire dojo full of martial-arts students, with a gun and two knives. Don't miss the sword duel on motorcycles, either.