Friday night at the 13th annual Dick Vitale Gala, sport had a prominent presence. I was reminded of it every time the crowd would stand and 7-1 basketball Hall of Famer David Robinson would rise with them and block our camera shot. I was working the event in a video production capacity, and made a mental note for next year: Either find a really tall camera riser or seat the centers and power forwards at tables out of alignment with the podium.
Sports luminaries abounded, with the likes of Grant Hill, Jim Harbaugh, Leonard Hamilton, Charlie Ward, Keyshawn Johnson, and former Maverick George McCloud joining Robinson in a packed ballroom in Sarasota's posh Ritz-Carlton hotel. ESPN contributed behind-the-scenes expertise and star power from the likes of Mike Greenberg, Shelley Smith, Chris Berman, emcee Kevin Negandhi, and, certainly Vitale himself.
The evening included dinner and a band and some entertaining stories from the speakers. But what brought sports to Florida was something more dire, though according to Berman, altogether appropriate: cancer.
Don't hate on the Swami, though he predicted before he made the comparison some would. His point was that sport embraces all, extending opportunities to men and women of all sorts. Cancer, he noted, unfortunately respects no limits, either.
The evening raised monies (seven figures worth of them) to fund research on perhaps the best example of the disease's indiscriminate nature, pediatric cancer. Memorial videos and appearances on stage by young survivors reminded us of the innocence of victims and no doubt motivated those who put up their paddles to bid thousands of dollars on V Foundation auction items. But an African-American coach, Florida State's Hamilton, could also tell stories of losing his parents and two adult brothers. A few speakers later, a white ESPN reporter, Smith, recounted the blind subject of an Emmy-winning story touching the reporter's bald head during one of Smith's three rumbles with cancer.
"Cancer knows no boundaries," Berman pointed out. Luckily, sport doesn't either.
Sport also breeds qualities that help in the fight against the disorder. Perseverance, toughness, and a willingness to help a teammate all find a role in helping to fight through the toll the battle takes on all involved. And sports helps develop a couple of other desirable qualities: hustle and competitiveness.
To bring in the amount of money the foundation raised; to attract the number of sports figures they did; to keep doing it some 25 years after the passing of its founder, former college coach and ESPN analyst Jim Valvano, requires a relentless passion.
"Nothing great was ever achieved without enthusiasm," Greenberg said from the podium. "Nobody has embodied that more than Dick Vitale."
Vitale was in the room well before doors opened, scoping things out and raising awareness via social media posts. When he brought young survivors on stage, he knew all their names and stories. If Dickie V The Cancer Fighter were a player, he'd be the one at the front of the line for every drill and the guy who stayed late to practice free throws until the janitor locked the gym.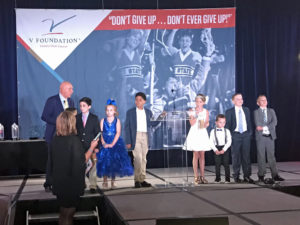 Those who combat cancer are fortunate to have an ally in sports in general, and the likes of ESPN and the V Foundation in particular. And one thing is for sure: these sports people, they want to win. Or, as Vitale put it, "whip the ass of that damn disease." Awesome, baby.