Artist Guillermo Tapia is undergoing a transformation. Outwardly, he buzzed his hair: One less distraction, he told me recently at HopFusion Ale Works. Inwardly, he's pushing himself both as a community leader and painter. The founder of the soon-to-be nonprofit ArtLuck has allowed his arts group to grow organically. A handful of prominent locals have expressed interest in joining ArtLuck's board. Before we delved into discussions over Fort Worth's growing arts community, we tossed back glasses of Feisty Blonde and Fur Slipper.
Feisty Blonde is "sweet, citrusy, and refreshing with really good floral notes," he said. Tapia picked HopFusion for our interview. He said he loves the Near Southside brewery's "wide variety" of beers.
(Brewery update: HopFusion co-owner/co-founder Macy Moore told me that night that he is looking into switching to a brewpub license that will allow HopFusion to sell beer to-go.)
"They really play with the formulas," he said. "They come out with something that people like then push it to the next level."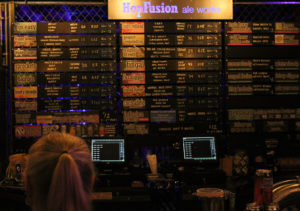 Tapia admits that he used to be "more into beer" than he is at the moment. He's more likely to spring for a glass of wine these days. Several years ago, he developed a love for stouts, though. He was a fan of the Fur Slipper that evening. HopFusion's Coco Anejo, he said, tastes like a Mexican coconut paleta (popsicle).
Fort Worth artists are at a unique crossroads, he said as our discussion turned toward culture. There have been waves of artist collectives in the past. The difference now, he added, is that newer groups like Art Room, Art Tooth, and Latino Hustle have reached a critical mass that allows them to effect lasting change. Tapia sees his group as a resource for younger artists.
"You are a  business," he tells them. "If you do want to run your own business and be your own artists, you can. That's one of the reasons I quit my dayjob. I can create my own path now. You can make something out of nothing. People will buy it."
Tapia's home off Race Street in the Riverside District has been "up and coming" for several years now. The slow but steady growth, he said, allows creatives such as himself to influence development in a positive way. Many local businesses, including Rawsome, have been supportive of ArtLuck's mission.
Tapia sees a bright future for local artists.
"That's what's exciting about it," he said. "We're at the beginning of something. Fort Worth is not small anymore."
Don't forget to follow On Tap in Fort Worth's Facebook page.
On Tap this Week:
Happy Hour All Day Tuesdays at HopFusion
From HopFusion: Every Tuesday is Happy Hour at "The Hop" with all full pours for $3 and flights for $8!
BBQ & Brews at HopFusion Ale Works. October 13
From HopFusion: Hurtado Barbecue and HopFusion Ale Works are teaming up for a BBQ and Brews event that Fort Worth won't forget! We start serving at 2 p.m. until sold out. Menu coming soon! Visit the event page here.