I'm not a whiskey girl.
You know that badass chick in movies who takes her liquor neat and makes smoking look like performance art? That's not me. I'm the zany extra in the background sipping a fluorescent cocktail overflowing with skewers of sliced produce.
Nonetheless, I plotted my return to Whiskey Ranch at Firestone & Robertson distillery just a week after I'd attended Fort Worth Food + Wine Festival's Desserts after Dark there. The tavern is open only from 4 to 6pm on Thursdays and Fridays, and though I had pencilled in my excursion for the following week, Mother Nature beckoned me one Friday with a breezy 70-degree cocktail hour. 
I ventured east to the distillery best-known for TX Whiskey, once home to the prestigious Glen Garden Country Club, where golf legends Byron Nelson and Ben Hogan first teed off their careers. In the daylight, remnants of the place's history — still-filled sandtraps and flowing water features — dot the verdant, pristine fairways. 
Though I spent a couple of summers as a kid whacking the grass at Ridglea Country Club, I'm no golfer, either. My parents eventually gave up and let me pursue my true passions: perfecting my underwater handstands and running up their club bill.
Some years later, two enterprising men in Fort Worth did the same — followed their dreams, that is. Leonard Firestone and Troy Robertson bid farewell to their 9-to-5s in search of more fulfilling pursuits, which, for both, involved craft whiskey distilling. After wild success at their first location on Vickery Boulevard, F&R purchased the abandoned 112-acre plot and gave it new life.
Once my guest and I passed inspection at the front gate, we approached the reincarnated Whiskey Ranch. Slate stone structures accented by aluminum-siding and wood of various stains, too polished to be considered rustic, seamlessly meld Western with industrial. While the exterior is somewhat reminiscent of Magnolia Market in Waco, minus Joanna Gaines' flair for shiplap and white paint, the interior tells a different story.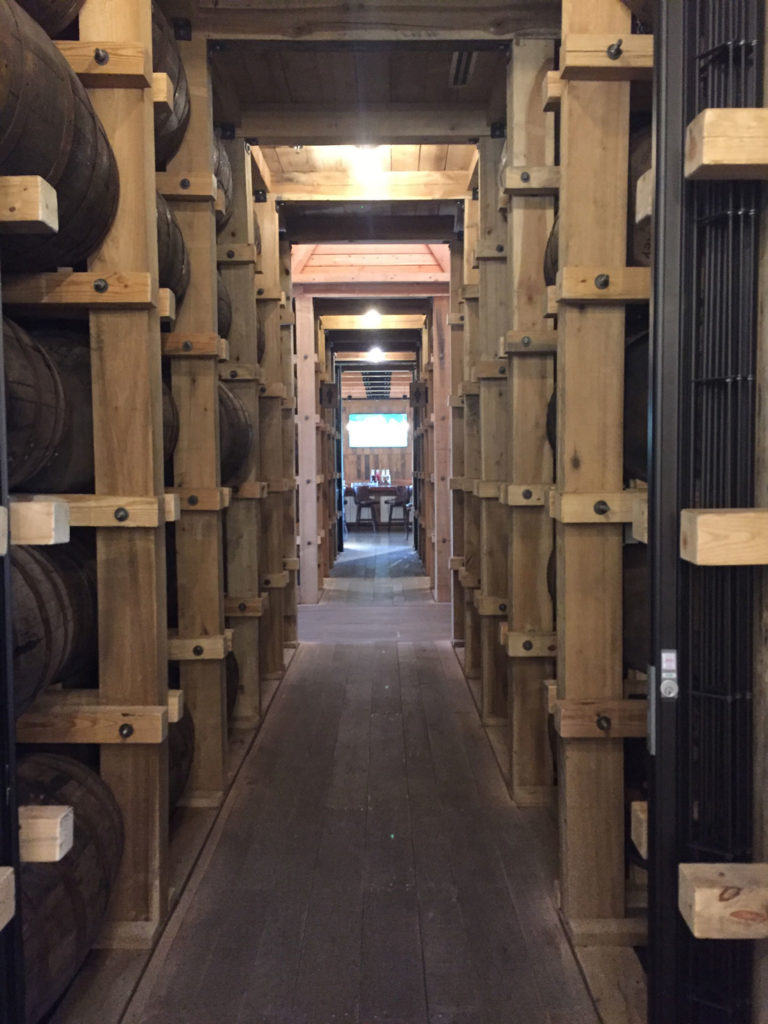 To reach the tavern, one must pass through a corridor flanked by rows of barrels stacked ceiling-high. So, we made our way toward the light at the end of the tunnel — a version of heaven I imagined as a leathery man-cave with nary a whiff of fruit. 
I was glad to be wrong. While the tavern bears a lodge milieu, evidenced by unfinished wood beams and mahogany-hued leather furniture, it was tempered by trendy touches like cowhide chairs and hanging lights fitted with TX bottles. A couple of cowboys and khaki-clad men watched a PGA tournament on the venue's only TV, while worker bees set up the adjacent room for an event. 
The menu boasted just enough variety to entice anyone — though the ranch missed a perfectly good opportunity to name a cocktail "Triple Crown." My guest, more of a whiskey connoisseur than I, ordered a pecan Old Fashioned, while the raspberry-honey julep caught my eye. A man of few words, the bartender placed my friend's tumbler atop wood chips he'd just torched, allowing the thick vapor to swirl within. The effect was mesmerizing. Even more impressive were the drinks themselves, "par" none — not too sweet, bitter, or overpowering. If only my previous whiskey spirits had been crafted with such care.
Everything about the afternoon exuded tranquility. At ease and beyond satisfied with our selections, we plopped into adirondack chairs on the vast deck that enwraps the tavern. With the pond and stone hearth on either side, a group playing cornhole before us, and classic country twanging faintly in the background, we reclined and observed the wispy clouds lazily drift across the sky. 
I can't claim I've been converted, but if every experience turns out as pleasant — and every drink as delightful — as the one I enjoyed at Whiskey Ranch that day, I may become a whiskey girl yet. 
Whiskey Ranch at Firestone & Robertson Distilling Co.

4250 Mitchell Blvd, FW. 817-840-9140.