In last week's ATE DAY8 column and this week in Eats & Drinks, you'll find lots of dining options for Valentine's/Galentine's Day. All week long, there's plenty to do for the non-foodies too. Here are the best things I've found so far.
Thursday February 9, 2023
When I first saw the event post about Shakey Graves Day XII, I had to do some research. The folks at Garden & Gun wrote a piece called "Graves-y Train" explaining that every February since 2012, Austin singer-songwriter Alejandro "Shakey Graves" Rose-Garcia opens up his song catalog for fans to download at whatever price they choose for 72 hours. That year, the mayor of Austin proclaimed Feb 9 to be Shakey Graves Day, so now you know. There is typically a concert in Austin. This year, Fort Worth is where it's at. At 7pm, Shakey Graves plays Tulips FTW (112 St. Louis Av, 817-367-9798) with Rattlesnake Milk and Texino. Tickets are $39.50 on Prekindle.com.
Friday February 10, 2023
Have you ever done glass blowing? Me neither! Vetro Glass Blowing (701 S Main St, Ste 103, Grapevine, 817-251-1668) will help you make a handmade flower from the hot molten glass at various times Fri-Sat, Mon-Tue, and future dates. Known as Help Create Events, these sessions come with bleacher-style seating available afterward so you can stay and watch more glassblowing before you leave. The gallery also has gift items for sale. Tickets are $55 per person at VetroArtGlass.TickeSpice.com/2023-flowers-help-create.
Saturday February 11, 2023
TexasShoppersMarket.com was started during the pandemic to give small businesses and crafters an online platform to reach holiday shoppers. In our post-pandemic world, the concept has also grown to include seasonal in-person events. From 10am to 4pm Sat-Sun, join Texas Shoppers in the parking lot next to Olive Garden at Tanger Outlets Fort Worth (15853 N Fwy, 817-464-5400). This market will feature handmade accessories, desserts and snacks, home accents, jewelry, and more from North Texas vendors. For more information, visit TexasShoppersMarket.com/DallasVDayMarket.
Sunday February 12, 2023
For more local vendor shopping opportunities, remember the Galentine's Day festivities at The Bearded Lady (300 S Main St, 817-349-9832). Brunch is at 11am, and Wandering Roots Markets (@WanderingRootsMarkets) will be on hand to host a themed pop-up shop.
Monday February 13, 2023
Ladies, if you and your gal-pals work from home, Union Worx (500 E Front St, Ste 160, Arlington, 817-864-18148) invites you to co-work together for the day for free. Enjoy area restaurants for lunch — like my new favorite place, Amore Mio Italian Trattoria (101 E Abram St, Arlington, 817-538-5553) — and once you're back at "the office," Union Worx has Galentine's Day treats for you.
Tuesday February 14, 2023
Arlington has even more to offer come Tuesday. Then again, so does Denton. At 7:30pm, head to Create Arlington Studios (306 W Main St, 682-248-8424) for the Soul Vibrations Valentine's Event: An Intimate Evening of Love & Romance, featuring art, food, music, poetry, and wine. Tickets are $17 per person or $30 per couple at the door. Across town, Lucky Lou's (1207 W Hickory St, Denton, 940-484-5550) hosts Garbage Couple Paint Night with help from neighboring Painting with a Twist (208 W Oak St, Denton, 940-484-5550). "Grab your favorite trash baby and come out for the perfect Denton date night." (Note: This off-site painting experience is not BYOB, but you can purchase beverages from the bar.)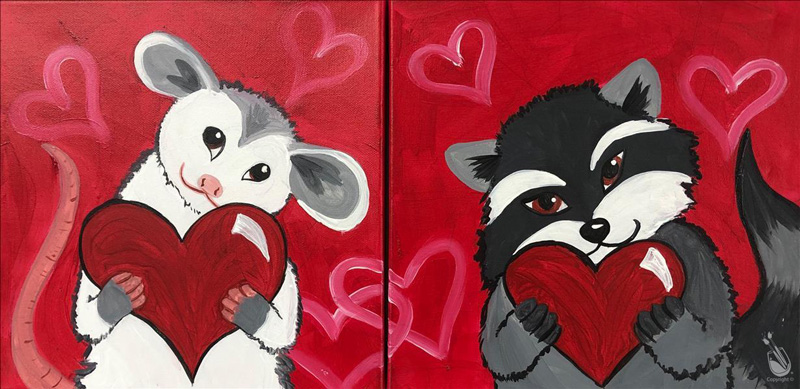 Wednesday February 15, 2023
This week is truly magical, with Mardi Gras (Tue, Feb 21) and National Margarita Day (Wed, Feb 22) getting all cozy on the calendar. Being the go-getters that we are, the Fort Worth Weekly is doing a special Mardi Gras & Margaritas section in next week's issue. Business owners, if you're hosting gatherings, parties, shenanigans, and the like, we want to know about them ASAP. Please submit your event to Marketing@FWWeekly.com. And if you say "laissez les bons temps rouler" or any version thereof, you owe us a dollar.