Tuesday night at Arlington's College Park Center, the Dallas Wings played their third game in five days.
The contest against the Minnesota Lynx followed road games Friday (win at Seattle) and Sunday (loss at Chicago). It's a tough turnaround, especially with travel across time zones. A short roster added a degree of difficulty to the trek. Projected starters Diamond DeShields and Teaira McCowan missed all three games with injuries, as did the fifth-overall selection in this year's draft, Lou Lopez Sénéchal. McCowan played just over 15 minutes in the season-opening win against Atlanta before she injured her leg. The other two have not played this season. Another touted rookie, fourth-overall pick Stephanie Soares, won't play at all in 2023 as she recovers from a college ACL tear.
Consequently, the team's core has borne heavy minutes. Coming into Tuesday's game, four Wings players ranked in the WNBA's top 16 in minutes-played-per-game, including the top two spots. The club looked tired at times in the loss to Chicago. But they bounced back Tuesday, overcoming a hot Minnesota start to outlast the still-winless Lynx. Natasha Howard played a leading role with 25 points, including 20 in the first half to help Dallas erase a Lynx lead that grew to 14 points at one point in the first quarter. The oldest player on the team at 31 had ranked second in the league in minutes a game coming into the contest and had spent much of that time playing the center position, as opposed to her normal power forward spot. Her ability to adapt has had a lot to do with why the Wings record sits at 3-1.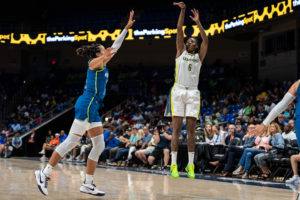 "I've been in situations like that before. So it's nothing new to me. Like I feel like I have a bigger role to play and more minutes," said Howard in the postgame press conference. "I got to do what I got to do for our team."
Tuesday, the team had gotten Howard some help by signing post Kalani Brown through the league's emergency salary cap hardship provision (in addition to having a full roster, the Wings are tight to the cap). Brown played nearly 27 minutes, contributing 12 points and 7 rebounds to the win. Wings head coach Latricia Trammell described her impact on the game.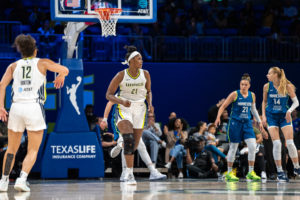 "Post presence, a rebounder, someone that wants to be in the league and deserves to be in the league," she said of a player who had been one of the last cuts of training camp. "She's been away, but she stayed ready. She kept her value up."
Brown might have already had a spot on the Wings' roster save for the WNBA's 12-player limit. NBA teams can carry 15 players and have certain G-League options to supplement their rosters when needed. Men's leagues in sports like baseball, soccer, and ice hockey have additional ways to keep a full complement of personnel available thanks to their minor league systems.
Such arrangements also supply seasoning for young players not yet ready to contribute at the sport's top level. The Dallas Stars, the Texas Rangers, and FC Dallas can point to major contributions from players who developed into contributors through their organizations' lower levels. The Wings, on the other hand, had to cut Charli Collier after camp this season. They simply ran out of time for the first pick in the 2021 WNBA Draft to grow into a contributor.
With only 12 teams holding 12 roster spots each, the concentration of talent at the WNBA level makes it extra tough for young players to break in. Maddie Siegrist led the NCAA in scoring last year, but one might consider the rookie first-rounder's season highs of seven minutes and six points in Chicago Sunday underwhelming . Fellow rookie Ashley Joens, who won three straight Cheryl Miller Awards as the NCAA's top small forward, has seen similarly low usage rates at the professional level.
If a team sees potential in the likes of a Collier, Siegrist, Joens, or 21-year-old Finnish project Awak Kuier (the third-year WNBAer who remains the youngest player on the Wings' roster), it pretty much has to give them some of the 12 precious spots and hope their games advance quickly. Trammell would like to have more options.
"I wish there was a developmental league or more roster spots," she said. "There's a lot of players that are sitting at home that I think that should be in the league, that can continue to develop and grow, and so I know that the league is going to figure something out."
The WNBA has publicly considered expansion while also reconsidering how to manage players' participation in the world's other leagues. Those overseas circuits provide not only supplemental income but also needed playing time. The question of how best to manage player expenses responsibly will always be a tricky one. 144 WNBA player jobs may not be ideal, but it's a lot better than the zero that might result if expenses get too far out of kilter with revenues. Developmental leagues are rarely profitable. Adding teams at the top level can bring in one-time entry fees, but one has to choose the right markets to make those additional jobs a sustainable proposition. The league had 16 teams from 2000–2002 before unsuccessful expansion teams the Miami Sol and Portland Fire folded. Numerous original teams have relocated or gone out of business as well.
The good news, however, is that women's sports have enjoyed a surge in popularity in recent years. Hopefully that means a welcoming and revenue-rich environment for the next wave of WNBA teams.
This Wings themselves were an expansion franchise, entering the league in 1998 as the Detroit Shock before relocations to Tulsa and now Tarrant County. The team is coming off consecutive playoff seasons and has former league scoring champion Arike Ogunbowale in the prime of her career. They want to win now. Untimely injuries to Ogunbowale and fellow standout Satou Sabally have helped squelch potential postseason runs this decade. They can just hope the injuries to stars like
McCowan and DeShields don't linger. In the meantime, they have simply had to figure out how to deal with it.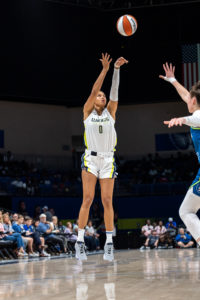 "The short roster has been, it's an adjustment for sure for all of us. But I think we're doing great," said Sabally, who dropped 23 points and 11 rebounds on the Lynx Tuesday. "We're not really focusing on what we're missing right now. We're focusing on what we have and we're confident that Teaira and Lou and Diamond will help us in any way they can."
Every team will confront the problems of short rest, injuries, and compressed schedules through th
e course of a WNBA season, especially one that's expanded to 40 games this year. In order to overcome those challenges, they'll have to possess the right mindset. Trammell seemed aglow after the game at how her team had dealt with the circumstances in which they found themselves.
"With a championship mentality, that's how they responded," she said. "They want to win. They're definitely battling for each other. They like each other. Yeah, I'm extremely proud of them."
photos courtesy Dallas Wings