Now that the temperatures have dropped a little, I'm ready to get back out there and attend some events. As none — and I do mean none — of my regularly scheduled programming will be on TV this fall because of the writers' strike, North Texas' jam-packed arts and culture scene should work out nicely for me. Here are some things I'm stoked to check out soon.
From 7pm to 10pm Sat, the Modern Art Museum of Fort Worth (3200 Darnell St, Fort Worth, 817-738-9215) presents Modern by Moonlight: Otsukimi Festival, featuring performances by the Fort Worth Japanese Society's Donoko Taiko dance troupe, Nik Parr & The Selfless Lovers, and The Dirty Shirts. Japanese-inspired food and beverages crafted by Café Modern will be available for purchase throughout the evening. Tickets are $25 at TheMordern.org.
The museum says, "In recognition of the rich heritage of Tadao Ando, the architect of the Modern Art Museum of Fort Worth building, our community is invited to celebrate Otsukimi, the annual Japanese festival that honors the autumn moon and the season ahead."
Guests will be invited to cast a lantern into the reflecting pond to create an ethereal glow and stunning event backdrop.
From Monday thru Sat, Sep 23, Fort Worth Fashion Week: Last Days of Summer includes many fashion-forward events. Here are a few.
While Dickie's is a major brand, they are based right here on the Near Southside, so I'm excited to see what they can offer as a first-time participant. For full details, start times, and tickets, visit FWFashionweek.com.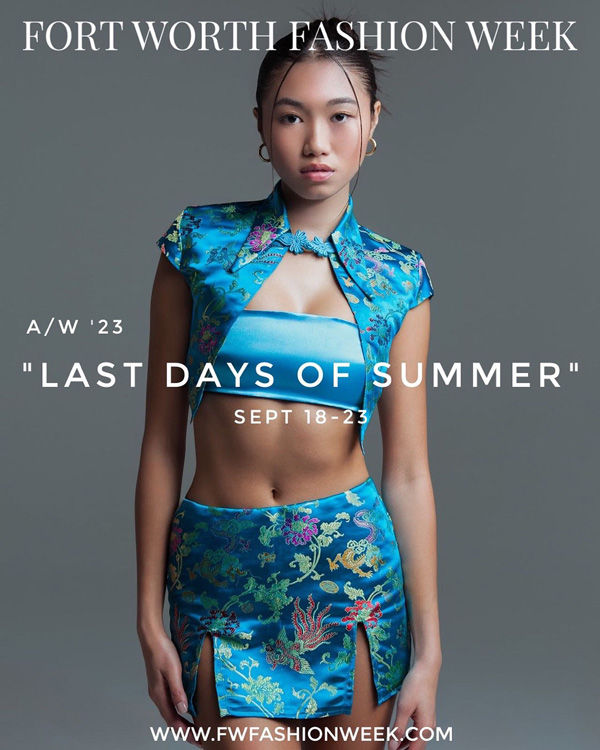 Fort Worth Fashion Week
Mon, Sep 18
Opening Night Reception at House of NeVille Gallery (2409 Neville St)
Tue, Sep 19
John Wayne Stock & Supply Showcase at the Stockyards (2501 Rodeo Plz)
Wed, Sep 20
Macy's New Private Label Introduction at Backlot Studio (305 S Main St)
Thu, Sep 21
Double D Ranch & Old Gringo Show at Backlot Studio
Fri, Sep 22
Dickie's Icons Ready-to-Wear Show at Backlot Studio
Sat, Sep 23
Nike Well Collective Collection Show at Backlot Studio
At the end of the month, Ballet Frontier will perform A Midsummer Night's Dream on Sat, Sep 30, at 7:30pm and Sun, Oct 1, at 2pm at the I.M. Terrell Performing Arts Center (1411 I.M. Terrell Cir S, Fort Worth, 817-815-2100) as part of its Shakespeare in Love programming for the 2023/2023 season. Based on the Shakespeare play of the same name, A Midsummer Night's Dream is about the loves and adventures of mortals and mystical beings, magic potions, and mistaken identities and features iconic characters like Puck, Oberon, and Titania. I need to see these fairies and wood nymphs irl for myself, including the #furry pictured here. Tickets start at $35 at BalletFrontier.org.