Choreographer Bruce Wood opens major shows in Fort Worth and Dallas this week, giving his creative energies an extra stretch. His Bruce Wood Dance Company starts its 11th season Monday, in Bass Performance Hall, and Lyric Stage of Dallas begins a six-performance run of the l940s musical Cabin in the Sky Friday, staged by Wood.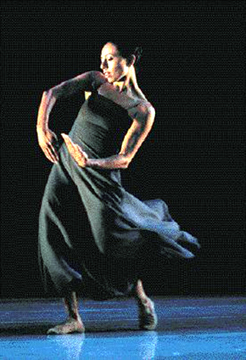 Revivals of two Wood ballets, Liturgy and Piazzolla de Prisa will be seen in Fort Worth, in addition to the world premiere of a new work, Lay Your Burdens Down. The new piece is set to a score by contemporary Russian composer Vladimir Martynov. Wood will use five of the six sections. The music is arranged for small string orchestra and two solo violins.
"For me, the music is about healing and letting go of things," Wood said. "I see water as a cleansing part of the process, so I want falling water during the dance. I've got it working from 15 feet up. It needs to be higher for the performance, and I'm still figuring it out."
His Liturgy, using sections of the Bach B Minor Mass, was created last year as a tribute to the late Rudy Eastman, long-time director of Jubilee Theater. Wood has a special affinity for big choral works, and the ballet ranks at the top of his remarkable output. The finale, with one dancer slowly ascending a flight of stairs upstage into a blinding light, with a Christ-like figure kneeling below, and the rest of the company prostrate with outstretched arms, is one of the most powerful moments in Wood's canon.
Cabin in the Sky has had a rough time since its Broadway opening in 1940. Critics gave it high praise, but audiences seemed to resist the all-black cast. Legendary choreographer George Balanchine staged the original production, and Ethel Waters was a hit singing "Taking a Chance on Love," but the show had a short run. Revivals have been few, and a 1943 MGM film version staged by Vincente Minnelli, father of Liza, in his cinematic debut, didn't click either. Lyric Stage received a grant from the National Endowment for the Arts, its first from the government agency, to underwrite the production. Maybe the show's time has finally come.
Bruce Wood Dance Company performs at 7:30pm Mon at 555 Commerce St, FW. Tickets are $23-68. Call 817-212-4280.