Texas Ballet Theater revives Coppélia this weekend in Bass Performance Hall, with four performances of Ben Stevenson's popular version of the evening-length classic. Four couples are scheduled to dance the romantic leads of Swanhilda and Franz, showing off the company's new solo firepower.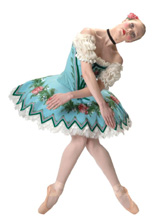 Opening night showcases TBT's latest addition, Brazilian ballerina Leticia Oliveira, who was until this season a principal dancer with the Houston Ballet. She will be partnered by Andre Silva, also Brazilian and the company's resident wunderkind, who last month won the silver medal in China's Shanghai International Dance Competition. Subsequent performances feature company regulars Jamie Autrey Griffith and Lucas Priolo, and Peter Zweifel partnering newcomer Lisa Kaczmaraek, another Houston Ballet dancer who has found her way north. Rounding out the series will be Carolyn Judson appearing with Carl Coomer, an English trained dancer also from Houston making his Fort Worth debut. Jack Buckhannan will lead the Fort Worth Symphony in the pit. — Leonard Eureka
Fri-Sun at 555 Commerce St, FW. Tickets $18-74. Call 877-828-9200.