Jason Manriquez, the singer-songwriter and guitarist for the eminently hummable pop-rock outfit Fate Lions, spent a fair amount of time deciding on a name for the group he co-founded late last year with lead guitarist and background vocalist Niki Saukam.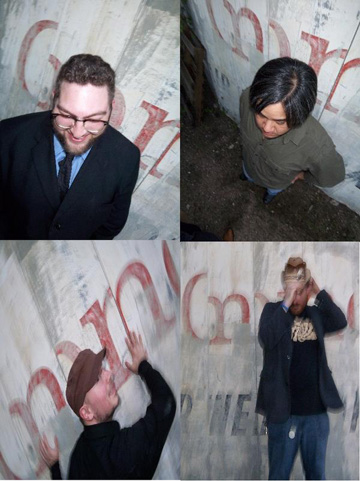 "I knew I didn't want the name to start with 'The' anything, because when you flip through the CDs at a store, everybody is 'The' this or that," the 33-year-old Manriquez said. "The Smiths, The Replacements, The Cure — I wanted a band name I could hide behind." Saukam, 32, put it less euphemistically: "He didn't want to be known as 'Jason Manriquez and The Soon-To-Be-Middle-Aged.'" Saukam was not-so-elegantly referring to the average ages of Fate Lion members — drummer Otto Elmore is 37 and bassist and backing vocalist Bysshe Parker is 36.
Manriquez, who manages a Barnes & Noble coffee lounge by day, said the band's sobriquet came from honest, if brief, inspiration: Paging through a coffee-table book on medieval art, he concluded that, back then, a lot of people must have met their fates at a crossroads, where a lion waited either to devour the hapless travelers or let them pass. True, the choice of name has meant they've occasionally been called "Faith Lies" or "Fat Loins," but Manriquez and company think that "Fate Lions" is at least memorable. As Saukum said: "The measure of the success of a band is whether they're able to overcome their stupid name."
And thanks to the prolific output of Manriquez — the band has a backlog of about 30 original songs — this quietly confident Fort Worth quartet has matured light-years beyond its early-2007 debut. At the time, Fate Lions had played a show — their first — at the Ridglea Theater without a bass player and had released an unmastered 12-song promo CD, Astronauts and Artifacts. Which is not to say the Lions' canon of raw material doesn't have moments of shimmering beauty. Tunes like "Crazy Acoustic" and "Outlaw Dressed in White" are simple, celebratory reminders of REM in a folky mood, or Big Star with an acoustic bent, or Wilco during a living-room concert.
Indeed, it was a common obsession with Big Star founder Alex Chilton's aesthetic of low self-esteem and sunny melodies that sealed Manriquez and Saukam's musical collaboration. They met while Manriquez was seeking a lead guitarist to accompany material he'd written for live coffeehouse gigs. Both had non-traditional childhoods. Not long after he was born in San Antonio, Manriquez was stuffed into a beat-up Volkswagen Bug by his "would-be hippie" parents and taken to San Francisco to live in what his parentals imagined as a West-Coast version of paradise — though it wasn't so perfect for him. Saukam was conceived in Cambodia shortly before he and his parents fled Pol Pot's savage Khmer Rouge reign. He was born in Houston, a veritable Eden compared to the horrors that his family had just escaped.
Both Manriquez and Saukam eventually ended up in Fort Worth because of work and family commitments. When the pair agreed to form Fate Lions, Saukam brought along Parker and Elmore, two former members of the beloved local band The Snowdonnas. All of the Fate Lions are scene veterans and jacks of all stylistic trades, with one common touchstone: a reverence for the Beatles catalog. During early rehearsals in a local warehouse space, Manriquez, Saukam, Parker, and Elmore soon discovered that pure melody derived from a craftsmanlike attention to detail was something else they shared.
"A few years ago, I bought this old junker of a car when I had to make a 45-minute commute to work," said Manriquez. "It didn't have a CD player or a radio or anything. I hummed my way through the drive time — songs I loved, songs I wrote myself. I decided then that if you couldn't hum a tune, it wasn't worth listening to."
Or worth writing and performing for that matter. Saukam said, "I think a lot of bands are afraid of melody, or at least it's the first thing they drop when they're trying to sound edgy or original or experimental or whatever. The tune is clichéd to them. But that's why I think a lot of bands don't stand out." The Fate Lions aren't afraid of being called pop musicians or admitting to their sing-along influences. Manriquez and Saukam were quick to point out that talent borrows, genius steals. Anyway, they insist, modern American music is a cannibalized amalgam. Hooks, riffs, and melodies are consumed and then regurgitated — hopefully with some new insight or spin — in a perpetual cycle of pop evolution.
The Fate Lions' line-up has endured some changes, but the members are pleased with the current incarnation and willing to take things sort of slow. The band plays a couple of gigs each month, and they're tentatively set to record a proper full-length in spring '08 with producer and singer-songwriter Salim Nourallah (The Old 97's, The Deathray Davies). The Fate Lions have day jobs and families to consider. Saukam also is married and works as an IT assistant administrator by day. The bandmates' collective decades spent on club stages and in studios helps in keeping perspective. "None of us would turn our nose up at being wealthy," said Saukam. "But I've learned that so many circumstances are beyond a band's control. It doesn't always matter if you're talented. I'm not expecting to be a Ferrari-driving, 'ho-smacking celebrity from our music. But I've always been a musician, and I'll always play music whether somebody pays me or not. I just hope somebody will listen."