Dr. Samuel Johnson once wrote that "when a man knows he is to be hanged in a fortnight, it concentrate his mind wonderfully." The condemned character in Ernest Gaines' A Lesson Before Dying needs a bit of assistance.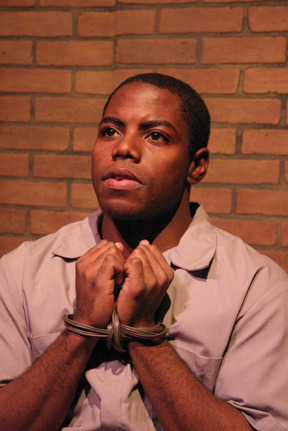 The 1993 novel tells the story of Jefferson, a slow-witted black man in the 1940s South who's sentenced to the electric chair for a murder he didn't commit. Jefferson's anger and despair lead him to act like an animal in his cell, but then a local school teacher who's reluctant to speak out makes the doomed prisoner realize his place and his opportunity to become a symbol for the injustice faced by African-Americans all over the South.
The award-winning book was adapted into a TV movie starring Mekhi Phifer and Don Cheadle in 1999, one year before the Alabama Shakespeare Festival asked the playwright Romulus Linney (whose daughter Laura just received another Oscar nomination) to adapt the novel for the stage. Linney's neatly constructed version of the story has been criticized for glossing over the complexities in Gaines' original work, especially the author's more pessimistic assessments of race relations in America. Yet few reviewers and theatergoers would deny that the play can be a powerful piece of theater when cast with the right actors. That's the task of Jubilee Theatre's production, which has been in previews and begins its regular run this weekend.
A Lesson Before Dying runs thru Feb 24 at 506 Main St, FW. Tickets are $16-25. Call 817-338-4411.