Live, improvisational jazz isn't scary, it needn't be excessively mathematical or theoretical, and it doesn't require a college degree to be enjoyed.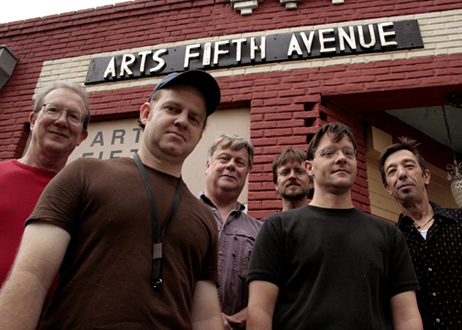 Most jazz performers simply hope that their audience has "big ears" or the ability to listen and surrender at the same time. Once you take a stroll down that open musical road, the beauty you can hear in those complex chords and rhythms is amazingly intimate. If the seven players of the recently formed Arts Fifth Avenue Jazz Collective could afford to buy a billboard on every major highway in the city, that big sign would say: "Need Jazz? Stop Here!"
They're passionate about starting a groundswell of support for live, original compositions, performed inside the Arts Fifth Avenue's renovated old house in the Fairmount neighborhood. The group received its nonprofit status some 17 years ago, thanks mainly to artistic director Gracey Tune (the sister of Broadway legend and multi-Tony winner Tommy Tune), who founded it as a place for study of the rarefied art of tap dance. There are still tap-dance performances and classes at A5A, as well as the world-music percussion troupe Mondo Drummers.
But the Arts Fifth Avenue Jazz Collective has positioned itself as – potentially – one of the most formidable musical outfits in the city, due to a talent-intensive combination of experience, ability, and sheer creative determination. Made up of founder-trumpeter Leonard Belota, percussionist Eddie Dunlap, keyboardist Joey Carter, saxophonist-composer Dave Williams, trombonist-composer Pat Brown, and bassist Kyp Green, the Collective comprises all native Fort Worthians. They've all traveled the world as professional musicians, playing as contract artists, band members, and instructors.
"I've been kicking [the collective] idea around for 30 years," said Belota, 61. He's played trumpet for 40 years now, touring as part of a show band with artists on the Stax Records label from 1970 to '75 and later performing with his own ensemble, Citizen. Over the past two decades, Belota has jammed at some point, and in different combinations, with all seven current members of the A5A Jazz Collective, whom he handpicked "because they had the right combination of energy and personality."
The collective made its official debut October 2007 at Arts Fifth Avenue in a collaboration with musicians from Jubilee Theatre. Since then, they've relied primarily on debuting new pieces from in-house composers Williams and Brown, whose music displays a tuneful whirl of influences, from Dixieland to Tejano to fusion to the styles of unclassifiable greats like Wayne Shorter and native Fort Worthian Ornette Coleman. Just don't expect them to "sound like" any one particular influence, Belota said.
"I try to write pretty melodies and expand from there," said Brown, 59, a trombone player since he was a kid. "I always keep the individual players in mind, like Ellington did, but what we're doing is very 'unison' and harmonic." Of his playing, Brown said, "I stay in the background when it's time to improvise. But the trombone is a great unsung instrument – it can be very vocal, made to produce vowels, and it can also produce some great flatulent sounds." Brown recently discovered that he and fellow collective member Williams, formerly of the duo Dave and Daver – with jazz drummer and impresario Dave Karnes – had the same band director at Richland High School in North Richland Hills, though many years apart. Williams, 43, is a saxophonist and graduate from the world-renowned jazz school at the University of North Texas. His compositions, too, start from basic melodies.
"Sometimes I'm driving down the road, and I get a tune in my head," he said. "So I don't forget it, I'll call my voice mail and sing it into the cell phone [and] transcribe it later." Improvisation is Williams' strength and big love. He believes that the saxophone, like the trombone, is an instrument as potentially articulate as the human voice. If he's forced to classify Arts Fifth Avenue Jazz Collective, he said: "In the last 50 years of jazz, you have artists like Miles Davis who create strong, clear melodies, and you have be-boppers like Charlie Parker who do more complicated jams. We probably fall in the former category. I try to make sure I can sing whatever tunes I play."
The A5A Jazz Collective has begun incorporating young blood, too, most notably trumpeter Jordan Gheen, 18, a graduate from the Dallas arts magnet high school who's about to enter the UNT jazz program. (Brown describes him as "a future heavy-hitter.") Founder Belota is interested in recruiting not just youthful talent but also a new listening base – if only to counter the occasionally floated notion that jazz is a dying art form. It's certainly not dying at Arts Fifth Avenue. The Collective will perform one Saturday a month (except for October) throughout the rest of 2008. "There's room on the planet for every kind of music," Belota said. "But we believe that jazz is more than entertainment. It's an art form that creates something brand new at every performance. People shouldn't be intimidated by the rumors of 'theory,' though. All they need for jazz is an open mind and an open heart."
Arts Fifth Avenue Jazz Collective
Fri, Aug 15, at 8pm at Arts Fifth Avenue, 1628 Fifth Av, FW. $15. 817-923-9500.