My sister's a sushi freak. Even when I mocked her and said I would never eat what most people consider to be bait, she persisted.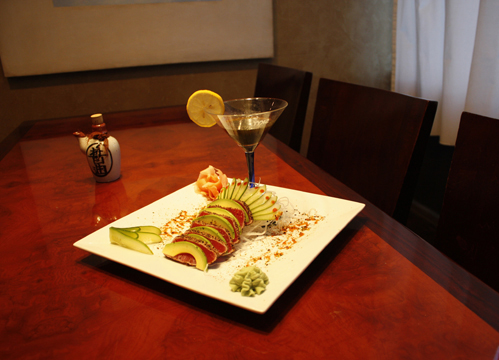 Over the last two years, she wore me down, and I came to enjoy her sushi-fied world. Now there are more sushi choices in town than you can shake a fishing pole at, and a lot of them are downtown, which tends to keep me at bay – I don't like driving downtown and dislike even more trying to find a space to park.
So imagine my happiness when she told me about Sushi Axiom and its handy Fort Worth location, just off Hulen Street by I-30. Although you may have to fight your way past the lunchtime-crowded turnoff to the Chick-fil-A right in front of the restaurant, once you clear the doors at Sushi Axiom, you're in for a treat.
What's there to say about sushi that Chow, Baby hasn't already said? Let's start with the appetizers. The spicy tuna and crab nachos were an oddly pleasing combo: a mound of fired-up tuna with small bits of crab beneath, everything piled into a corn chip about the size of a small bowl and dotted with tobiko (mildly smoky flying-fish eggs). There were six nachos, and my guests and I could have happily doubled down here, except that the crispy wok calamari was equally good: large strips of tender squid served with grilled jalapeños and onions. I expected a thicker tempura breading, but the delicately breaded, perfectly cooked calamari was still a winner. (What we could have done without was the forest of cilantro that accompanied the dish.)
The main trouble at Sushi Axiom is deciding what you want to eat. The bento box at the neighboring table looked really pretty, but then there were about 50 rolls from which to choose, not to mention the two dozen actual entrées. The servers must be used to this because ours didn't mind answering a lot of technical questions nor a couple of rounds of "Had a chance to decide? No? I'll come back!"
The most stellar roll at our table was also the least expensive. The What's Up featured spicy tuna, spicy salmon, and crab covered with a heavy blanket of masago (the Icelandic caviar popular in Japan). The after-burn of the zesty fish combined with the wasabi-spiked masago was pleasantly strong, not overpowering. People either love the pop-in-your-mouth sensation of fish eggs or they don't – if you don't, you should probably consider ordering something like the TCU Roll. Described by the lucky gal who ordered it as "a rainbow of flavor," the TCU roll was a combination of spicy tuna, shrimp tempura, and cucumber, topped with faux crab and a tri-color of sauces. The tiny crunch of the tempura made the dish a standout.
The Axiom Roll paled in comparison. The pastel bounty of salmon, tuna, crab, and avocado in a lemon-colored soy wrapper was certainly attractive but bland after we'd experienced the other rolls' depths of flavor. Sushi Axiom also has heartier entrées. In a bow to cattle-country cuisine, there's a panko-crusted T-bone – as close to chicken-fried steak as a Japanese-fusion restaurant gets. Pan-fried duck is on the menu as well, along with several chicken dishes. If you end up here with someone who still thinks sushi is bait, he or she might enjoy the beef tenderloin with lemongrass: tender meat plus the subtle flavor of lemongrass, along with ginger and a mild spice we couldn't identify. Often the smallish pieces of lunch menu "tenderloin" become chewy in the face of overcooking, but that wasn't the case here.
Because we hadn't quite filled up on sushi, we tried a couple of desserts (not made in-house). The passable green tea ice cream actually cooled our spicy salmon-seared palates. The chocolate mousse cake was served ice-cold and was too chilly for me to taste how good it was. I found out only later, after the delicacy of chocolate cake, ganache, and frosting had to sit in my car for about a half-hour on the ride home.
One of the best things about Sushi Axiom is the speed at which your food comes out. Although we were in the middle of a heavy lunch rush, once we decided what we wanted, the food was in front of us before we knew it, making this restaurant a dream for someone on an actual lunch hour. I also have never had a full table-clearing and set of new chopsticks offered mid-meal at any other sushi place in town.
The wall-waterfall, which we were lucky enough to sit in front of, was visually soothing. The restaurant décor mixes a lot of textures – rock, water, wood, slate – with traditional obi cloth hangings. Sushi Axiom also boasts a menu of 17 martinis, along with an extensive wine and sake list. Last week's visit didn't feel like a martini lunch, especially at $9 a pop. However, next time I might allow myself to be tempted by the Choc-o-lot: chocolate vodka, white and dark chocolate Godiva, and half-and-half. After one of those, you might be, um, rolling out of the place.
Sushi Axiom:
Tuna and crab nachos………………………..$6.00
Crispy wok calamari w/jalapeño…….. $7.00
What's Up Roll…………………………….. $9.95
TCU Roll………………………………………$11.95
Axiom Roll…………………………………..$11.95
Beef w/lemongrass……………………..$11.95
Green tea ice cream………………….$3.50
Chocolate mousse cake ……………$5.50