It was only a couple of months ago that Calhoun, the quintet spearheaded by singer-songwriter Tim Locke (Grand Street Cryers, Blue Sky Black) and co-songwriter Jordan Roberts, elected to disband. About a month later, though, Locke and Roberts began writing new material and recording at Roberts' apartment, ultimately amassing about a dozen new songs.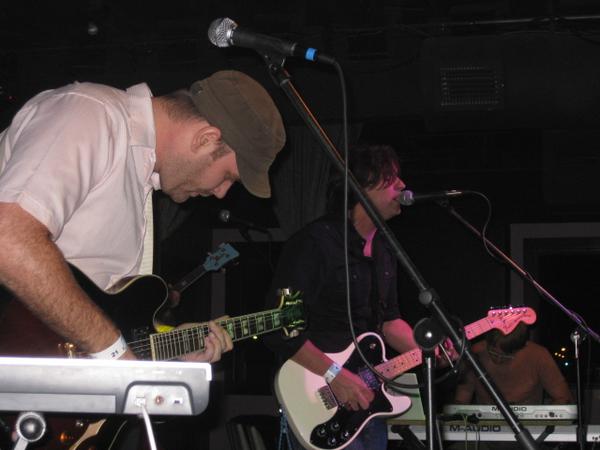 The "new" sound will actually be a throwback of sorts, according to Roberts, mainly to Calhoun's first two long-play recordings, The Year That Never Was and an eponymous album. Unlike Falter.Waver.Cultivate, the band's most recent album, which Roberts said was "kind of all over the map as far as genre goes," the new album(s) "will definitely be focused in a direction," he said. The duo plans to go into the studio in the spring and start recording "the best of what we have," Roberts said, which could result in something as modest as a five-song EP — or as epic as a double album. Live shows? Eh, maybe not. "I'm not sure that we will ever perform any of [the new material] live or ever again, for that matter," he said. "But who knows." Roberts said that he and Locke decided to keep the name Calhoun because they "worked damn hard for three years to establish that name, and I think we did a good job doing so." Also, he added, changing names "only confuses people, and then you have to start all over in establishing the new name. Screw that noise." Visit www.myspace.com/calhoun.
There's also new music on tap by three bands that will be playing Lola's Saloon-Sixth (2736 W 6th St, in the West 7th Street corridor, 817-877-0666) on Friday. A new album by the Slayer-ish Caddis should be out pretty soon, one from doom-metallists The Great Tyrant is slated for early 2010, and there'll also be a new release by Magnus, the second incarnation of the old-school Fort Worth hardcore trio. The group dissolved in 2003 after the accidental death of frontman Merk Crandle and reformed in 2007 with the remaining two original members, drummer Andrew Tipps and bassist/vocalist Kenneth Thompson, plus Caddis' guitarist, Ben Schultz. (Tipps also plays in Caddis.) Joining said three bands will be The Me-Thinks, who may or may not be recording new material, I dunno. (Love you guys.) Considering that two-thirds of The Great Tyrant, drummer Jon Teague and bassist Tommy Atkins, formerly were members of the legendary Yeti and that Yeti shared several bills with Magnus, you may see folks at the show whom you haven't seen in a long-ass time. Cover charge is $6. … The big party every year around this time is Fall Gallery Night, a evening when the local galleries and museums keep their doors open well past normal business hours and ply the rabble with free boxed wine and cheese cubes. Also on Saturday, Jazz By the Boulevard will be in its second of three days of live performances by the local likes of drummer and bandleader Adonis Rose and blue-eyed soulmen Josh Weathers and the True+Endeavors. Headliners include George Clinton and Parliament/Funkadelic (Friday), trumpeter Chris Botti (Saturday), and gospel group the Blind Boys of Alabama (Sunday). Visit www.fortworthjazz.com.
Contact HearSay at hearsay@fwweekly.com.