Texas Christian University's football program has achieved remarkable success in recent years. The Horned Frogs finished this year ranked fourth in the country – quite an accomplishment for a relatively small private school – and will face Boise State University in the Fiesta Bowl next week. It will be the first Bowl Championship Series appearance for TCU.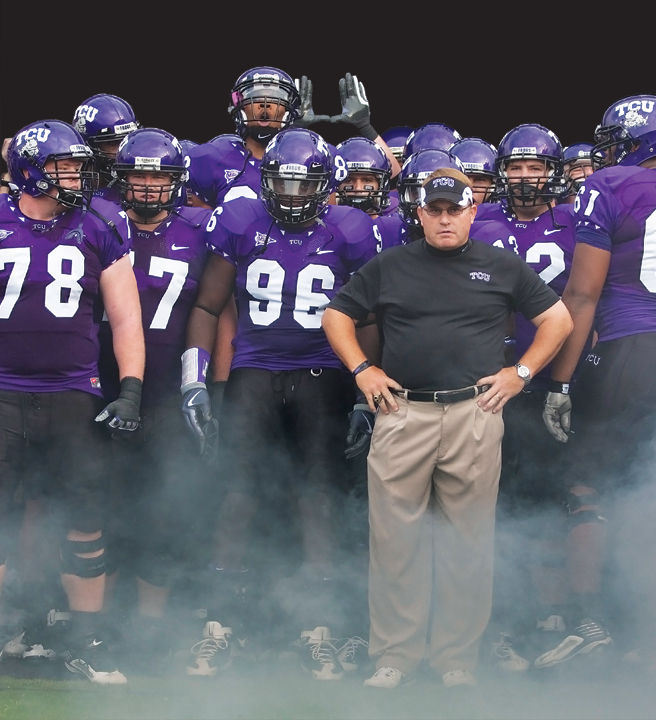 There has been some local grumbling that TCU got shafted by being selected to play Boise State. Many thought that unbeaten TCU should have been chosen to play in the national championship game against either the Longhorns of the University of Texas or the Crimson Tide of Alabama.
That kind of complaint is nothing new. Unfair match-ups go with the territory in BCS-land. The real problem isn't the match-ups so much as it is the split-ups – the even more insidious process of dividing BCS money. TCU, for instance, will be getting about half as much in payout as the University of Michigan, which finished last in the Big Ten Conference and didn't qualify for even a crappy bowl game.
The six conferences that receive automatic BCS bids – Atlantic Coast, Big East, Big Ten, Big 12, Pacific 10, and Southeastern – each get $18.3 million to be split among their conference members. There are some extra payouts if a second team in a conference is invited. But generally, each team in those conferences gets about a $2 million share annually from the BCS revenue stream.
Other   conferences come in as second- tier affiliates, with second-class income. The nine teams in the Mountain West Conference (where TCU resides), for instance, will share $9 million in revenue, or about $1 million per school. Meanwhile, the University of Notre Dame gets $1.3 million guaranteed even if it doesn't go to a BCS bowl game.
Clearly, the disparity is the result of the control that the big-conference college presidents and athletic directors have wielded over the BCS since it was created about a decade ago. Not surprisingly, they have acted to protect their income from the bowl games. In doing so, they've made it very difficult for schools like TCU and Boise State to get invited to the party. To get a BCS bowl bid, non-BCS conference schools have to go undefeated, which both TCU and Boise did this year. What's more, BCS leaders have made sure that, even when outsider schools are invited, they get hamburger while the BCS insiders are dining on steak.
There has been some talk about the BCS adding another automatically qualifying conference to the mix in the next year or so  and maybe even being a little more generous in payouts for non-BCS conference teams. But don't expect much if you're a TCU fan – foxes don't usually share willingly with  hens or Horned Frogs.
Some members of Congress are pissed enough at the BCS that they're talking about forcing changes and examining whether the BCS system violates federal antitrust rules. Congress probably has more important things to do right now, but at least the members are shining a light on a crummy and dishonest approach to crowning a college football champion.
The logical solution would be to have a playoff system, and conferences whose teams qualified would share the revenue proportionately. But the idea of a playoff system seems dead in the water, though not for the reason university presidents give: that a playoff system would require more games, which would put an added burden on scholar-athletes.
Playoffs won't happen because that would change the payout system, something none of the big BCS-affiliated schools want. The result is that schools like TCU will continue to get poor-cousin treatment.
TCU officials can hope the Mountain West gets included in the BCS conference structure in the next few years or they could work to move the school into some BCS-affiliated conference like the Big 12.
The TCU players and coaches did everything they were asked this year. The list of teams they beat included three that were ranked in the top 25. They busted into a BCS bowl, even though the rules worked against them. Despite all this, their payday will be about half of the last-place school in the major conferences. That is just plain not fair.