Pluckers Wing Bar began in Austin as the brainchild of a couple of University of Texas at Austin students who decided that the state capital just didn't have enough food options; specifically, chicken wing options. People who don't like wings might think, "So what?" Admittedly, eating a wing seems like a lot of work for very little reward. However, when you consider the other waste-not/want-not meats (think: tripe and brains), chicken wings are among the tastiest of the bunch, and doing them right is a lot harder than you might think.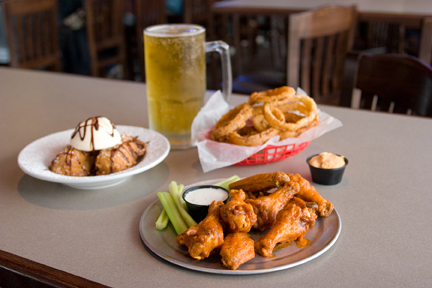 Pluckers has several locations throughout the state and one in Louisiana – and now one in southwest Arlington, a.k.a. Mega-Restaurant City. The walls of Arlington's Pluckers are covered in about 50 large flat-screen televisions, all tuned to sports. There also are generous happy hour specials: something to keep in mind for later.
Pluckers boasts that its fare is not "churn-and-burn" fast food. Pluckers staffers, before they're allowed to even touch an order pad, are reportedly given 100 hours of training — which may be true. Our server, Wesley, provided a solid balance of enthusiasm and knowledge, offering suggestions without being pushy. It's nice to go into a new restaurant and get intelligent suggestions instead of that deer-in-the-headlights look when you ask, "What's good here?"
The key to good wings is freshness, a concept not lost on Pluckers. The restaurant's regular wings arrive at your table unbreaded, and the skin sort of snaps when you bite into them: a hallmark of fresh chicken and exceedingly hot frying oil. Much of the food and the sauces, including the fried cheese and the excellent ranch and blue cheese dressings, are house-made. Another nice feature: The Mason jar of beverage is so huge that even someone like me, who keeps servers hopping with iced tea refills, can go a whole meal on one glass.
While perusing the appetizer menu, you'll note a lovely variety of fried things. Pluckers will fry pickles, cheese, mushrooms, jalapeños, macaroni and cheese … pretty much anything that will stand still. My dining companion on this mission was a big ol' country boy who knows his way around the fried food groups. One of his favorites is fried cheese, and Pluckers' version featured four giant, plump, Sharpie-sized sticks of breaded goodness along with a tasty, zippy marinara sauce. Sprinkled with parsley, the crunchy, gooey appetizer was delicious and almost worth the $6.99 price tag. Fresh mozzarella doesn't come cheap.
What perhaps sets Pluckers apart from the other wing stops is its variety of wing sauces -16, to be exact. The Fire in the Hole sounded too scary. The next hottest, the Buffalo hot wing sauce, was sinus-clearingly strong, with a nice bite of vinegar. It's the kind of spicy that sneaks up on you. The Spicy Mandarin provided a sweetly zesty kick. Even my buddy, who admits he has delicate taste buds, enjoyed the flavor. At two-stars hot, the Dr. Pepper might be more than enough for a spice novice. The Gold Rush, a Pluckers trademark, was a delicious combination of mildly spicy and smoky flavors.
Pluckers is generous with its sauces, which is especially great if you order a side of fries (any wing maven will say you should). There's enough leftover sauce for you to dip them into. On Wesley's recommendation, we tried the ranch fries: waffle fries seasoned with a dry ranch dressing mix. If you're a ranch fan, you'll love them. They were extra-tasty, though the texture was a little mealy.
Also on Wesley's recommendation, we tried the Combo Plate: five wings and three chicken tenders, with sweet potato fries. The tenders had been breaded in a medium-heavy batter that was neither too soggy nor too crunchy. The fries were absolutely fantastic: straight cut spuds covered in cinnamon sugar and perfect for dipping in that sweet-spicy Mandarin sauce.
Pluckers also offers burgers. The Gut Grenade is a cardiovascular nightmare of a double patty, queso, and bacon, served with loaded cheese fries. But why would you have a burger when the wings are so good?
Maybe because the restaurant originated in the hippie haven of Austin — and because the co-owners feel a little guilty for that Gut Grenade — Pluckers' menu also offers gluten-free suggestions.
Pluckers Wing Bar
4000 Bagpiper Way, Ste 140, Arlington. 817-784-BIRD (2473). 11am-2am daily. All major credit cards accepted.