In a scheduling snafu, Texas Ballet Theater and Texas Dance Theater both open shows Friday. TBT revives its opulent, full-length Romeo and Juliet, created in 1987 for the Houston Ballet, with a four-performance run in Bass Performance Hall. The fledgling TDT is offering a one-night-only repertory evening in Scott Theatre overseen by company director Wil McKnight.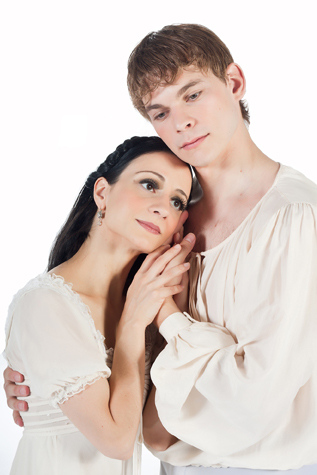 Ben Stevenson choreographed Prokofiev's Romeo and Juliet while director of the Houston Ballet. The production sports sets and costumes by David Walker and will feature company principals Lucas Priolo and Carolyn Judson in the title roles opening night. Of interest on Saturday night will be the pairing of de facto prima ballerina Leticia Oliveira with her real-life amour, Carl Coomer, in the leading roles.
TDT's program will include McKnight's Gershwin Dances, set to selected music by the composer, as well as guest choreographer Chung-Lin Tseng's setting of Smetana's The Moldau. Original works by company dancers Paula Ulery-Reynolds (Esperanza) and Jon Shields (Trimurti) will also be seen. McKnight will host a gallery reception with food and wine beginning at 6 p.m. Friday in the Fort Worth Community Arts Center, adjacent to Scott Theatre, prior to TDT's performance at 8 p.m. — Leonard Eureka
Romeo and Juliet runs Fri-Sun at Bass Performance Hall, 525 Commerce St, FW. Tickets are $19-99. Call 817-828-9200. TDT's performance is Fri at 8 p.m. at Scott Theatre in the Fort Worth Community Arts Center, 1300 Gendy St, FW. Tickets are $15-25. Call 817-676-1514.