This was supposed to be a decent year for the Texas Rangers. Team president Nolan Ryan said during spring training that they would win 92 games and probably get into the playoffs. Pitching seemed to be fairly good — a big change for a team that has always had bad arms. Hungry and talented young players like Neftali Feliz and Elvis Andrus were on hand, and Michael Young promised veteran leadership.
More importantly, financially strapped owner Tom Hicks was going to sell the team. Ryan and Pittsburgh attorney Chuck Greenberg were supposed to have completed the deal by opening day, and Rangers fans had a real sense of optimism.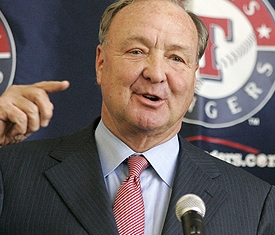 But a month into the season, the dark cloud that has been hanging over the Rangers is still there: They're in last place as I write. The sale has not been completed. Major League Baseball is so concerned that it's running the club.
Hicks' sports business is a complete mess. He's trying to sell his three teams — the Dallas Stars, the Rangers, and the Liverpool soccer club — because he owes so much money to banks and creditors, on loans for which he used his sports franchises as collateral. The creditors, who loaned more than $500 million to Hicks Sports Group, are balking at the terms of the Rangers sale and threatening to take Hicks to bankruptcy court.
Fans, of course, are mostly delighted at the idea of losing Hicks. After all, he has used their goodwill (and their money) for more than a decade, not to build winning teams but simply as a source of cash to keep himself afloat.
Being a sports team owner is not the same as owning, say, a pickle factory or a local car dealership. It is more like being a temporary steward for a community asset. Sports ownership and fans are tied together in a deal that says, "You try to put a winning team on the field, and we'll support it."
But Hicks' stewardship of the Rangers has violated that trust. The sports media has always played the angle that Hicks cut the team payroll in half in the last decade, putting it near the bottom of the league, because he got burned by the huge Alex Rodriguez contract. That's not even close to an adequate explanation.
True, Hicks' troubles started just after that incident, but it wasn't A-Rod's fault. Hicks' investment firm lost hundreds of millions in deals involving everything from South American media companies to overvalued high-tech firms. Hicks was forced out of his investment firm, and his major for-profit business became his baseball team. He used his team — and the fans' ticket money and huge parking fees and $7 beers — as collateral to borrow money, but he never plowed that money back into the club.
In baseball, your chances of winning are much greater if you spend. And with the Rangers being in the nation's fifth- largest media market, big deals with local TV and radio and corporate sponsors should easily have provided the bucks to make it possible to compete with the
big boys.
But at some point during the last decade, Hicks figured out a few things. Rangers fans — about 2.5 million of them a year — show up whether the team wins or loses. Hicks could make a decent profit without spending a lot on good players. Spending more could have given the team a better chance at success and the owner a better chance at bigger profit, but it also involved the possibility of losing money. Hicks chose the safer bet, took the profit, and used it for other things. And in the end, the team is in much worse shape than when he came on board. Someone else will have to clean up the mess.
The Greenberg/Ryan deal could still get done, but it's unlikely to give the Rangers a winning season this year. I think all the off-the-field shenanigans are weighing on the players — but I doubt Hicks is losing sleep over anything except the loss of his cash cow.