Stockyards businessman and art collector A.C. "Ace" Cook died Monday after a long battle with pancreatic cancer. He was 74. And, as was his fashion, the old horse trader got the final word. "Horse trader" applies to most any wheeler-dealer these days, but the word fit Cook literally. He was raised by his grandparents on a farm near Morton Valley, and his granddad was a gambler and a trader of many things, most notably horses and guns. Cook followed in his footsteps, never lost the skill of the deal, and always enjoyed negotiating with other crafty rascals. In the last quarter century, he became fascinated with early Texas art and turned his negotiating skills toward compiling one of the state's most impressive private collections.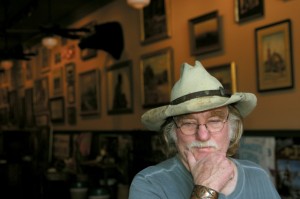 In his final days, Cook was weak, dehydrated, and unconscious much of the time. His wife, Diane, spoke to a couple of visitors at his bedside not long before the end, and one of them asked if Jarrell McDonald had come by. McDonald owns the Cross-Eyed Moose, a Western-themed antique shop in the Stockyards.
"Yes, he came by earlier," Diane said.
"He probably came up so he might get to skin Ace one more time on a deal," said Morris Matson, Cook's longtime friend and fellow art collector.
Them were fighting words, even for a man on his deathbed.
"He can't skin me," Cook said, his eyes fluttering just a little. Nobody realized Cook had been conscious and listening. It was one of the last things he said before slipping into a coma.
Cook's burial will be private. A memorial celebration will be held at 2 p.m. Monday at the Van Cliburn Recital Hall at 4th and Calhoun streets in downtown Fort Worth.
… And a Local Artist
Cook was one of numerous local collectors who appreciated and owned the works of Don Deardorff, a talented Fort Worth artist who died on Friday. Deardorff was 85. Cook owned a Deardorff painting in Impressionist style depicting a cattle herd in a snowstorm.
Deardorff earned a master's degree in art from the University of North Texas and studied with members of the Fort Worth Circle in the 1950s, experimenting with modernist styles. One of his paintings won first prize in a Chicago art show in 1953, and he went on to exhibit works at museums and juried shows across Texas and the Southwest for many years. He taught painting at what was then called the Children's Museum (now the Fort Worth Museum of Science and History), the Modern Art Museum, and the Woman's Club of Fort Worth. He was admired for his sense of humor and easygoing approach to life.
Deardorff, like Cook, played a role in establishing Fort Worth's cultural sense, and the city is the poorer for losing both of these men within days of each other.