This Christmas week, it's a good time to get down with the kids. Nearly 44,000 local schoolchildren contributed artworks to the Slant 45 project at Fort Worth Museum of Science and History, and now notable examples of those works will be on display there. The project is designed to inspire kids to take part in community service. Their artworks will travel to various locations around the state but will be in Fort Worth until February.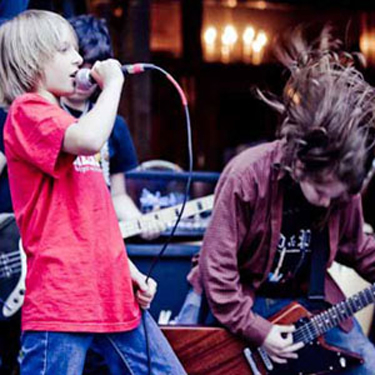 There was a School of Rock even before Jack Black decided to teach a bunch of kids how to shred guitar in the 2003 movie. School of Rock was founded in 1998, and now there are almost 70 locations in the United States and Mexico. With one already in Southlake, another one will be opening in Fort Worth on University Drive in early January. You don't have to wait that long, though. They're getting a jump on things with a grand opening celebration at Main Event Entertainment on the West Side that features the best students from the other Schools of Rock doing what they do. Admission is free, but the group will take donations of canned food for the Tarrant Area Food Bank. Charitable giving and rock 'n' roll go hand in hand.
Slant 45 runs thru Feb 6 at Fort Worth Museum of Science and History, 1600 Gendy St, FW. Admission is free with $10-14 entrance fee for museum. Call 817-255-9300.
The School of Rock grand opening celebration is 3-5pm Tue at Main Event Entertainment Complex, 4801 Citylake Blvd, FW. Admission is free, though donations are accepted. Call 866-695-5515.