Experimental music comes to Fort Worth Symphony Orchestra this weekend when the group performs Tan Dun's Water Concerto. The Chinese composer is best known for his Oscar-winning score for Crouching Tiger, Hidden Dragon, which successfully incorporated traditional Chinese instruments into a Western orchestra. His experiences growing up in the Chinese countryside (including forced "re-education" during the Cultural Revolution) introduced him to peasants who made music with objects at hand.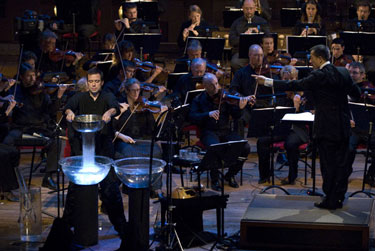 This surely influenced his "Organic Music Trilogy," of which the Water Concerto is the second work. To give you an example: In the piece, the percussionist plays on two large bowls of water, using different implements to strike the bowls themselves or the water's surface to produce notes and sounds. Later, objects are placed in the water that are then struck or bowed. Percussionist David Cossin, who performed Tan's Paper Concerto (the first work in the composer's trilogy) here in 2007, returns to FWSO to play this endlessly inventive piece of music. Concertgoers of a more traditional bent may prefer Miguel Harth-Bedoya conducting Beethoven's Seventh Symphony, while fans of Latin music will appreciate the Peruvian composer Francisco Pulgar Vidal's Huayno sinfónico "Cascay." However, it's Tan's contribution that figures to be the main attraction here.
Fort Worth Symphony Orchestra plays Fri-Sun at Bass Performance Hall, 555 Commerce St, FW. Tickets are $10-79. Call 817-212-4280.