The tiny Tu Hai location opened in Haltom City about 20 years ago. Original owner Jimmy Ho died in November 2009, and his three sons have been running the place ever since. Newer and fancier Vietnamese eateries have opened nearby over the years, but Tu Hai's long-standing reputation as a beloved neighborhood hangout and Asian food destination appears undiminished –– patrons were happily chatting and chowing down during a recent lunch visit. The big, smiling brass Buddha statue on the counter seemed to be relishing the success.

We started with pho ga (chicken noodle soup). As pho fans know, this magical soup runs the gamut from fatty and salty comfort grub to lean, low-sodium health food. Tu Hai's version staked out an excellent middle ground: steaming amber broth liberally sprinkled with chopped cilantro and green and white onions, long strips of lean chicken breast, and a meaty mound of vermicelli noodles in the center. The traditional sidecar of cilantro sprigs, basil leaves, jalapeno slices, and crisp bean sprouts was utterly fresh. If you wake up after death with a bowl of Tu Hai's pho ga in front of you, you'll know you went to the right place.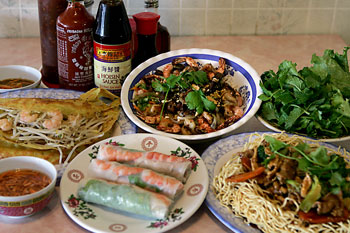 For years, one of my favorite Viet dishes has been banh xeo, or shrimp-and-pork crepes. Tu Hai's version is stellar: two soft, golden brown, crispy-edged pancakes folded and stuffed with grilled bean sprouts, thin and tasty slices of pork, and small but plump shrimp. The crepes had just the right amount of grease to keep the flavors on your tongue. As usual, there was a small cup of thin, clear, fragrant fish sauce with citrusy lemon grass and hot pepper seeds in it for dipping.
The noodle dishes were also stellar. Bun thit nuong, or beef vermicelli bowl, came with a heap of warm vermicelli noodles surrounded by hearty curls of grilled beef that were juicy inside but singed around the edges. A sprinkling of chopped peanuts, a small bed of shredded romaine lettuce, bean sprouts, rings of sliced white onions, thin and crunchy strips of carrot, and bright green cilantro were mixed with the flavorful beef. The same lemon-grass fish sauce made the dish a solid staple. Equally fulfilling was the mi ga xao (chicken and veggies with noodles), a plate of firm, tangled egg noodles topped with lean, juicy chunks of chicken, fresh and crunchy heads of broccoli, and sliced bright-orange carrots.
For anyone who's enjoyed Vietnamese food on even a few occasions, there are no surprises on the menu at Tu Hai. That's part of this place's enduring appeal. Of course, the fact that after two decades the dishes are still prepared with such obvious care is a little bit amazing.
Tu Hai
4201 E Belknap St, Haltom City. 817-834-6473. Closed Sun, 9am-8pm Mon-Sat. Cash only.