WED ▪ 2
Don't wipe that Halloween greasepaint off your face just yet. Today is Day of the Dead, and The Where House (2510 Hemphill St, 817-913-7777) is throwing a party. Vanillaface Jones and Fort Worth improv-jazz outfit Gunga Galunga will open for headliners Secret Ghost Champion, a Fort Worth quintet whose recently released early-Pink Floyd-esque debut album is stellar. Organic noshes will be provided by The Garden of Eden, a local organic farm. Cover to the 18-and-up BYOB show is $10.


THU ▪ 3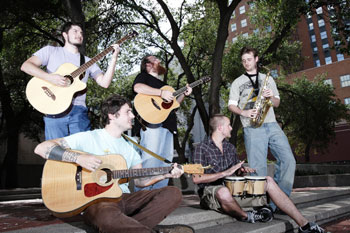 The Silver Screen Cowboy Project will celebrate Roy Rogers' 100th birthday with performances of country music from B-Westerns of the '30s, '40s, and '50s at 7pm at Hallmark Baptist Church, 4201 W Risinger Rd, FW. Admission is free. Visit www.hbcfw.org.
FRI ▪ 4
From 5 to 9pm tonight, Brand 10 Artspace will celebrate the opening of Words, an exhibit of video art from the collection of Marlene Nathan Meyerson, a Texas zillionaire and staunch visual art patron. The exhibit will be on display thru Dec 18 at 3418 W 7th St, FW. Call 817-377-3636.
SAT ▪ 5
Once again, Contemporary Dance Fort Worth is taking over the Poultry Barn, a.k.a. the small exhibits building at the Will Rogers Memorial Center, 3401 W Lancaster Av, FW, and presenting a dance extravaganza. Barking Moon Barn Dance will also feature a massive Chicken Dance with concertgoers. The event is Fri-Sat, and admission is $8-20. Call 817-922-0944.
SUN ▪ 6
The TCU School for Classical & Contemporary Dance will present its Fall Concert Fri-Sat at 8pm and Saturday and today at 2pm at Ed Landreth Auditorium, 2800 S University Dr, FW. Antony Tudor's Fandango, Sarah Gamblin's Under, Balanchine's Serenade, and Invisible Song by SCCD faculty member Susan Douglas-Roberts will be performed. Admission is free for TCU faculty, students, and staff with valid ID; $5-10 for everybody else at the door. Call 817-257-7615.
MON ▪ 7
The first concert of Spectrum Chamber Music Ensemble's 26th season is tonight at 7pm at Leonard Chapel of the First United Methodist Church, 800 W 5th St, FW. The Virtuoso String Quartet (featuring members of Fort Worth Symphony Orchestra and faculty of Tarrant County College) will perform Tchaikovsky's String Quartet No. 1 in D, Op. 11, and the Iridium Quintet (featuring FWSO members) will perform several pieces, including the Light Cavalry Overture by Franz von Suppé. Admission is free.
TUE ▪ 8
Michael Reagan, son of former U.S. President Ronald Reagan, and Academy Award-winning actress Jane Wyman will celebrate Adoption Awareness Month by appearing as the guests of honor at the 2011 Fall Charity Dinner, benefiting Christian Homes & Family Services, a local adoption and crisis pregnancy organization. Dinner starts at 6:30pm at Hilton Hotel, 815 Main St, FW. For ticket info, visit www.christianhomes.com.