WED ▪ 16
"I believe they talked of me, for they laughed consumedly." During a golden age of English comedy, George Farquhar's farce The Beaux' Stratagem was one of its greatest lights. Sadly, the Irish playwright was already mortally ill at age 29 when the play premiered in 1707. TCU Theatre puts it on this week, in a version more intelligible to modern ears, started by Thornton Wilder and finished by Ken Ludwig. The play runs thru Sun at Studio Theatre, 2800 S University Dr, FW. Tickets are $10-25. Call 817-257-8080.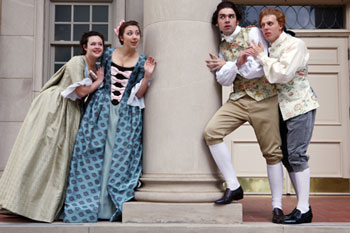 THU ▪ 17
Silvio Berlusconi's recent ouster as Italian prime minister doesn't alter his status as a communications mogul, soccer team owner, or devotee of sex with underage girls, but it should provide fresh grist for Columbia University journalism professor Alexander Stille in his lecture on Money, Media, Sex, and Power in Berlusconi's Italy. The talk begins at 7pm at TCU, Palko Hall, 3000 Bellaire St, FW. Admission is free.
FRI ▪ 18
In the race to get the first production of The Nutcracker in front of the public this year, Ballet Frontier of Texas emerges as the winner. Chung-Lin Tseng and Roy Tobias' staging of the famous holiday ballet takes the stage at Will Rogers Memorial Center this weekend. Performances are Fri-Sat at 3401 W Lancaster Av, FW. Tickets are $20-30. Call 817-423-9888.
SAT ▪ 19
You may not think of the pictures you take with your phone as something worthy of an art exhibit, but the folks at Grackle Art Gallery think otherwise. Their one-night-only exhibit, Mobophoto, consists entirely of photographs taken with mobile phones. The show runs 7-11pm at 4621 El Campo Blvd, FW. Admission is free. Call 817-738-5259.
SUN ▪ 20
"The Valiant Little Tailor," a Brothers Grimm fairy tale about a humble tailor who tricks giants and kings into thinking him a legendary hero, has become Seven in One Blow, or The Brave Little Kid, a stage musical by Randy Sharp intended for family audiences. Circle Theatre brings this show to Fort Worth this week. The play runs Nov 17-Dec 17 at 230 W 4th St, FW. Tickets are $20-30. Call 817-877-3040.
MON ▪ 21
Among the many adaptations of A Christmas Carol is Scrooge — The Musical, which started out as a musical film starring Albert Finney in 1970 and was adapted to the stage 22 years later. The Leslie Bricusse songs aren't the best batch he ever composed, but they do give a new sound to this chestnut of a story. Artisan Center Theatre's production runs Nov 19-Dec 23 at Belaire Theatre, 420 E Pipeline Rd, Hurst. Tickets are $9-16. Call 817-284-1200.
TUE ▪ 22
We're not sure why Fort Worth Museum of Science and History's Omni Theater persists in playing The Polar Express each holiday season when that movie wasn't that good to begin with and has now been surpassed as holiday fare, 3D experience, and motion-capture animation film. Still, the movie is showing every day this season, and it's a viable family option for the midweek. The film runs Nov 18-Jan 2 at 1600 Gendy St, FW. Tickets are $8-9. Call 817-255-9300.