In celebration of Prostate Cancer Awareness Month (November), some upstanding young citizens have banded together to throw a party at The Where House to raise awareness of men's health issues in general and raise funds for research and treatment of men's diseases.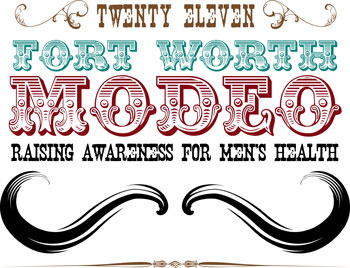 At 7pm on Saturday, Modeo will feature live performances, including some musical numbers by the ad hoc group Fort Worth Cancer Killers and music from Fort Worth gypsy-rockers My Wooden Leg, Dallas cowpunks Goodnight Ned, and Adam Bertholdi from Crazy Hawks. Cancer survivors also will be on hand to discuss their ordeals. The evening will be rounded out by a moustache pageant, and for your riding/self-injuring pleasure, there will be a mechanical bull in the house.
Proceeds from the $15 cover charge and sale of food will go toward Movember, the worldwide nonprofit organization devoted to men's health issues. Last year's inaugural Modeo attracted nearly 500 people to The Where House, raising precisely $4,995. "We let that five dollars be the big F.U. to this year, to inspire us," said James Taylor Jardine, co-leader of a team of about 35 Fort Worth Movember members.
Throughout the month, Fort Worth team members have been soliciting donations from friends, family members, and co-workers –– last year, they raised nearly $7,200 in total. Two fund-raisers also were held earlier this month at Rockwood Gokart Track. Jardine has high hopes for the 2011 Modeo. "It's gonna be a damn good show," he said. For more information, visit www.fortworthmodeo.com. –– Anthony Mariani
Modeo 7pm Sat at The Where House, 2510 Hemphill St, FW. Cover is $15. Call 817-913-7777.