WED ▪ 7
The sudden death of Argentinian director Fabián Bielinsky in 2006 meant that he only left behind two completed feature films. They are both masterpieces, and tonight KinoMonda shows his earlier one, the 2001 crime thriller Nine Queens, about a con artist running a complicated scheme involving a forged rare stamp. The film screens at 6:30pm at TCU, Sid Richardson Bldg, 2955 S University Dr, FW. Admission is free. Call 817-257-7848.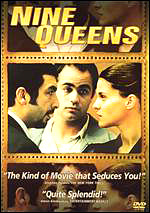 THU ▪ 8
A subject of a Fort Worth Weekly profile some years ago, Mat Hames returns to Fort Worth with his latest documentary, When I Rise, about opera singer Barbara Smith Conrad and the controversy surrounding her participation in an interracial production of Purcell's Dido and Aeneas at the University of Texas in 1957. Conrad herself will be on hand for the screening. The film shows at 7pm at Modern Art Museum of Fort Worth, 3200 Darnell St, FW. Admission is free. Call 817-738-9215.
FRI ▪ 9
The fairy tale behind The King Stag is about a king whose soul passes into a peasant's body, but 18th-century Italian playwright Carlo Goldoni turned it into a play that includes much room for extravagant stagecraft, costumes, and choreography, as well as ample improvisation. Pantagleize Theatre is putting on this commedia dell'arte piece for the next two weekends. The show runs Dec 8-18 at 1115 W Rio Grande St, FW. Tickets are $10-12. Call 817-472-0032.
SAT ▪ 10
There's still time to catch Jubilee Theatre's holiday production Auntee Explains X-Mas, a musical explaining the origins of Christmas through the loopy perspective of an old lady. This'll likely be better than anything Tyler Perry's Madea could come up with. The show runs thru Dec 30 at 506 Main St, FW. Tickets are $10-25. Call 817-338-4411.
SUN ▪ 11
A pop-up restaurant? In this case, it's a chance to choose from a menu that'll never be re-created, support local growers (Teel's Custom Meats, Texas Prairie Farms, and Artisan Baking Co. will supply the food), and simultaneously benefits Meals on Wheels of Tarrant County. The event begins at 5pm at Times Ten Cellars, 1100 Foch St, FW. Tickets are $68. Call 817-821-3124.
MON ▪ 12
Fun fact: Michael Martin Murphey started using his middle name professionally when he started acting in films in the 1980s. The "Martin" differentiated him from Michael Murphy, best known for playing Jack Tanner on TV. The Cosmic Cowboy will be back in Fort Worth for his customary holiday show. The event starts at 7pm at Bass Performance Hall, 555 Commerce St, FW. Tickets are $34.65. Call 817-212-4280.
TUE ▪ 13
Nutcracker-heads will be spoiled for choice this week. Not only is Texas Ballet Theater's production of the ballet taking place in Fort Worth this week, but George Balanchine's The Nutcracker Live comes to movie theaters as well this evening in the form of a live broadcast of a performance by the New York City Ballet. The event starts at 5pm. Check Calendar for locations. Tickets are $15-18. Call 213-619-6166.