WED ▪ 21
The last of Fort Worth Symphony Orchestra's holiday-themed concerts is this evening when the von Trapp Children, the great-grandchildren of the real-life inspiration for The Sound of Music, join the orchestra to perform carols and other holiday favorites. The concert is 7:30pm at Bass Performance Hall, 555 Commerce St, FW. Tickets are $29-78. Call 817-665-6000.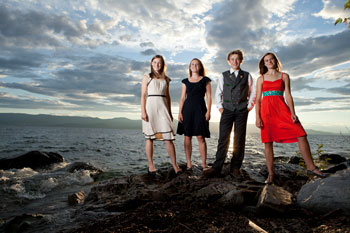 THU ▪ 22
While the kids are on holiday and hanging around at the movie theater, now might be a good time to introduce them to the Metropolitan Opera series playing out at the multiplexes. The screens will be showing The Magic Flute on Wednesday and Hansel and Gretel today. Engelbert Humperdinck's opera version of the fairy tale is easily understandable even to small children. The broadcast starts at 6:30pm. Check Calendar for locations. Tickets are $12.50. Call 818-761-6100.
FRI ▪ 23
While Sandra Day O'Connor is renowned as the first female U.S. Supreme Court justice, she also blazed trails for women while growing up on a ranch in Arizona. The National Cowgirl Hall of Fame's current exhibit, The Cowgirl Who Became a Justice: Sandra Day O'Connor, covers this part of her history. The exhibit runs thru Mar 27 at 1720 Gendy St, FW. Admission is $8-10. Call 817-336-4475.
SAT ▪ 24
While the Dallas Cowboys look to pay the Philadelphia Eagles back for their lopsided loss in October, the Eagles (whose season hasn't gone as planned, to put it mildly) still have faint hopes of winning the NFC East. It should make for a typically nasty tangle between these two teams, in the Cowboys' regular-season home finale. The game kicks off at 3:15pm at Cowboys Stadium, 1 Legends Way, Arlington. Tickets are $75-500. Call 800-745-3000.
SUN ▪ 25
"I heard the bells on Christmas Day / Their old, familiar carols play / And wild and sweet / The words repeat / Of peace on earth, goodwill to men!" — Henry Wadsworth Longfellow. We at Fort Worth Weekly wish you and yours a Merry Christmas.
MON ▪ 26
Fort Worth Museum of Science and History's latest IMAX film, Born to Be Wild, tells the story of scientists who rescue elephants and orangutans in need of help and eventually return them to the savannahs of Kenya or the jungles of Borneo. The film plays Dec 26-Aug 31 at 1600 Gendy St, FW. Tickets are $6-7. Call 817-255-9300.
TUE ▪ 27
It might be a nice idea to come down from the holiday rush by visiting the Fort Worth Nature Center and Refuge and participating in the Bison Feeding Hayride, where you can assist the staff in the feeding of these majestic animals. The event is at 10am and 1pm at 9601 Fossil Ridge Rd, FW. Admission is $8-16. Call 817-237-1111.