WED ▪ 11
Majid Majidi's films haven't received the exposure of some of his fellow Iranian filmmakers, but anyone who's seen The Color of Paradise can testify to his talent. His 2008 film The Song of Sparrows never played in North Texas theaters, but KinoMonda will screen it as school returns for the spring semester. The film plays at 6:30pm at Lecture Hall No. 4, Sid Richardson Bldg, TCU, 2955 S University Dr, FW. Admission is free. Call 817-257-7292.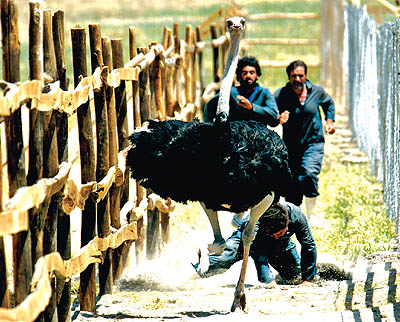 THU ▪ 12
Parents of overscheduled kids may want to reflect that play and unstructured time can help children learn just as much as homework and tutoring. Child development expert Kathy Hirsh-Pasek expands on this thesis in her lecture at Fort Worth Museum of Science and History, Play Power. She speaks at 7pm at 1600 Gendy St, FW. Admission is free. Call 817-255-9300.
FRI ▪ 13
Fort Worth Symphony Orchestra gets its 2012 started with a traditional program of Rossini's William Tell Overture (isn't there a Lone Ranger movie in the works?) and Beethoven's Fourth Symphony, with pianist Arnaldo Cohen playing Brahms' majestic First Piano Concerto. The concerts are Fri-Sun at Bass Performance Hall, 555 Commerce St, FW. Tickets are $10-79. Call 817-665-6000.
SAT ▪ 14
The devotion of orchid growers is well known in botanical circles, and newcomers can get an entry into this world during one of the two lectures on basic orchid care this morning by Fort Worth Orchid Society's Mary Butler at the Marshall Grain locations. She speaks at 10am at 2224 E Lancaster Av, FW, and at noon at 3525 William D. Tate Av, Grapevine. Admission is free. Call 817-536-5636.
SUN ▪ 15
In addition to livestock and horses, the Fort Worth Stock Show and Rodeo also has shows devoted to poultry, pigeons, and rabbits. Ponder that as the annual event gears up for its 116th running this weekend. The show runs Jan 13-Feb 4 at 3401 W Lancaster Av, FW. General admission is $5-10. Rodeo tickets are $16-22. Call 817-877-2420.
MON ▪ 16
Cool facts about Rumpelstiltskin: His name comes from the German words for "little rattle stilt," and fairy-tale characters much like him are known as Pancimanci in Hungary, Ruidoquedito in South America, and Ootzli-Gootzli in Israel. (He inspires rhymes, apparently.) Artisan Center Theatre's children's theater production Rumple-Steal-Skin provides yet another take on the old story. The play runs thru Jan 28 at Belaire Theater, 420 E Pipeline Rd, Hurst. Tickets are $5. Call 817-284-1200.
TUE ▪ 17
The silver medalist at the 2005 Van Cliburn Competition, Joyce Yang returns to Fort Worth this evening to play the first Cliburn Concert of the new year. She'll be playing an eclectic program of Bach, Schubert, and Schumann, plus Debussy's Estampes (a suite with such evocative items as "Jardins sous la pluie" and "La soirée dans Grenade") and Lowell Liebermann's Gargoyles. The concert is at 7:30pm at Bass Performance Hall, 555 Commerce St, FW. Tickets are $15-90. Call 800-462-7979.