The Flying Pig Pit BBQ and Tavern's address in Mansfield is on Matlock Road, but really the joint is just off Country Club Road in a little strip mall. This is important, because your satellite navigational device is likely to lead you astray, and there's no telltale pit smell from three blocks away to guide you. The Flying Pig does smell like a 'cue joint, but the aroma isn't overwhelming and doesn't linger in your hair for days. The restaurant occupies one chunk of the little shopping center, and the tavern occupies another, with a small pass-through door between them. The restaurant is extremely family-friendly — the tavern, not so much.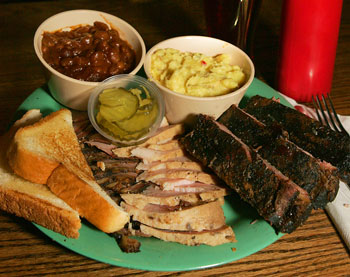 A plethora of fried and non-fried appetizer options, including the exotic (cheese curds) and the odd (Three Little Pig taquitos) crowd the menu. However, the main features are the generously portioned meat plates and sandwich baskets (with fries, shoestring-thin and covered in an addictive sweet-savory coating). There is no veggie plate; the restaurant barely nods toward the non-carnivore.
The combos are a great way to sample the good, the bad, and the ugly of Flying Pig, with a little '50s nostalgia thrown in for free. They're served on old-fashioned, cafeteria-style round plates that are divided into three compartments, helpful for folks who don't like to have their foods touch one another.