Overall Drinking Establishment
Critic's choice: Shipping & Receiving, 201 S Calhoun St
Want a place with live music, a chic urban vibe, respectable beer selection and diverse crowd, plus pool, shuffleboard, and an outdoor patio? Shipping & Receiving only started its run last Labor Day as a new music venue, but it's fast becoming a hot place to hang out, even when the only music playing is the soft clink of rocks glasses and the murmur of conversation.
Happy Hour
Readers' choice: Blue Sushi Sake Grill, 3131 W 7th St
Critic's choice: Studio Eighty, 509 University Dr
If you can stand the thumping '80s music, crowded dance floors, and the occasional wet t-shirt contest, you can get an incredible happy hour deal here. The club has an insanely cheap buy-one-get-one-free special 4-8pm weekdays.
Bartender
Readers' choice: Nicole Ofeno, The Boiled Owl Tavern, 909 W Magnolia Av
Critic's choice: Kenny Sanders
Though his three years serving Lucky Strike's thirsty clientele came to an end when the upscale West 7th bowling alley shut down in July, Kenny "The Pirate" Sanders is still quite a catch. His alacrity with a cocktail shaker and his infectious down-for-whatever personality make him a pleasure to be around (and a good hire — wink, wink, nudge, nudge). Plenty of bartenders turn dour when faced with late-night rushes, but Kenny never stops smiling, even when the bar is four deep and the dude ahead of you is ordering nine drinks one at a time.
Bouncer
Readers' choice: Andy Pickett, The Chat Room Pub, 1263 W Magnolia Av
Critic's choice: Christopher Evans, The Chuggin' Monk, 2301 N Collins St, Arl
He's big and bad, but this former Baylor Bears football stud is also one of the nicest guys you'll ever meet. The last thing you'd want to do, however, is mistake his kindness for weakness, or you'll be picking yourself up off the ground like Tony Romo after an 11-man sack.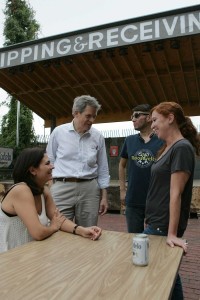 Cocktail Lounge
Readers' choice: The Usual, 1408 W Magnolia Av
Critic's choice: Silverleaf Cigar Lounge, 426 Commerce St
The enjoyment of cigars might be Silverleaf's express purpose, but its modern take on mid-century mod styling, luxurious lounge seating, and clever cocktail menu (do yourself a favor and get cozy with the Algonquin or the From Manhattan to Funkytown) make this a sophisticated spot to unwind.
Pub
Readers' choice: The Bearded Lady, 1229 7th Av
Critic's choice: The Royal Falcon Pub, 3803 Southwest Blvd
Unlike the aesthetic pretensions of a lot of other English- and Irish-themed pubs around here, the Falcon just does its own thing. After all, it's housed in what used to be a Mexican restaurant, and no amount of Union Jacks will bury that. But between the joint's heavy wooden door, its cavalcade of neighborhood regulars, darts and pool, and a handsome wooden fortress of a bar full of excellent brown liquors and craft beer, the Falcon is a pub in the English tradition of boozy camaraderie.
Bar Bar
Readers' choice: The Boiled Owl Tavern
Critic's choice: The Boiled Owl Tavern
Located on the Near Southside, home to dozens of other locally owned businesses, the Owl represents everything cool about Fort Worth. The bartenders are fast and affable and the vibe friendly and safe. The beers are priced to ward off the get-drunk-cheaply frat-holes while emphasizing the enormous, clearly curated craft brew selection. (Though a Bud Light bottle will set you back $4, PBR drafts are only two bucks all day, every day.) Pop in early to enjoy The Goonies, The Terminator, or some other equally cheeky B-movie. Pop in late, and sometimes there's live underground music.
Biker Bar
Readers' choice: Bronson Rock, 250 S Main St, Keller
Critic's choice: Fuel Bar and Grille, 2616 E Belknap St
Thanks to Fuel's juicy burgers, attentive staff, and, of course, cold beer, you might notice your hog parked here more than in your garage.
Gay or Lesbian Bar
Readers' choice: Rainbow Lounge, 651 S Jennings Av
Critic's choice: Best Friends, 2620 E Lancaster Av
Observers have long lamented Cowtown's perpetually tiny, homogeneous gay and lesbian bar scene, but with Best Friends, Fort Worth may be ahead of a larger, national trend: With the gradual assimilation of LGBT people into the mainstream, traditional gay bars are shuttering in large numbers across the country. We suspect there will always be a place for the neighborhood watering hole, though, and Best Friends, comfy as your old Birkenstocks, fits this to a tee. Plus, there are karaoke contests, family-friendly drag shows, C&W DJs, and benefit car washes.