Rooftop Patio
Readers' choice: The Live Oak Music Hall & Lounge, 1311 Lipscomb St
Critic's choice: Reata Restaurant, 310 Houston St
Very few rooftop patios beat the view offered by Reata's. Four stories above downtown, the restaurant's roomy yet intimate repair looks out on skyscrapers and sky. Though the patio doesn't open until 4pm daily, it doesn't require some sort of hefty membership fee to be enjoyed.
Bar Bathroom
Critic's choice: Landmark Bar & Kitchen, 3008 Bledsoe St
The basic requirements for a good bathroom are appliances in good repair, cleanliness, and availability of toilet paper and soap. The johns at Landmark meet those criteria and more, also offering assorted goodies (gum, candy, mouthwash) and an attendant.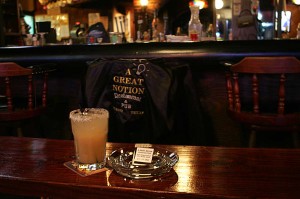 Country Music Bar
Readers' choice: Billy Bob's Texas, 2520 Rodeo Plaza
Critic's choice: Pearl's Dancehall & Saloon, 302 W Exchange Av
Let's face it: Country music is not in a good spot right now. The hip-hop bro-downs, auto-tuning, and one-dimensional lyrical content are as far away from Bob Wills and Willie as New York is from Austin. Luckily, there's Pearl's. With a hardwood floor that's worn from decades of whirling boots and a calendar full of authentic troubadours, Pearl's keeps traditional C&W swinging. Forget how Florida Georgia Line and Luke Bryan say they roll. Sipping on a Lone Star and dancing to a traditional country band at Pearl's is our kind of night.
Open-Mic Night (Music)
Critic's choice: White Elephant Saloon, 106 E Exchange Av
The longest-running open-mic night in these parts is also among the most eclectic, with a wide variety of ages and musical styles among the musicians and a host who remains attentive to the stage rather than flirting with the ladies, getting drunk, and forgetting that some godawful hack has been boring the shit out of everyone for three songs. Some of the regular performers here have been Stockyards mainstays since the '70s. A few even use canes or walkers to get to the stage, but once there, these cats can throw down classic country with authentic charm.
Open-Mic Night (Comedy)
Critic's choice: Improv Comedy Club, 309 Curtis Mathes Way, Arl
Amateur comedy jams keep popping up around town, and they're about what you'd expect. The Improv's Wednesday-night open-mic, however, is probably the most consistent and certainly among the longest running. While the audience still willingly suffers through a steady bombardment of stinkers, the local comedy scene's up-and-comers and journeymen use it to woodshed material. That's where you'll find the odd moments of side-splitting stand-up glory.
Nontraditional Music Venue
Critic's choice: Happi Haus, 1921 Hemphill St
Located next door to 1919 Hemphill, Happi Haus is all about the music. Not drugs, not being an asshole, and definitely not underage drinking. Some of the biggest underground acts in North Texas — including The House Harkonnen, FOGG, and The Fibs — have performed here. The good folks behind Happi Haus, The Syndicate, have quickly become a force, booking shows at 1919, The Cellar, and in Denton, among other places, and are responsible for the inaugural Republic Fest, a blistering two-day 24-act bill at Republic Street Bar on the Near Southside in July.
Karaoke
Readers' choice: Sarah's Place, 5223 Camp Bowie Blvd
Critic's choice: Corporate Image, 5418 Brentwood Stair Rd
Tucked into a strip shopping center by  I-30, Corporate Image is a pretty great place to get comfy at the bar, shoot some pool, or belt out your favorite hits. The late-'70s vibe is a perfect environment for you to go for the AM gold, and it's a treat to hear some real ringers croon.