Yoga or Dance Studio
Readers' choice: Urban Yoga, 1706 8th Av
Critic's choice: Elemental Yoga Therapy, 714 W Magnolia Av
Calling this Near Southside establishment just a yoga studio hardly does it justice. Brynn Byrne hosts workshops on spiritual exploration, metaphysics, treating medical maladies, and proper eating habits. Elemental also has become a gathering spot for people who want to hang out without having to go to a bar. Oh, yeah, and the yoga is phenomenal. Byrne and her other instructors show a level of understanding that few other yogis offer. The Elemental folks also frequently bring in local musicians to perform during sessions.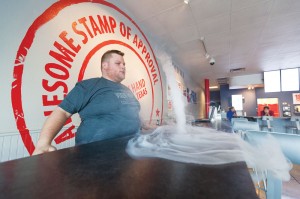 Vape Shop
Readers' choice: Mid Cities Vapor, 5205 Davis Blvd, NRH
Critic's choice: Vixen Vapors, 4608 Bryant Irvin Rd
Is it just us, or is there a crazy amount of vape shops around here? Leave a retail spot in a strip mall empty and for lease for 10 minutes, and a vape shop will appear like a cluster of mushrooms after a t-storm. A sign of the times, we guess. Anyway, whether you're into vaping as an alternative to cigarettes or wish to blanket a happy-hour bar top with thick clouds of blueberry cheesecake-scented fog, Vixen Vapors is a great place to get started. Wanna try a new flavor? The friendly, knowledgeable staff will offer you a single-use taster tip so you won't feel like you're vaping off a public drinking fountain. If you're a newb or wish to tweak your build, you'll have Vixen's help finding the right pieces to make your Smaug/Drogon/smoke-machine-at-a-Dragonforce-concert dreams come true.
Place to Buy:
Furniture
Readers' choice: There's No Place like Home, 855 Foch St
Critic's choice: Woodbine Furniture, 8705 David Blvd, Keller
Owner Greg V. Reed is a bit anal, which is good for us. His inability to find well-made, long-lasting, solid wood furniture with dovetails, curves, and a custom appearance led him to open his own shop more than a decade ago. Customers can choose woods, finishes, and styles and have pieces built to order or choose from the in-store inventory. And the business is enviro-friendly, using locally produced wood. Even the sawdust is recycled.
Books
Readers' choice: Half Price Books, 5417 S Hulen St
Critic's choice: Half Price Books, 713 Harwood Rd, Bedford
In a world of Kindles and iPads, bookstores seem about as rare as full-service gas stations. But Bedford's Half Price defies the era. With a fresh selection of everything from children's books to fantasy novels and books on quantum physics, the store invites a leisurely pace. Along with a sprawling selection of used vinyl, DVDs, and board games, Half Price has a solid collection of first editions and antique books in near-mint condition. The staff is friendly and knowledgeable, too.
Comic Books
Readers' choice: Collected Comics and Games, 3502 Bluebonnet Cir
Used CDs & Records
Readers' choice: Doc's Records & Vintage, 9522 Camp Bowie West
Critic's choice: Dreamy Life Records & Music, 1310 W Allen Av
This newcomer has quickly become an important part of the local musical landscape, but the shelves tucked into the Fairmount Community Library also boast a decent assortment of used vinyl, all curated by the musicians and music lovers who make up two record labels, Dreamy Soundz and Lo-Life Recordings. Dreamy Life is a one-stop shop for either that new War Party record or an old Cheap Trick platter you've had your eye on.