20th Century Relics
Readers' choice: JunkerVal Antiques, Vintage Junk & Jewelry, 3458 Bluebonnet Cir
Critic's choice: independent music stores
As if the internet hadn't run enough retailers out of business, online sales and auction sites have stuck a sour chord among mom-and-pop music shops. Need guitar strings? Go online and buy a box at wholesale. Fort Worth, once home to a dozen or more of these stores, is down to a handful of hangers-on, including Music Go Round, Competition, Swords, and Zoo. We hope they all live long and prosper because nothing beats a visit to a little store filled with used instruments and amps that you can see, smell, and hold in your hands before buying.
Antiques
Readers' choice: Montgomery Street Antique Mall, 2601 Montgomery St
Critic's choice: Montgomery Street Antique Mall
With 61,000 square feet and more than 160 vendors, the mall demands lingering. In one booth, you may find a door from a 1950s Ford right next to a pile of dishware and an old Morris chair. Just next door is a collection of vintage records and a shelf full of old cameras. Furniture, tools, advertising –– the sheer variety of stuff to dig through can be wonderfully overwhelming.
Jewelry
Readers' choice: Kubes Jewelers, 2700 W Berry St
Critic's choice: Esther Penn, 3328 W 7th St
Esther Penn is like meeting your true love for the first time: You never knew how beautiful life was until you found him. Or in this case, just how pretty your fingers, ears, arms, and neck could feel dressed up in Esther Penn's carefully curated selection of jewelry. Co-owner Alyson Johnson says the boutique's style is "minimalist meets bohemian." It's also affordable — with prices starting at $28 for a pair of earrings that will have your ears ringing with compliments. "We want to be on trend," Johnson said. "But we also want to have staples that you'll spend a little more money on."
Skateboards
Readers' choice: Index, 725 Airport Fwy
Critic's choice: Rhythm Skate Shop, 1002 Lonestar Pkwy, Grand Prairie
Yes, it's in Grand Prairie, but Rhythm started out as a small shop in Watauga before moving into Alliance Skate Park and opening sister stores in Palm Springs, Calif., and Tacoma, Wash. But besides the "little guy goes big" backstory, Rhythm is the place for skateboard gear, from trucks, decks, bearings, and wheels to clothes, shoes, and accessories. It's also a big supporter of the local scene, helping a stable of sponsored skaters keep Fort Worth gnarly.
Cigars
Readers' choice: Pop's Safari Cigars & Fine Wines, 2929 Morton St
Critic's choice: Tobacco Lane on the Square, 512 Main St, Ste 110
It might be a little pricy, but for swinging like a high roller, it's numero uno. Located inside the Sinclair Building, Tobacco Lane on the Square is one of those places where flannel shirts rub elbows with fine worsted wool. Everyone's welcome to enjoy the Lane's great cigar selection, expansive humidor, knowledgeable staff, and terrific wine room, plus pipes, pipe repair, gadgets –– it's enough to make us want to start smoking!
Place to Blow Lots of Money Accidentally
Critic's choice: Ephemera!, 1208 W Magnolia Av
This wee little shop is filled with the most random and seemingly disconnected objects (plastic dinosaurs, gnomes, ceramic animals) that co-owner Suz Reyes uses to create terrariums like you've never seen. What's a terrarium? Well, it's a container — globe, kitchen pot, unicorn husk, anything, really — where plants are grown. And if you get a terrarium from Ephemera!, there's a good chance the plant inside won't die, because if it starts looking sickly, Reyes will give it some expert TLC and turn those leaves back to green. Prices start at $15, or you could build your own with Suz right inside the shop for just $30. Or you could host a terrarium-growing party with your friends for a unique way to start the evening. But watch out. Ephemera! also has comic books, vintage clothing, and handmade jewelry.
Adult Toys
Readers' choice: Velvet Box, 2917 Morton St
Critic's choice: Velvet Box
Like a Ralph Gibson coffee table book or a Domain Anderson chardonnay, Velvet Box is classy, elegant, and sensual –– and the staff is great at making you feel comfortable buying the sort of romance-enhancing stuff you might be embarrassed to talk about in front of your parents. Toys, oils, condoms, and more fill the shelves, and the store also offers sex education classes preceded by brief cocktail sessions.
Hardware
Readers' choice: Jabo's Ace Hardware, 3548 S Hills Dr, Ste 12
Critic's choice: Jabo's Ace Hardware
Bill and Renae Jablonowski know their hardware. Before purchasing a store in 2005 and then buying the Fort Worth location in 2008, Bill had worked with Ace in some form since high school. "Small" might be a bit of a stretch, though –– Jabo's boasts 10 sections, including garden, collegiate, and outdoor living along with other staples such as paint and power tools. The staffers are knowledgeable and never allow a customer to haul his or her load to their vehicle alone. You can even come in just to talk a little shop and get advice on a project without a spending a dime. The big box retailers may boast convenience and speed, but Jabo's Ace Hardware offers the same perks with a friendlier vibe.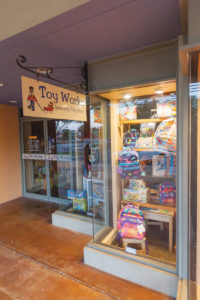 Toys
Readers' choice: Retro Madness, 141 Harwood Rd, Ste 103
Critic's choice: Toy Works, 6333 Camp Bowie Blvd
Family-owned Toy Works offers children a refreshing alternative to video games and Minecraft. (Hooray!) With puzzles, wooden train sets, costumes, and more, Toy Works encourages kids to unplug and get creative. Sure, it's an old-timey approach, but after 32 years in business, the place must be doing something right.