Brad Berry played in the Dallas Stars organization for a number of years, including a couple of seasons in Minnesota, several with the top farm club in Kalamazoo, and the team's inaugural season in Dallas. The former defenseman has since returned to his alma mater, the University of North Dakota, as the head coach. He won a national championship two years ago in his first season as the man in charge and has his group off to a 3-0-1 start this season.
We interviewed Berry, who bore some stitches above his right eye thanks to a wayward practice puck, after his team had just finished sweeping a pair of games from the St. Lawrence Saints. Before the Saturday game, the program honored the 1986-87 team that won a national title. A number of the players from that squad had returned to campus to enjoy a reunion, including a pair who also won a Stanley Cup with the Stars: Ed Belfour and Tony Hrkac. That North Dakota team, in fact, became known as "The Hrkac Circus," as they set scoring records and became the first college hockey team to record 40 wins in a season.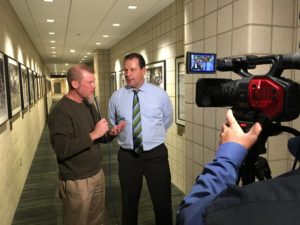 Coach Berry commented on what it meant to have that team return to the ice, both for him and his players. I also asked him about the hockey experience at the Ralph Englestad Arena. It was my first time to visit the facility and it is a remarkable place to watch a game. Impressive physical features include marble floors and padded seats, and they have a row of suites and a couple of clubs with a view of the action. The crowd is into it, with chants and gestures and a band. In the interview, Berry compared it to a college football atmosphere and I agree with him. At the second intermission, the band even plays as they march around the concourse. A hockey fan might want to put a North Dakota game on his or her bucket list.