Since my dad works at Lola's (2000 W Berry St, LolasFW.com), we hang out there a lot, but sometimes — when I'm a very good boy — we go on new adventures. That's when I get to explore other great dog-friendly places around town. Here are some of my favorites!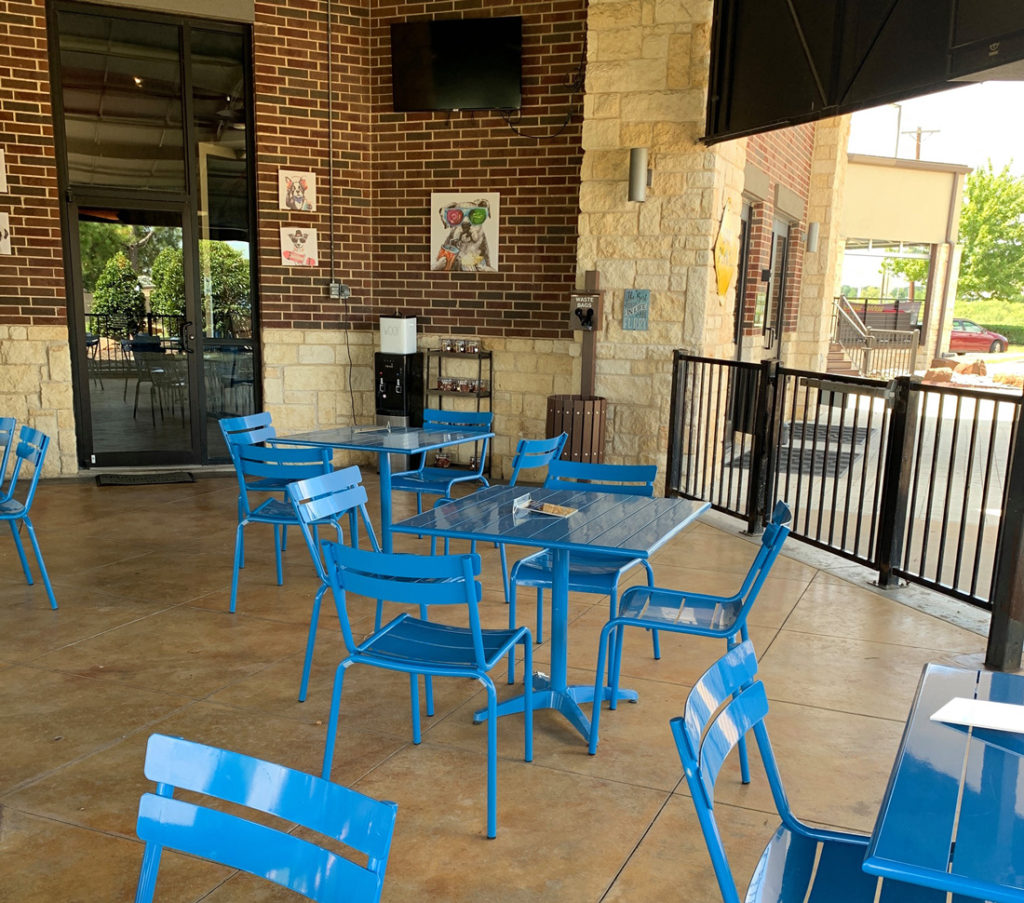 1.) Nothing beats the feeling of the wind on my face. When we head to Fat Daddy's (781 W Debbie Ln, Mansfield, 817-453-0188) to chill on the new Dawg Porch, I get to hang my head out the window on the way. While my parents can't hear quite as well as I can, we all hear the music drifting out from the inside stage. I love it because I recognize the songs from hearing them on the radio. It's something that people call #Tribute. Bands like Blackbird Mafia, Poo Live Crew, and Velcro Pygmies know how to have a howling good time!
2.) When I want a new toy or a special treat, I always choose to stop in at Hollywood Feed (3204 Camp Bowie Blvd, Ste 110, 817-386-4660). The staff always greets me with a fresh bowl of water, and I love snagging one of their cow hooves to take home. Whenever my mom or dad has questions about anything in the store, the employees are always very helpful.
3.) Sometimes, my parents take me to Maple Branch Craft Brewery (2628 Whitmore St, 817-862-7007) for Trivia Night. I like to hang out in their shaded biergarten and make as many new friends as possible. I've tried to play along with trivia, but no one seemed to understand the answers I gave. Keeping my paws crossed for next time, though.
4.) I love walking along the Trinity River on Sunday mornings, and guess what? There's a dog-friendly restaurant right by one of my favorite paths! Press Café (4801 Edwards Ranch Rd, Ste 105, 817-570-6002) has a great patio for dog-watching or human-watching if you're like my parents. The people are always super-friendly and give me extra belly rubs when I introduce myself to them.
5.) Occasionally, I tie on my best bandana and head down to Second Rodeo Brewing (122 E Exchange Av, Ste 340, 817-240-4959) in the Stockyards. I get to meet plenty of new doggo friends on the dog-friendly patio and sing along to the live music. Once, while strolling into the restaurant, I even saw a giant dog with horns on its head. Can you imagine!
6.) On the weekend, I like to walk over to Shaw's Patio Bar & Grill (1051 W Magnolia Av, 817-926-2116). Their patio is shady, and there are always big bowls of water for me. I've even been given dog treats when I show people all my cool tricks. Did I mention they have dog beer? It's not that gross stuff people drink. It's hecking delicious!
7.) I don't get to eat a lot of people food, and sometimes I get jealous of my parents' meals. However, I almost wagged my tail off when I heard Woodshed Smokehouse (3201 Riverfront Dr, 817-877-4545) had a Pup Menu. They have so many great options for a dog like me. Plus, I think my parents get jealous of my meal now.
8.) I have found a way to help other animals who don't get to go on as many adventures as I do. One day, my parents visited Town Talk Foods (121 N Beach St, 817-831-6136) and brought back so much discounted pet food that I thought it was Christmas! It turned out that #SantaPaws was not coming to town. After learning that many doggo parents have a hard time making ends meet, I was excited to donate kibble and treats to Don't Forget to Feed Me (5825 E Rosedale St, 817-334-0727). Most food banks for humans don't stock pet supplies, so this nonprofit helps feed many local cats and dogs. Get the scoop at DontForgetToFeedMe.org.
Read more animal-related stories from this week's Creature Comforts edition in Big Ticket, Living Local, Night & Day, and Static, plus our Feature Story. To see Creature Comforts cover to cover in a flipbook format, click here.
P.S. My feline sibling wants me to tell you about a cat cafe where you can meet kitties available for adoption. At the Cozy Catfe (740 SW Green Oaks Blvd, Ste 200, Arlington, @TheCozyCatfe), you can do yoga with the cats, attend a trivia night, or plan a party of your own. If the cat will get off your keyboard, visit TheCozyCatfe.com for more information.
P.P.S. Special thanks to my mom Julie for being my ghostwriter. It's hard typing with these paws!