Friday was the beginning of my much-anticipated Metallica weekend. My husband and I had purchased the two-night tickets for the M72 World Tour long ago and were excited the event had finally arrived. With dicey parking and Greg on staff at Texas Live (650 E Randol Mill Rd, Arlington, 817-852-6688), I went to work with him, allowing us to take advantage of the employee parking. Located in the Entertainment District, Texas Live is walking distance AT&T Stadium, where Metallica held court Friday and Sunday. When you seek parking at a big arena and find some that's both free and close, nothing else matters. (See what I did there?)
While I worked a little on my laptop, passersby thought I was the concierge, and I just went with it. Yes, Metallica fan from Denver, there are bowling alleys near here. No, the wine bar won't be open until later this afternoon. Time well spent but not spent seeking out food events. However, I can tell you that the caramelized onion-and-bacon cheeseburger at Live Arena inside Texas Live was quite tasty.
Friday's opener Mammoth WVH, featuring Wolfgang Van Halen, was merely OK. In Wolfie's defense, the setup did not allow for proper movement around the vast rounded stage that filled most of the floor.
Pantera, Friday's primary support, was amazing. The guys were tighter than ever, paid homage to the founding Abbott brothers with much respect, and wowed the crowd with a great set. Frontman Phil Anselmo and bassist Rex Brown both looked healthy. I would like to buy Phil better stage wear, but I digress.
As for the mighty Metallica, both nights were worth the price of admission, but the second night sounded better to me overall, plus it ended with "Enter Sandman," one of my all-time favorites. According to the Star-T, ticket sales outshined Taylor Swift, supposedly because she couldn't sell all seats due to the positioning of her massive video screen. Whatever. We all know it's because Metallica is awesome.
That awesomeness extends to the band's charitable causes as well.
Before leaving town, Metallica donated $100,000 to several Texas organizations, including $35,000 to the Tarrant Area Food Bank via the band's All Within My Hands Foundation. On Saturday, the day between the two Arlington shows, volunteers packed 18,588 pounds of food that will help make 16,490 meals for North Texans in need. To find upcoming volunteer opportunities in other cities during the M72 World Tour, visit AllWithinMyHands.org.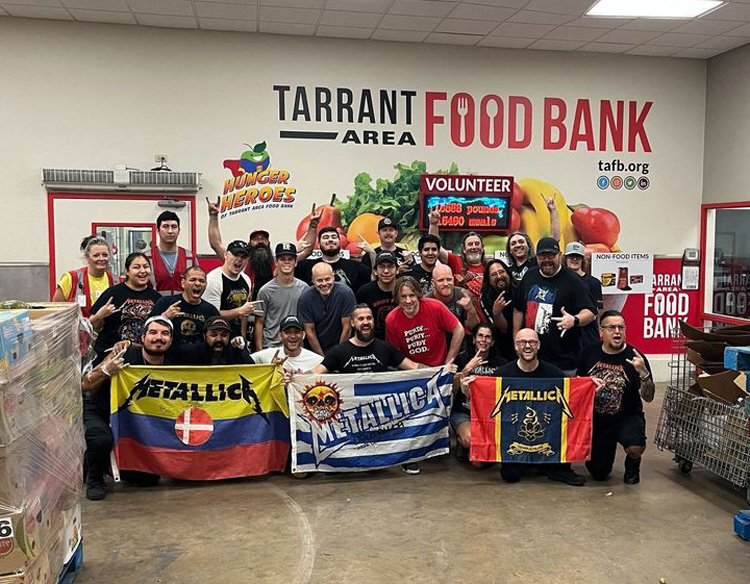 Many Pantera aficionados in town for the weekend headed to Campo Verde (2918 W Pioneer Pkwy, Dalworthington Gardens, 682-259-7154) on Saturday, as it was the late "Dimebag" Darryl Abbott's favorite restaurant due to the proximity to his home, I suspect. It's not my favorite place, but I do like the fajitas, and the Day-Glo orange queso has a certain charm.
Greg and I were dog-tired and starving after leaving the stadium at close to 11pm on Sunday. Arlington has only a few late-night dining options, so I was excited to find a new one. After your next concert, sportsball game, or midnight movie in the area, check out Tacos El 24 (3311 E Division St, Arlington, 817-583-6133) for some authentic Mexican food. As the name implies, it's open 24/7. I highly recommend the birria tacos. They'll give ya fuel and will certainly give ya fire.