Cafecito at Funky Town Food Hall, 1229 8th Av, FW. 7am-3pm Mon-Sat.
"Pink," "warm," "fluffy" — common words not used to describe corn tortillas, but at Cafecito, this is precisely what they are. And what are defining Funky Town Food Hall's newest tenant, a.k.a. The Place with the Pink Tacos.
Due to coloring from beet juice, these flamboyant torts are highly Instagrammable and make for just about the cutest li'l tacos we've ever seen. This pastel touch of fabulousness aligns with the array of roses taped to the wall in front of the counter. Although Cafecito does serve Mexican spiced coffee known as cafe de olla and a cold brew adaptation, Adrian Duran, co-owner with wife Cinthya Duran and his mother-in-law Yaneth Sanchez, explained that "Cafecito" doesn't translate to "cafe" or "coffeeshop" but is used to describe eating or grabbing a snack.
Cafecito held its grand opening late last month, leaping from a food truck to a stall vacated by a Nashville-hot chicken vendor beneath Wabi House. The hours and menu have since expanded from only breakfast to incorporate lunch from noon to 3 p.m. When a guest and I visited recently, the crowd was thick, feasting from open cardboard boxes at nearby tables.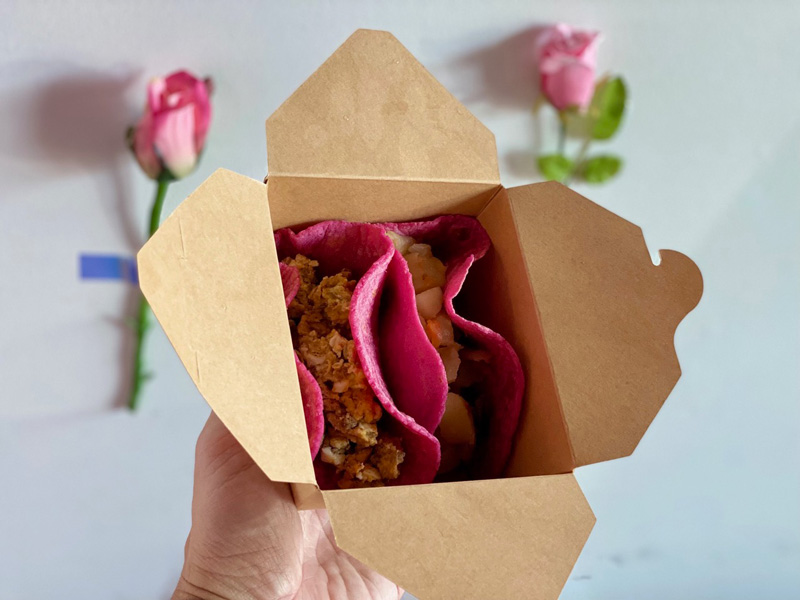 Cafecito is wholly inspired by Sanchez, who for years split her time between cleaning homes by day and by night cooking large meals for family, friends, and neighbors. Adrian recognized the impact her food had on those who ate it and was able to talk her into adapting her side hustle into the food truck, giving her the opportunity to enjoy what she loves to do most: cook. All the recipes are her own, including the handmade tortillas, and she refuses to allow anyone else to do kitchen prep. Adrian admits the need to write down all her recipes, especially if Cafecito grows, but for now, Sanchez is holding all the cards close to her chest.
Most of the tacos stay within the parameters of breakfast, coming with eggs, chorizo, or both, plus several optional ingredients, including Mexican potatoes, frijoles, chopped barbacoa or brisket, or ham with the pink corn or flour tortillas of your choice. The burritos, a whole meal on their own, are a staggering 10 inches long and girthy, with the same ingredient options as the tacos along with refried beans, diced onions, and cilantro. Orange chile de árbol and jalapeno-serrano verde sauces are served for drizzle or dipping purposes, and the best part about them? They hold flavor without the overwhelming heat that plagues most other taquerias.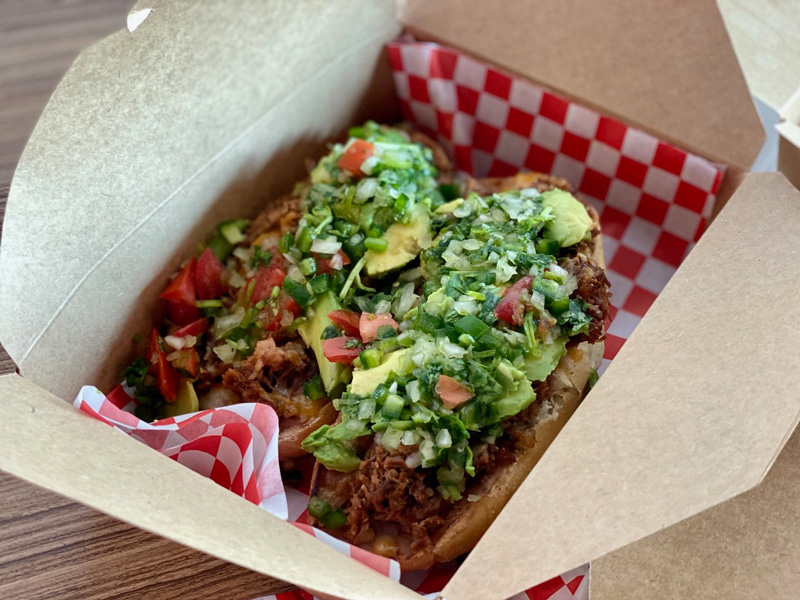 Recognizing an absence of food in Fort Worth that reminded her of her Monclova home in Coahuila, Mexico, Sanchez has introduced those flavors here in the form of open-faced sandwiches called molletes, served either on bolillo rolls or in quesadilla-esque pockets called sincronizadas. Continuing the sandwich trend, Cafecito's ham or chicken torta of equal quality is a behemoth. Served on squishy loaves of flaky baguettes, they should put the Subway branch across the street out of business.
Whether for breakfast or lunch, Cafecito offers plenty of options for both, but as you take a sip of your coffee or a bite from your scrumptious pink taco, pause to appreciate the effort that came from a lifelong dream for you to enjoy it.