December is Nutcracker month, and Texas Ballet Theater trots out its luxurious version of the popular Tchaikovsky Christmas story, offering four performances beginning Friday in Bass Performance Hall.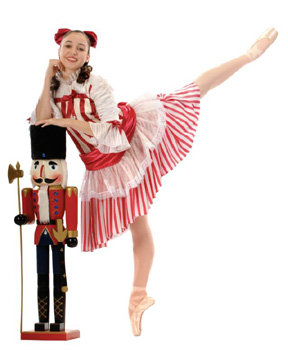 Repeat performances will take place the next two weekends beginning on Thursdays, before the show moves to State Fair Music Hall in Dallas for the three days before Christmas Eve. Enrica Guana Tseng will dance the Sugar Plum Fairy opening night in Fort Worth, partnered by Lucas Priolo, who will also dance with Jayme Autrey Griffith in the Snow Queen duet. Two ballerinas have been sidelined: Carolyn Judson, who developed a vertebra stress fracture and will be out for three months, and newcomer Lisa Kaczmarek, who broke a bone in her foot during rehearsals. Returning from maternity leave is Julie Gumbinner, who will perform the pantomime role of the mother. She is expected to take on more demanding roles later in the season.
Artistic director Ben Stevenson's staging of the ballet is one of the most successful adaptations of the E.T.A. Hoffmann fairy tale, a story that follows the adventures of little Clara, whose toy nutcracker turns into a handsome prince and takes her to the Land of Snow and the Kingdom of Sweets, before she awakens to wonder if the whole business was just a dream. Most of the sinister undercurrents of the original fable have been softened, and the result is an engaging stage piece that appeals to children and adults. Pre-performance lectures exploring "behind-the-scenes" activities will be presented 45 minutes before Saturday evening and Sunday matinee curtain times on the box tier promenade, hosted by company manager Margo McCann. Jack Buckhannan will lead the Fort Worth Symphony in Bass Hall and the Dallas Opera Orchestra in the Music Hall. — Leonard Eureka
8pm Fri-Sat evenings and 2pm Sat-Sun thru Dec. 16 at 555 Commerce St, FW. 877-828-9200.