Since the Modern Art Museum of Fort Worth moved into its current home, one of its most popular pieces has been Martin Puryear's "Ladder for Booker T. Washington," the sculpture of a small, crooked wooden ladder that seems to climb up into infinity.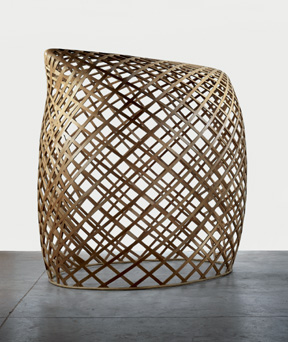 Anyone who's been captivated by the piece will surely want to check out Martin Puryear, the Modern's new retrospective that contains some of the artist's wire sculptures but mostly focuses on his best-known works, more than 40 large-scale wooden sculptures.
The 67-year-old Washington, D.C., native started out building furniture and guitars for a living, and he works extensively in cedar, ash, and pine, sometimes painting the wood but more often leaving it in its natural state. Yet despite the humble nature of the materials, no one would describe his pieces as rough-hewn. Indeed, the meticulous craftsmanship that goes into his sculptures is difficult to miss, and he can just as easily shape the wood into something airy and delicate, like "Ladder," or into a solid and monumental work like his 1978 piece "Self." His early career is taken up with abstract forms, but his later pieces from the 1990s have striven more for allegorical meanings. Puryear has also traveled extensively and absorbed the influences of woodwork from Scandinavia and East Asia, but the individuality of his voice remains unmistakable.
Martin Puryear shows Feb 24-May 18 at Modern Art Museum of Fort Worth, 3200 Darnell St, FW. Admission is $4-10. Call 817-738-9215.