Stage West's press release about Major Barbara likens the play to The Apprentice.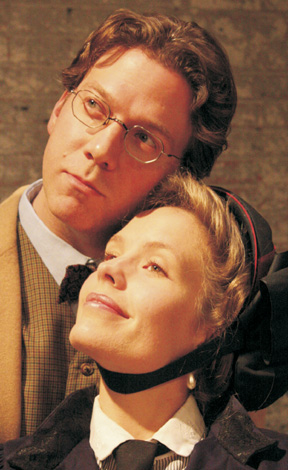 One can only imagine what withering gibes George Bernard Shaw would have aimed at Donald Trump and his show about selling trinkets. Trying to envision that is pretty entertaining, but there's much more entertainment to be had in Shaw's 1905 play, which wears its years very well. Shaw tells the story of the titular Salvation Army major, whose life is overturned when she reunites with her long-lost father Andrew Undershaft, a major arms dealer who sells weapons to anyone who will pay his price. Writing in a literate but sturdy language that contrasts sharply with the flowery dialogue used by playwrights of his time, Shaw launches a series of vintage rants at conventional morality (represented by the character of Lady Britomart, Sir Andrew's estranged wife, whose name comes from the spirit of chastity in Edmund Spenser's The Faerie Queene).
Undershaft's cheerful amorality quickly lays waste to Barbara's idealistic drive to help the poor and to the intellectualism of her Greek-scholar fiancé, Adolphus Cusins. Like many of Shaw's plays, this is a problematic achievement. The Barbara we see at the end is sadly diminished from the charming figure she cuts at the beginning, and the playwright's unqualified admiration for Undershaft can make you uneasy, especially if you know that Shaw harbored a sneaking real-life admiration for Stalin and other public figures who did their will regardless of what people thought. Still, this is a superbly funny stage piece that will provoke lots of questions worth asking.
Major Barbara runs Mar 20-Apr 13 at 821 W Vickery St, FW. Tickets are $20-24. Call 817-784-9378.