It may be spring, but some local sports fans may not be ready to leave winter behind yet.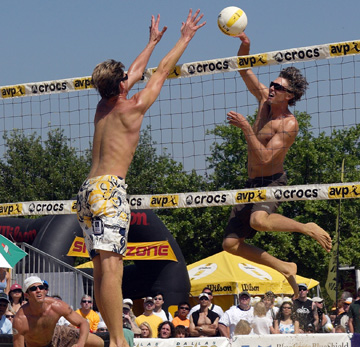 Those fans will be overjoyed at the success of the Texas Brahmas. Having squeaked into the playoffs, the local minor-league hockey team pulled a stunning upset of top-seeded Bossier-Shreveport, sweeping them in four games with the force of their overwhelming offense (15 goals), powered by the playmaking of Blair Manning (six assists), the finishing of Scott Sheppard (six goals), the all-around play of Anders Strome (nine points), and a Game 2 hat trick by Jordan Cameron. Now they've got a tougher defensive club to deal with in the Colorado Eagles, who have won the series' first two games. Games 3 and 4 (and possibly 5) are here this week, and the Brahmas can use all the fan support they can get.
However, if your tastes run more toward summer sports than winter, you can head out to Rangers Ballpark to catch the AVP Cuervo Gold Crown Open beach volleyball tournament. The luminaries of the sport will be on hand to compete, including women's Olympic champions Misty May-Treanor and Kerri Walsh, and men's world champions Phil Dallhausser and Todd Rogers, plus Olympic bronze medalist Elaine Youngs and her partner, Nicole Branagh. This is the second stop on an 18-city tour, which will take a break in August so its members can compete in the Olympics in Beijing, so everyone will be hoping to work themselves into peak form.
Games 3 and 4 of Texas Brahmas vs. Colorado Eagles are at 7pm Wed and Fri at NYTEX Sports Center, 8851 Ice House Dr, North Richland Hills. Tickets are $14-22. Call 817-336-4423.
The AVP Cuervo Gold Crown Open is Fri-Sun at Rangers Ballpark in Arlington, 1200 Ballpark Way, Arlington. Tickets are $20-35. Call 214-261-4713.