Austinite-via-Fort Worth Collin Herring has just finished his fourth studio album, Ocho, and will release it on Nov. 17. The record was produced by Austinite-via-Denton Will Johnson, frontman for Centro-matic and South San Gabriel and producer of The Tide and The Current, a record by yet another Fort Worth artist, Telegraph Canyon. (See: "A Light in the Field," Sept. 30, 2009.)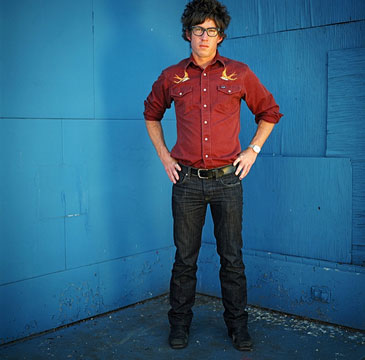 All eight of Ocho's tracks were recorded in late August over a period of six days at Ramble Creek Studios in Austin. Unlike Herring's previous outings, the credit list for Ocho will be relatively short: Herring on guitar and lead vocals, his father Ben Roi Herring on a bunch of instruments and backing vocals, Johnson on assorted instruments and backing vocals, The Monahans' Roberto Sanchez on drums, Keith Hanna on bass, and Ramble Creek owner Britton Beisenherz also on bass. "I wanted it to sound like I'm just sitting in my living room," Herring said, noting that not only is his credit list the shortest it's ever been but that his time in the studio has never been briefer. "I wanted something haunting and organic. It's not country. It's not rock 'n' roll. It's just Collin Herring. It's music the way I wrote it." The album also is "about growing old gracefully," the 31-year-old said. A mini-documentary of the recording process — filmed by another Austinite-via-Fort Worth, Todd Wiseman — might appear as part of the CD packaging. Herring is using the video now as a promo device. Several shows are scheduled. None in Fort Worth, though. Yet. Visit www.myspace.com/collinherringmusic.
Automorrow is recording a new album and webcasting the process. From 3 to 11 p.m. from Sunday 'til Tue., Oct. 13, you can watch the local rock 'n' rollers get funky on www.ustream.tv via a webcam in the studio's control room. The web site also will allow viewers to chat with the band. "We will be keeping ourselves busy, and the process is sometimes tedious," writes guitarist Michael DuFault on www.automorrowmusic.com. "Even so, we hope you'll appreciate the candid nature of it and that you'll stop in while you tread through your internet routine." The band is recording its first full-length album. … Engaging fans is also part of Sloan Automatic's approach on an upcoming project with Contemporary Dance Fort Worth. The experimental-pop quartet will perform the three songs around which the troupe has created choreography. The band also has 300 pairs of maracas to hand out, hoping that concertgoers will "jam along," according to guitarist/singer Cody Yates. (He also played in Wizbang, another band with 817 ties that will have a song on the forthcoming HellDamnCrap compilation mentioned in this week's music feature above.) The performances are on Nov. 13 and 14 at the Poultry Barn at the Will Rogers Memorial Center. Tix are $15 general admission, $8 for students and seniors. FYI: Yates and his bandmates are the gentlemen behind "Fort Worth Love Song": "It's not the strip malls on the highway … It's not the churches on every corner … We're building the F-16 / I hate to hear them flying over my head / It's not the schools teaching creation and kids rocking the Confederate flag … And it's home forever / This is home for my wife, my dog, and me." Visit www.myspace.com/sloanautomatic.
Contact HearSay at hearsay@fwweekly.com.