Was it really seven years ago — an eon in restaurant years — that my oldest daughter had her wedding reception in the very same room as Chubby's Burger Shack? (It was called something else back then.) One constant: Back then, I had the same trouble finding the location — an unassuming corner on the north side of Camp Bowie West, midway between Alta Mere Drive and Cherry Lane — as a friend and I had going there for lunch recently. But Chubby's is well worth any additional gas money.


Inside, the setting is open and unpretentious, with lots of tables and large benches, giving you the sense that this is a place where lots of working stiffs from the far West Side take their lunches. There's a small bar and a patio where those same working stiffs can stop to grab a beer or two on their way home at the end of the day.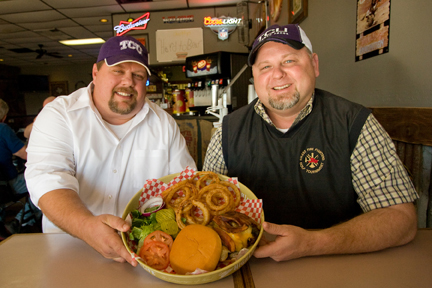 A sign by the bar tells the whole story: "Vegetarian: Old Indian Word for 'Bad Hunter.' " And with one exception, the portions were, to put it mildly, generous, which was fine by me and not just because I'm training for a gluttony challenge. (I lost a bet to my sister. Long story.) The double cheeseburger was a hearty half-pound of juicy, peppery meat, with the not-so-circular patty spilling over the buttery bun. The Big Nasty is a single patty heaped with chili, cheese, bacon, grilled onions, and jalapeños, which gave the burger a substantial but not overpowering heat to complement its winning blend of smoky and savory flavors. You're gonna need two hands, a knife, a fork, and a yard of paper towels to consume this bad boy and, afterward, probably a shower and an infusion of bran in your diet. But if you're a true burgerphile, you'll be smiling the whole time.
For folks whose burger love borders on a mania, there's the Chubby Challenge, now known as the Romeo Burger, named after the first customer to finish the entire thing, Romeo Alvarado. In just 29 minutes, Alvarado downed all six patties and 12 slices of cheese, all on one bun, and two pounds of fries. Beat his record, and maybe they'll name the monster after you. (I thought about going all Kobayashi on it, but pity stayed my hand. "It's a pity," I mused, "that I can't afford a $20 burger that'd take me a week to finish.")
The veggies are up to you. Like Billy Miner's in Sundance Square, Chubby's offers a bar of burger dressings, and everything's fresh, including slices of red and white onions, coleslaw, raw jalapeños, and various kinds of mustard.
The exception to the rule of hugeness was the chicken sandwich. The low price should have given me a clue — usually chicken sandwiches cost more than burgers. This one was less. The cutlet was pounded to about the thickness of a CD. Though juicy and tasty, the bird was largely insubstantial.
Much more worthy of Chubby's burgers are the sides. The long-cut fries were just the right mixture of crispy and mealy with lots of good potato flavor, and it appeared that someone had actually gone to the trouble of draining them – always a plus. The onion rings were a noble exemplar of the art of ring-making: the batter light and crisp and the onions firm and tasty, not wilted or falling apart. If I'd been at home, I would have rolled around in them.
Chubby's Burger Shack
7618 Camp Bowie Blvd, FW. 817-560-5510.
11am-9pm Mon-Thu, 11am-10:30pm Fri-Sat. Closed Sun.
MasterCard, Visa accepted.